'There will be pressure to rotate, to get a partnership. It's not easy. You don't always get a player who's complete and bats at no 5, 6 or 7.'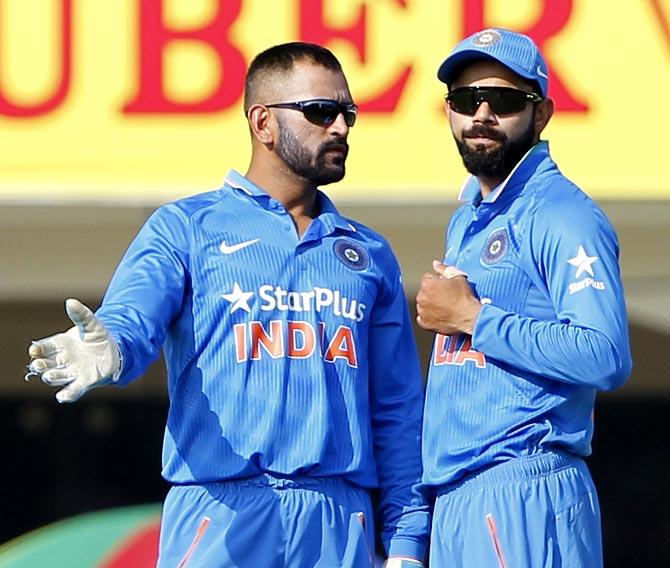 'Can you please not get out early in run chases?' Mahendra Singh Dhoni, left, must be telling his deputy Virat Kohli. Photograph: BCCI
India's limited overs captain Mahendra Singh Dhoni said the job of a finisher is one of the toughest and it is difficult to find a 'complete' player who is adept at batting in lower order and take the team through when the chips are down.

"Batting down the order is one of the toughest things to do especially on wickets like these. There will be pressure to rotate, to get a partnership. It's not easy. You don't always get a player who's complete and bats at no 5, 6 or 7," Dhoni said after India went down to New Zealand by 19 runs in the fourth ODI in Ranchi, on Wednesday.
India have batted second in all four ODIs in this series, and interestingly, both their wins came when Virat Kohli has stayed unbeaten till the end. He hit an unbeaten 85 to help India win by six wickets in the first match in Dharamsala and then smashed a magnificent 154 not out in Mohali in the third ODI to steer India to a seven-wicket victory.
And in the other two games, in which he has failed to make a sizeable contribution, India have failed to chase down targets. In the second match in Delhi, he was dismissed for nine as India failed to chase down 243 and in Ranchi also they were unable to get to 261 despite the right-hander scoring a fluent 45.

In the fourth ODI, Ajinkya Rahane (57) and Virat Kohli (45) gave India a fluent start but their modest 261-run chase went horribly wrong in the middle overs as the hosts folded for 241 in 48.4 overs despite being 128-2 at one stage.

Lower down the order, Axar Patel (38) and Amit Mishra (14) revived India's hope briefly with a quickfire 38-run stand for the eighth wicket before the latter's run out saw India slump once again.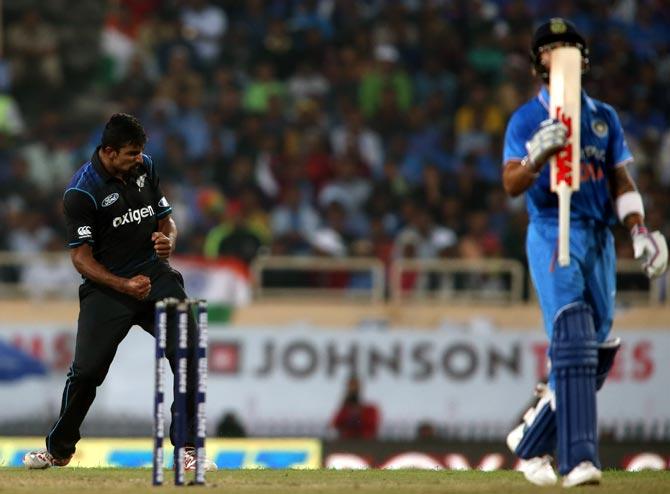 IMAGE: Ish Sodhi, left, celebrates as Virat Kohli walks back after his dismissal. Photograph: BCCI
Asking for more patience to be shown with the inexperienced middle-order, Dhoni said: "Batting down the order on wickets like this when you are chasing is always going to be tough. You will have to give them time. They will find their way. After they get more and more games like this they will figure out what suits best for them to chase a total.

"On a wicket like this, when the score was not too much, you need partnerships. With two new balls, it comes on to bat better initially. The wicket slows down. It does not come on to the bat that well. It was a difficult phase and it becomes difficult to rotate.

"When you have partnerships going a lot of stuff becomes easier. If you lose wickets at that point of time, it adds to the pressure. Bowlers tend to bowl in right areas and becomes difficult," he added.

One of the best batsmen in run chases, Kohli was caught behind in his attempt to cut a wide delivery from leg-spinner Ish Sodhi and his rare failure coincided with India losing the match.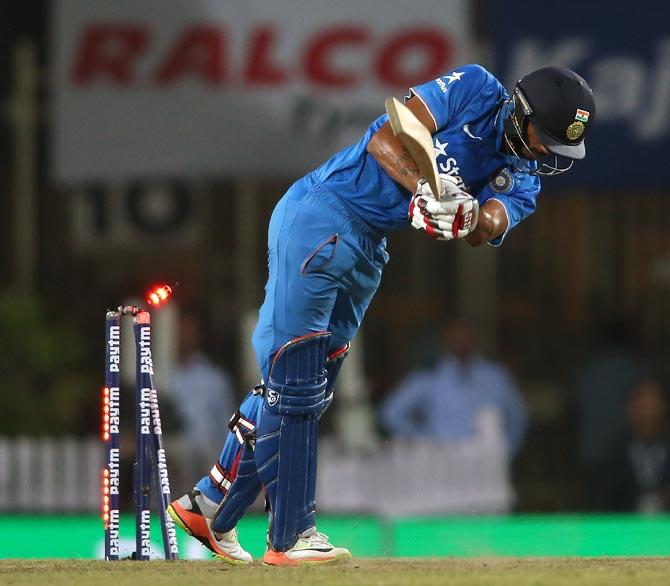 IMAGE: Axar Patel is bowled by Trent Boult during the fourth ODI in Ranchi. Photograph: BCCI
Asked whether India were heavily reliant on Kohli, Dhoni said: "It's not like that. The stats don't exactly reflect the exact scenario."

India have not won a bilateral series since November 2014, if one discounts the two clean sweeps against Zimbabwe in July 2015 and June 2016.

Pointing out that India had played less one-day matches in the last one and half years, Dhoni said: "We have not played much ODIs. In between we had Zimbabwe. It's very difficult."

"Also I have batted at different position in that period. Our top order was batting brilliantly. So everything is very different."

Dhoni pointed out that the pitch was sluggish and slowed down, drawing parallel to the Delhi ODI where New Zealand won by six runs, defending 242 in the second one-dayer.

"There have been a couple of game where the wicket has been on the slower side, where the opposition, if they scored 300-plus there's more often you keep playing your shots to chase it down," he said.

"When the wickets are slow, and required run-rate is not too high, that's when you calculate and play out a few overs thinking of a partnership. I feel that's where it lies as of now. We have quite a few batsmen who can do the job."