Team India's strategy -- rather the lack of it -- boomeranged in the game against New Zealand.
It's because of the T20 generation's lack of patience to counter spin, feels Bikash Mohapatra/Rediff.com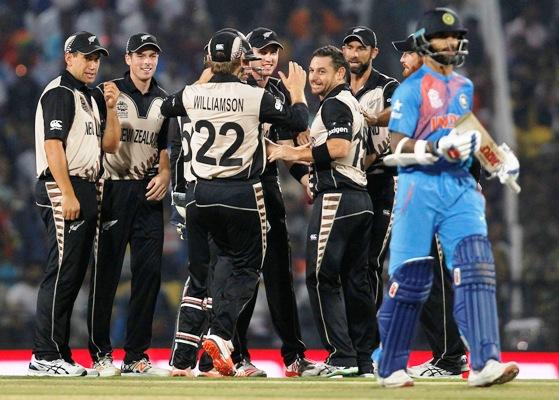 IMAGE: Nathan McCullum, fourth from right, is congratulated by teammates after dismissing Shikhar Dhawan. Photograph: Danish Siddiqui/Reuters
There are three assumptions about Indian batsmen.
They are flat-track bullies.
They are susceptible to the moving ball.
They are the best players of spin.
The first two assumptions hold true, but Team India's recent performances raise serious doubts about the third.
Mahendra Singh Dhoni and Co's capitulation against New Zealand, chasing a modest 127 for victory in the World T20 opener in Nagpur, is the latest among a series of results -- across formats -- about the team's susceptibility against the turning ball.
Given a preferred 'wicket' -- that turned from the first over itself -- India got entangled in its own web as New Zealand's spinners took nine wickets to bowl out their hosts for a paltry 79.
'This has been an exhibition on how not to play spin by the so-called best players of spin in the world,' tweeted former England captain Michael Vaughan.
Clearly, the Kiwis had read the wicket better, playing three spinners.
Team India's strategy -- rather the lack of it -- boomeranged.
And it wasn't the first time.
It's Nagpur again!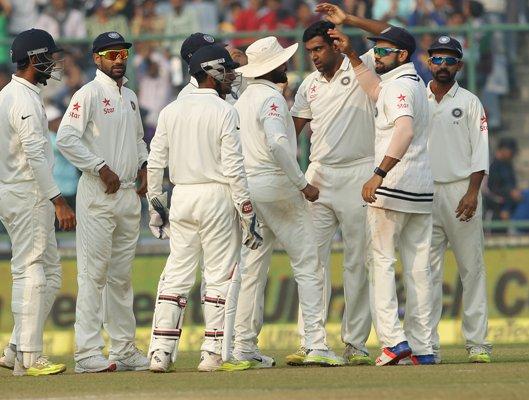 IMAGE: Ravichandran Ashwin celebrates Temba Bavuma's wicket durig the Feroz Shah Kotla Test against South Africa last winter. Photograph: BCCI
It wasn't long ago that the wicket at the Vidarbha Cricket Association stadium was in the eye of controversy.
Late last year, spinners claimed 33 of the 40 wickets to fall on what can be best described as a 'square turner' when India beat South Africa by 124 runs inside three days in a Test.
When India wins, everything else is brushed under the carpet. In this case, it was the fact that 13 of those 33 'spin victims' were Indian batsmen.
In its report, the ICC labelled the VCA wicket 'poor'.
The wicket used the India-New Zealand game was equally poor, if not worse.
It's no coincidence that the VCA stadium will host the most number of games in the tournament (qualifiers included).
Looking back on time
India's reputation as the best team against spin has taken years to acquire.
It wasn't hunky dory to begin with.
Leg-spinner Richie Benaud -- 52 wickets (@18.38) in eight Tests -- and off-spinner Lance Gibbs -- 39 wickets (@23.38) in seven Tests -- enjoyed many successes in Indian conditions. Those days, India was still trying to find a foothold in international cricket.
As time passed, not only did Indian batsmen improve tremendously when it came to playing spinners, but the country produced a factory line of quality spinners that could run through any batting line-up.
Even the best spinners struggled...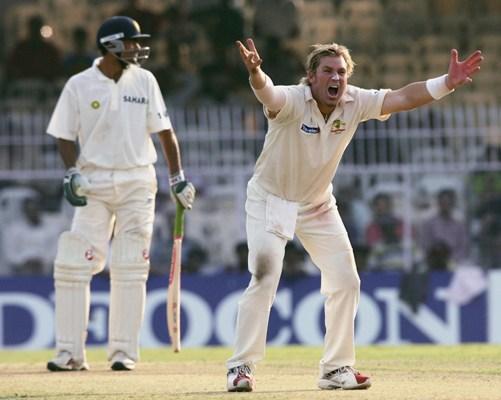 IMAGE: Shane Warne appeals unsuccessfully against Mohammaf Kaif during the Nagpur Test in 2004. Photograph: Hamish Blair/Getty Images
Visiting teams found it difficult to win in Indian conditions, their spinners neither getting the same purchase nor making a similar impact as their Indian counterparts.
For a long time, having a turning track worked to India's advantage, Indian bowlers making optimum use of the conditions and their counterparts struggling.
Muttiah Muralitharan, the highest wicket taker in Test cricket (800 scalps), had an impressive overall record against India -- 105 wickets in 22 Tests.
Murali was among the wickets on Indian wickets as well, picking up 40 in nine Tests. Those dismissals didn't come cheap (@45.45) though.
But Murali, for all his wizardry, failed to inspire Sri Lanka to a victory on Indian soil. The island nation is yet to win a Test in India.
Shane Warne, another legend of the game, fared even worse. Only 34 of his 708 Test wickets came on subcontinent wickets, with most Indian batsmen devising a way to thwart his guile.
... but rarely did Indian batsmen
Away from home, things were changing.
In October 2000, Murali -- with career-best figures of 7/30 -- ran through the formidable Indian batting and ensured a memorable Sri Lankan win in a Sharjah ODI.
Ajantha Mendis (6/13) surprised India in the 2008 Asia Cup final in Karachi. A month later, Mendis took 26 wickets in three Tests against India as Sri Lanka secured a memorable series win on home soil.
At home, the Indian batsmen fared better against spin.
Save the 1996 World Cup semi-final against Sri Lanka at the Eden Gardens -- where they collapsed from 98/1 to 120/8 before crowd trouble ensured the match was called off -- there is no instance of Indian batsmen capitulating to spin in home comfort.
The turning point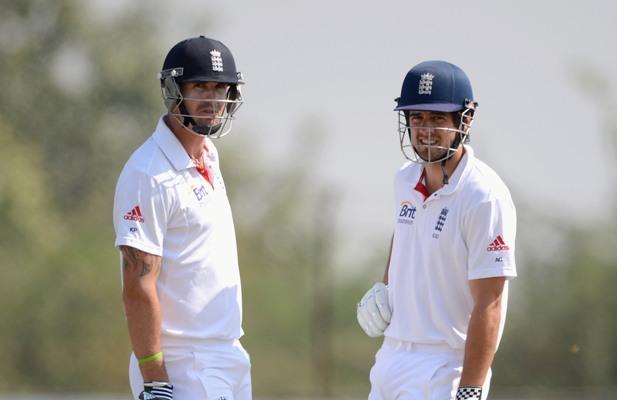 IMAGE: England captain Alastair Cook and Kevin Pietersen during the tour of India in 2012. Photograph: Gareth Copley/Getty Images
Team India's recent struggles against spin can be sourced to the home series against England in 2012.
Whitewashed 4-0 in the series in England in 2011, Dhoni and Co were keen on revenge.
Keeping the frailty of the English batsmen in mind, dust bowls was prepared when the Englishmen came visiting. The move appeared to have worked with India winning the opening Test in Motera comprehensively.
India seemed set to earn an unassailable 2-0 lead in the second Test at the Wankhede. An extra spinner (Harbhajan Singh) was added to the squad. The toss went India's way and the home side posted a competent 327.
Spectators were then witness to a Kevin Pietersen blitzkrieg. Flamboyant KP annihilated the Indian spin trio. His majestic 186, and his 206 run third wicket stand with Captain Alastair Cook (122), turned the match on its head.
Spinners Graeme Swann and Monty Panesar then ripped through the Indian batting.
England secured a memorable series win, beating India at its own game.
IPL inculcates impatience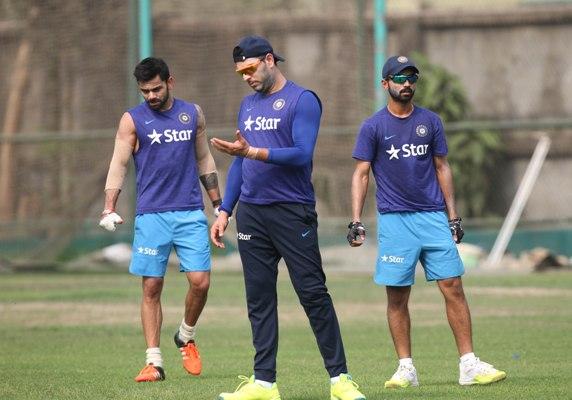 IMAGE: Virat Kohli, Yuvraj Singh and Ajinkya Rahane during nets. Photograph: Solaris Images
The team that surrendered the home series to England for the first time in almost 30 years had players who honed their skills in the longer format.
The current generation of Indian cricketers is raised on the T20 variety. Playing the ball on merit is largely becoming a thing of the past.
The appeal of the Indian Premier League and the lucrative deals it offers tempts young players to attack at every opportunity.
Patience takes a back seat. And patience in abundance is precisely what is required when playing spinners.
In last winter's home series against South Africa, the Indian batsmen did not play the visiting spinners -- with no big name to boast -- particularly well.
Dean Elgar and Simon Harmer were made to appear more threatening than they actually are.
It was just that the South African batsmen fared worse.
On Tuesday, Mitchell Santner and Ish Sodhi -- taking nothing away from their performances -- looked bigger threats than they actually are.
If Indian batsmen don't mend their ways, it won't be long before the home advantage will be redundant for Team India.