'If I am not wrong, the first 100 I got was around the 38th or 39th over. So I was telling myself, if I have got this far, I am not going to get out.'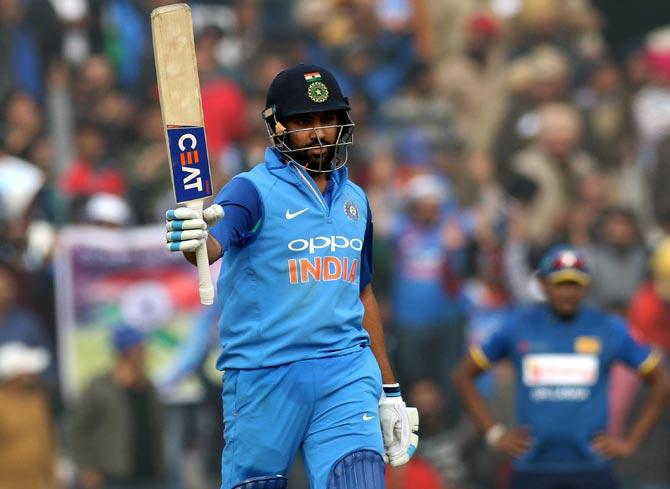 IMAGE: Rohit Sharma, the first man to scale Mt 200 on three occasions in ODIs. Photograph: BCCI/Twitter
It was difficult to believe that someone completing his first hundred before the start of the back 10 would be able to reach his double hundred by the end and India's batting sensation Rohit Sharma did just that en route his unbelievable 208 not out against Sri Lanka in the second ODI.
India crushed Sri Lanka by 141 runs to level the three-match series 1-1.
"If I am not wrong, the first 100 I got was around the 38th or 39th over. So I was telling myself, if I have got this far, I am not going to get out. I was only looking to keep my shape and hit through the line. It was the same thing I did in my first two 200s. I started off pretty slow then too," Rohit said after his record third double hundred on Wednesday.
Asked to rate his three double ODI centuries, Rohit refused to pick one.
"Very difficult to pick one. All three came at crucial times. 264 is obviously very close to me. I have said it many times, but I honestly cannot pick one.
"The Australia one was a decider, the Sri Lanka 264 – I came back after a three-month layoff after a big injury, and this one also - after a humiliating loss, we wanted to come back as a team, as a batting unit especially," he said.
The stand-in skipper is happy because of the turnaround that happened.
"It was a great day. Winning the game was important for me and the team after that loss in Dharamsala. I can keep talking about the batting that we did today, right from the start, with Shikhar (Dhawan) giving us a brilliant start, and Shreyas Iyer - it didn't look like he was only playing his second ODI," Rohit said.
"There was dew later, so it was important to get that big total."
Sri Lanka captain Thisara Perera rued the below-par performance of his bowling unit and said no plans worked for them against Rohit.
"Unfortunately our bowling didn't click. Especially, Rohit batted really well. That is cricket. We will take positives from this match and flush out the negatives," he said.
"We had a Plan A and B and C as well - it didn't click. That is why I said Rohit batted really well. If we want to chase this kind of score, we need a good start, and middle order as well."
"Both parts didn't click, but Angelo (Mathews) did well in the batting part. We will come back well in the third ODI," Perera said.