'I was visualising even in dressing room and also in my hotel room, just thinking about what are the good shots on this wicket and how I am going to dominate their spinners'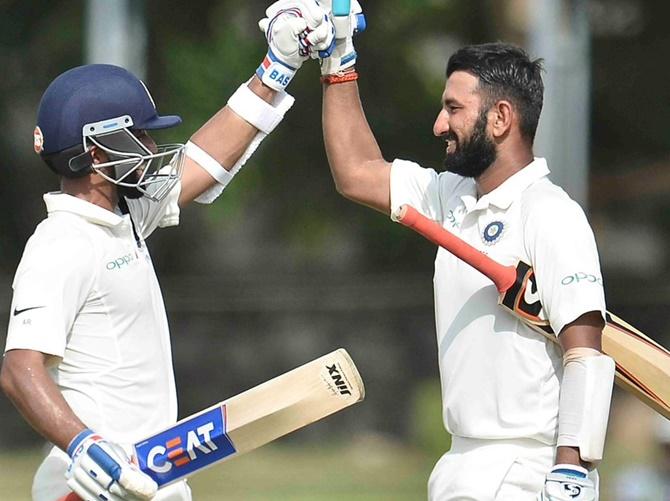 IMAGE: India's Cheteshwar Pujara and Ajinkya Rahane celebrate. Photograph: SLC/Twitter
India vice captain Ajinkya Rahane on Friday rated his knock of 132 against Sri Lanka as one his best on spin-friendly tracks as he predicted tough times for batsmen in the remainder of the second Test.
Rahane shared a 217-run partnership with Cheteshwar Pujara (133) for the fourth wicket, rescuing India from a precarious 133 for three on day one.
"This was one of the best innings against spinners. My focus was to dominate. Going in to bat I knew a little bit how the wicket was behaving, how much bounce it had and whether it suits my game or not.
The communication between Pujara and me was that we hardly played any maiden overs. So we put pressure back on them. As the match goes on, it will be a more difficult wicket to bat on," said Rahane.
India's strength in this series has been how they have handled the Lankan spinners, in particular Rangana Herath. Rahane said they had a game plan to counter home spinners.
"When we played last time here against Sri lanka, especially after Galle Test match, we decided that using footwork against Herath was very important. Throughout against him and their other spinners we wanted to use our footwork so we could get more runs on the backfoot.
"Especially on this kind of wicket, it is very slow and dry, so we knew that if we use our footwork we would get more runs. Bounce is quite variable. Some balls are bouncing and few balls are keeping low. We knew that if they play sweep shot its good for us we have the chance to get wickets.
"But it's not easy for batsmen playing on this wicket. Tomorrow will be key to our bowlers to bowl in right areas for long period of time," Rahane explained.
IMAGE: India's Ajinkya Rahane celebrates his century. Photograph: Dinuka Liyanawatte/Reuters
His ninth Test hundred has come after a long gap of nine months as his last hundred came against New Zealand in 2016 when he scored 188. He struggled against England and Australia in the previous home season.
Rahane said was not worried about his poor run.
"It was an important hundred but I was confident. Even throughout that time not getting a hundred for 9-10 Tests, I was confident about myself. I knew that if I get in, I will get a big one. It was all about thinking positively even throughout that period."
"Coming to Sri Lanka, I was batting well in West Indies as well I so wanted to carry that form forward. I decided if I play positively I will convert it to a big one. I was visualising even in dressing room and also in my hotel room, just thinking about what are the good shots on this wicket and how I am going to dominate their spinners," Rahane said.
"My mindset was completely blank coming into this innings. I wanted to take my time initially but later on, we thought if we dominate, if we change the momentum, they will be on the back foot straightaway, and that's what happened.
"It was like the same thinking that was in Melbourne in Australia (2014-15 in partnership with Virat Kohli). I wanted to dominate them and that's what we did. But here the challenge was slightly different."
"It was a spin-friendly wicket and we wanted to get a good partnership. I was talking to Virat in the dressing room before lunch (yesterday) that if we get a 150-200 partnership, they will be on the back foot and that's what actually happened, me and Pujara got that partnership," he added.