Ponting said that he has never been more impressed by a young cricketer than Hughes
'Hughesy was, in my opinion, a better bat than Graeme Smith'
'The tragedy in cricket terms here is that we did not get to see him genuinely ply his trade'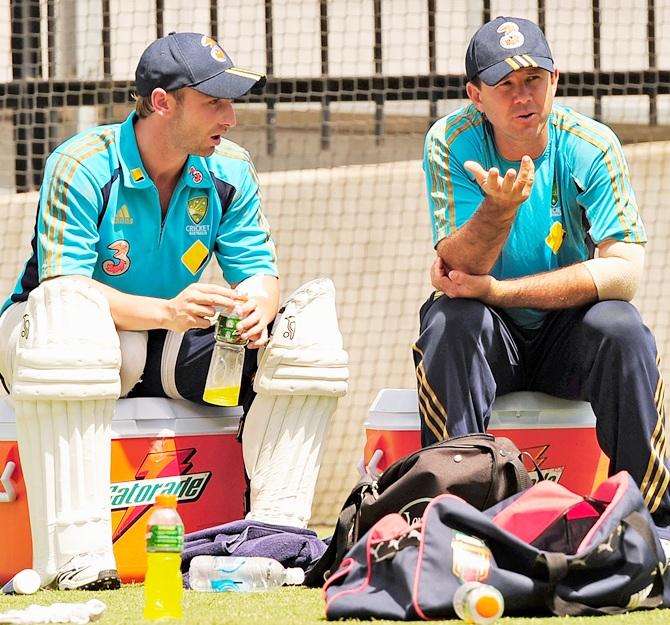 Phillip Hughes and Ricky Ponting of Australia speak during an Australian nets session. Photograph: Quinn Rooney/Getty Images
Former captain Ricky Ponting has paid glowing tributes to deceased Australian cricketer Phillip Hughes, describing him as someone who enjoyed challenging situations and said he saw a streak of daring in his batting like legendary Adam Gilchrist.
"I didn't really know him when he joined us on South Africa tour in 2009, but I knew he was going to open batting in first Test and I went out of my way to talk and spend time with him. I tried to get as close as I could," Ponting said.
"He was a really impressive young guy. He wanted to learn and he had that respect that you find in a lot of country kids and he listened closely. The thing that made my job easy was that he was just so likable," Ponting wrote in his column for The Australian.
Ponting said that he has never been more impressed by a young cricketer than Hughes.
"South Africa had a pretty fair bowling attack, but it was not long until he was hitting them to all parts of the ground. You could see they really were surprised by his unusual strokes and you have to remember that for a little bloke, he could really belt the ball. A 20-year-old on debut is not supposed to hit Dale Steyn back over his head, but that's what he did," the former captain wrote.
"He took it up a notch in the Durban Test. There were shades of Gilchrist in the way he cut and plundered bowling there. I had seen Gilly do the same thing at that ground, but not many other people can get away with that sort of batting.
"... in second innings when he got 160 I can tell you the bowlers were into him big time. Dale, Morne Morkel and Makhaya Ntini were going hard with the ball and a bit of verbal. I thought I'd better go down and check how he was, but before I got there he looked up and grinned at me 'I'm absolutely loving this'," said Ponting.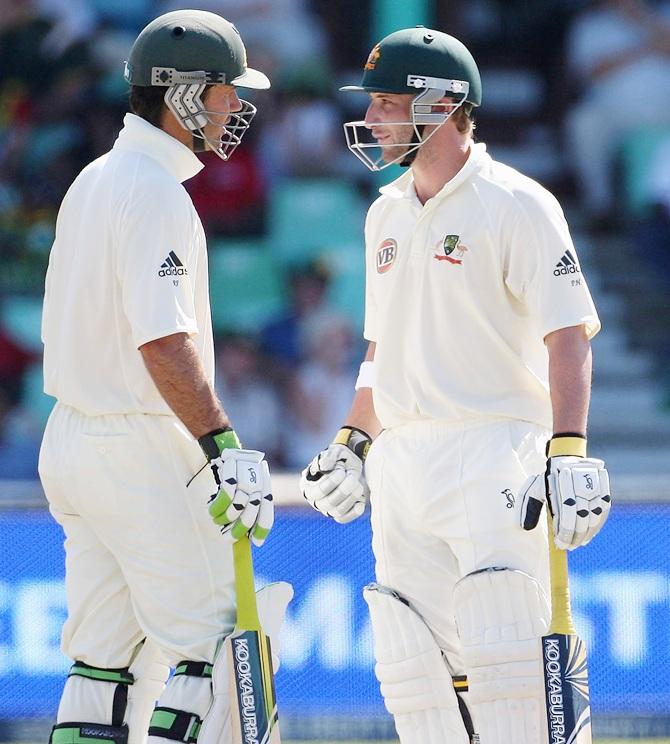 Ricky Ponting and Phil Hughes of Australia chat between overs. Photograph: Hamish Blair/Getty Images
Hughes, 25, succumbed to his injuries on Thursday at a hospital in Sydney where he was battling for life after being hit by a bouncer from Sean Abbott during a domestic match between South Australia and New South Wales on Tuesday.
Ponting rated Hughes better than prolific South African captain Graeme Smith as an opening batsman. Hughes played 26 Tests, scoring 1535 runs while Smith made 9265 runs from 117 matches before retiring early this year.
"That was the thing about Hughesy: he loved batting, the harder it was the more he loved it. He just wanted to be out there. Steve Waugh was like that and so was Justin Langer, but not everybody finds it fun being under so much pressure. You know that is what made him such a prolific scorer at first-class level. He never wanted to leave the crease because that was where the party was," Ponting said.
"If there was a knock on him, it was that people did not rate his technique and there is no doubt he could make things look difficult at times, but that did not concern me. Graeme Smith is the same and he made a lot of runs. Hughesy was, in my opinion, a better bat than Graeme.
"The tragedy in cricket terms here is that we did not get to see him genuinely ply his trade. I am sure he had a lot of Test cricket in him and he was going to make a lot of runs. He was ready to take the next step."