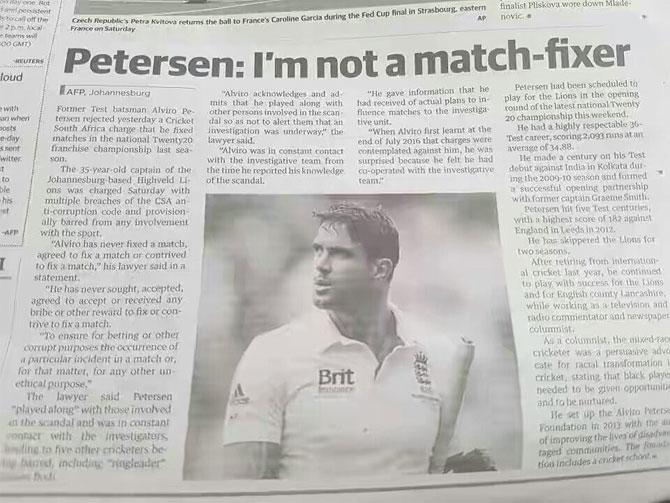 IMAGE: Kevin Pietersen tweeted the newspaper cutting of the mistaken identity. Photograph: Kevin Pietersen/Twitter
Former England batsman Kevin Pietersen expressed his disappointment after his photograph was attached alongside a newspaper article regarding the sensational match-fixing news about South African Alviro Petersen.
A Bangladesh-based English daily ran a story on Petersen, former Proteas all-rounder, responding to the news that he was being charged under Cricket South Africa's (CSA) anti-corruption code for match-fixing allegations relating to last season's domestic T20 competition.
- Ex-Proteas opener Alviro Petersen denies match-fixing charges
Now, instead of running Petersen's photograph alongside the story, the national daily ran a picture of Kevin Pietersen.
The maverick, former England captain, who is currently in Hobart, commentating in the ongoing second Test between Australia and South Africa, took to Twitter to react to the mistake committed by the Bangladesh daily.
"Hmmmmmm!!!! Not quite sure I'm all that happy with my image being used under this headline!!! What paper is this??????" Pietersen tweeted along with the photograph of the news item which had his picture.
Later on, the newspaper also issued an apology saying, "We offer our sincerest apologies to @KP24 for using his photo incorrectly in a news."
Petersen, a former South Africa opener, who has been charged with match-fixing, has however, rubbished claims of accepting bribes to fix matches, but admitted to playing along with those involved in the match-fixing scandal in the domestic T20 tournament.
Earlier in March, Petersen revealed that he had reported fixing approaches but did not consider himself under investigation.