'It's not that I consider myself as a batsman, I am a batsman'
'Just a bit more focus, spending some more time batting at the nets, talking to batting coach, mentally prepared for certain situations where you need to take more responsibility'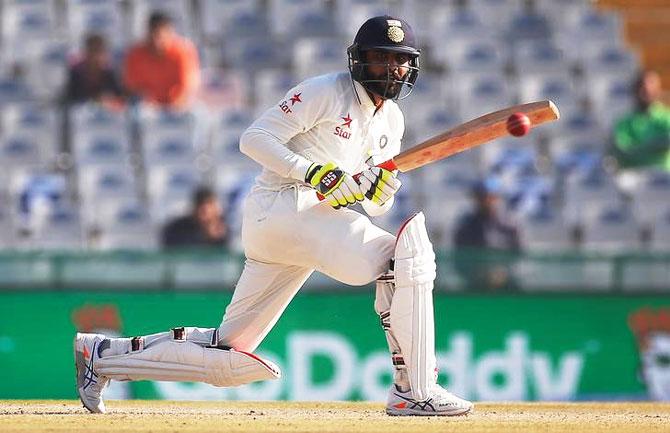 IMAGE: Ravindra Jadeja bats en route his 90 runs on Day 3 of the 3rd Test in Mohali on Monday. Photograph: Adnan Abidi/Reuters
Often criticised for underperforming with the bat, India all-rounder Ravindra Jadeja took a dig at his detractors after notching up a career-best Test score in the ongoing third match of the five-game series against England in Mohali on Monday.
- PHOTOS: Ashwin, Jadeja and Jayant leave England reeling
- Ashwin's all-round show puts India in control
Jadeja's career-best Test score of 90 helped India take a 134-run first innings lead, thereby putting England under immense pressure on third day of the game.
"It's not that I consider myself as a batsman, I am a batsman," Jadeja asserted when asked whether he has become more responsible while batting, which was evident in his defensive game on Monday.
In fact, to drive home his point, he put out a series of statistics.
"I have been scoring runs in first-class cricket at an average of 53 (43 as per espncricinfo records), if you leave aside Test matches, that is. It's not the first time that I have made 90 runs. Yes, may be a first in Tests but I have an idea that I can bat. I wasn't in a hurry, since it was a slow wicket with less turn. I knew after 50, 60 or 70 balls, I can up my scoring rate," said the Saurashtra all-rounder.
Asked to compare his 68 at Lord's with today's knock, Jadeja said: "I think any good innings that you have played for India is important. Even during this innings, we were in a situation where we were 5 for 150 (156) and from that situation to guide the team to a good position was challenging.
"Jayant (Yadav), (Ravichandran) Ashwin and myself spoke to each other, built the innings and luckily we are now in a good position considering that they are still 70 behind (56 actually) and are four down."
He said that since England was bowling "boring lines", he decided to take them on during the post lunch session.
"I didn't go on an attacking mode just like that. They were bowling boring lines outside off stump. We had lot of time at our disposal so I just thought that let's disturb the bowler by going outside the off-stump. Try and use the area on the leg-side as there were only two fielders there. That's what I was trying and luckily I got four boundaries in that over (of Woakes)," Jadeja said.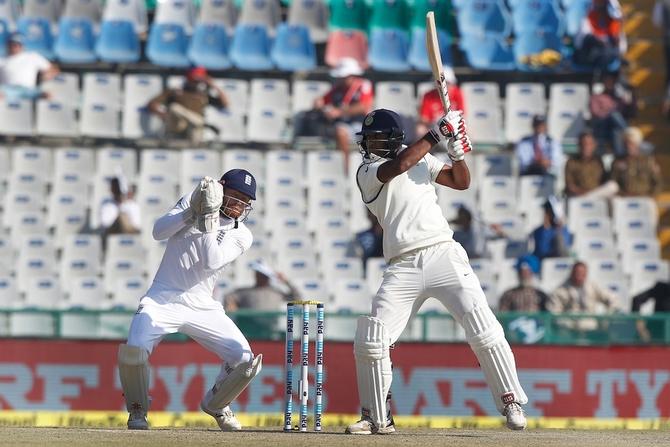 IMAGE: Jayant Yadav scored his maiden 50. Photograph: BCCI
Jadeja has no regrets missing out on his maiden Test hundred by 10 runs.
"The shot that I got out is my pet shot. I can hit six anytime with that shot. I had confidence, but the ball came slow off the wicket and that's why I didn't get the required impact. I am not disappointed that I was out to that shot," he said.
In India's Test history, it's the first time that batsmen from No 7 to 9 have scored 50 plus runs in the same innings and Jadeja said that it proves a point that lower-order too can bat.
"Any team will have a plus point if its lower middle order is contributing. If the last 7-11 can give 50 to 100 runs extra for the team it's a bonus. Luckily everyone is contributing, which is a good sign and also an indication that it's not only the top-order that's contributing. We have batting till No 9 and we can score runs. Everything that's happening is for good," the left-handed batsman said.
But Jadeja did stress that spending extra time on batting at the nets has helped the team.
"It's not magic. Just a bit more focus, spending some more time batting at the nets, talking to batting coach, mentally prepared for certain situations where you need to take more responsibility. Ashwin is scoring runs, he has scored around 500 runs this season. I am also trying to score as many runs as possible to help the team," he said.
© Copyright 2022 PTI. All rights reserved. Republication or redistribution of PTI content, including by framing or similar means, is expressly prohibited without the prior written consent.