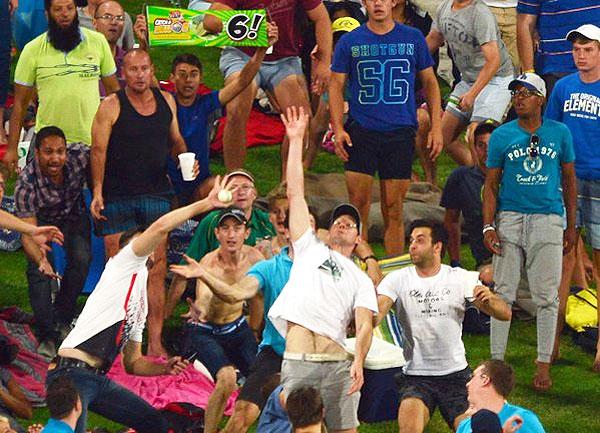 Fans attempt a one-handed catch during the Ram Slam T20 tournament in Centurion. South Africa on Saturday. Photograph: Cricket South Africa/Twitter
Ten South African cricket fans shared a million-rand prize after catching one-hand sixes in the recently concluded domestic cricket tournament -- The Ram Slam T20.
Sponsors had promised the huge prize to anyone who caught a sixer in a one-handed catch, little realising that there would be as many as ten fans claiming the bounty.
In the first two weeks of the six-week tournament, nobody caught any of the balls hit out of the field, but by the time the final arrived, nine winners had been invited to watch the game and receive their prize of just over R100,000 each.
But the winners saw their prize evened out to exactly the same amount after 22-year-old technician Willem van der Merwe became the tenth and final winner.
Amateur all-rounder Van der Merwe confessed after the game that his hand had been sore for well over 30 minutes after taking the catch.
"I didn't even think the ball was coming my way until the very last second, then I calmly told myself 'one hand'. I haven't played club cricket for two years, but being an all-rounder helped in securing the catch as it certainly wasn't an easy one," he said.
In true sportsmanship, the other nine winners high-fived Willem and welcomed him into their winners' hospitality circle, whilst Willem jokingly apologised to them for stealing some of their winnings.
A number of top players from across the globe had joined the provincial franchise teams who vied in the tournament.
"The Ram Slam T20 competition is now a world-class brand and competes favourably with other leagues around the world," said Cricket South Africa chief executive Haroon Lorgat.