There are bowlers who have a better statistical record than 311 wickets in Tests and 282 in ODIs, but those figures do not reveal Zaheer Khan's match-winning abilities in all conditions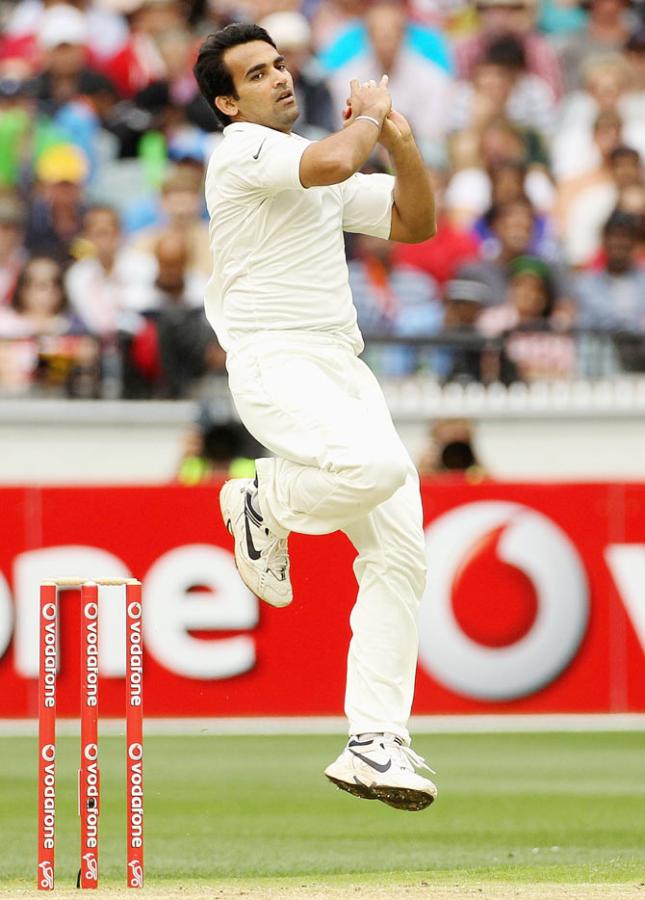 IMAGE: India's Zaheer Khan bowls during the Boxing Day Test against Australia on December 26, 2011 at the Melbourne Cricket Ground. Photograph: Hamish Blair/Getty Images
Zaheer Khan, one of India's greatest fast bowlers, called time on his international cricket career on Thursday, admitting he could no longer cope with the rigours of the game.
The 37-year-old left-arm pacer, who played 92 Tests, 200 ODIs and 17 T20 Internationals, was in and out of the team during the last three-four years because of recurrent injuries.
In 92 Tests, Zaheer took 311 wickets, making him the fourth highest wicket-taker among Indians in the longer version of the game after Anil Kumble (619 wickets), Kapil Dev (434) and Harbhajan Singh (417).
In 200 One-Day Internationals he bagged 282 wickets while in Twenty20s, he had 17 scalps from as many matches.
He played a major role in India's 2011 World Cup triumph, taking 21 wickets in the tournament.
There are bowlers who have a better statistical record than the 311 wickets in Tests and 282 in ODIs, but those figures do not reveal Zaheer's true match-winning abilities in all conditions.
Statistics don't tell the number of matches he missed due to injuries in the last four years during which his appearances in international as well as IPL appearances were few and far between.
When it comes to left-arm seam or quick bowlers who have played the game, Wasim Akram probably sits on a different pedestal, but Zaheer certainly was India's 'Very Own Akram', may be a notch below but very effective nevertheless.
Reverse swing came into Indian cricketing conscience with Manoj Prabhakar, but one player who took it to another level was Zaheer, or 'Zak the Ripper' as fans affectionately call the pacer.
Zaheer made Indian bowlers believe that reverse swing is not the preserve of Pakistani bowlers.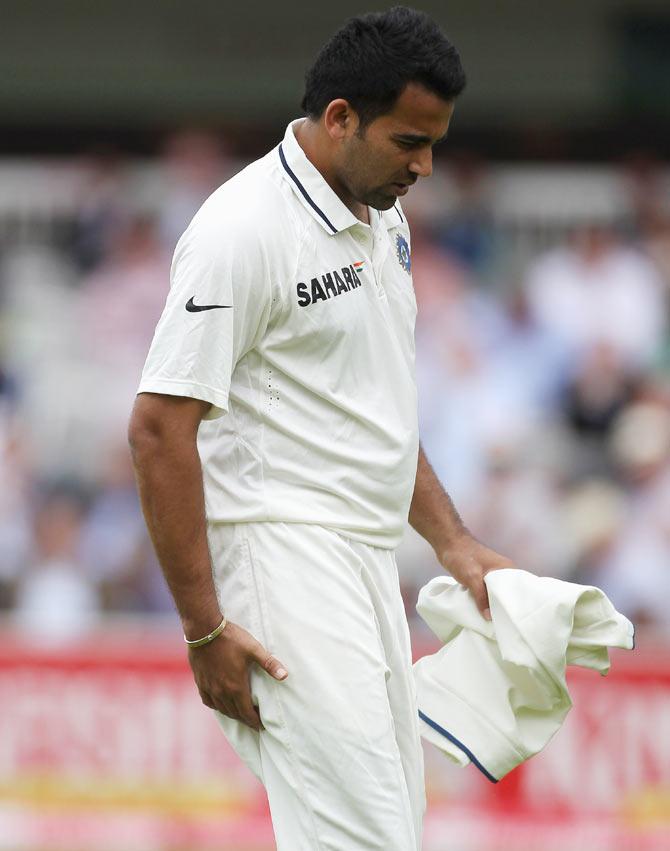 IMAGE: Zaheer Khan limps off with a hamstring injury on Day 1 of the 1st Npower Test Match between England and India at Lord's Cricket Ground on July 21, 2011. Photograph: Getty Images
If one tries to dissect the career of the man from Shrirampore in Maharashtra, then it would be divided into three distinct segments.
The first phase was the start of his international career in Nairobi during the Mini World Cup in 2000 when he burst on the scene as a tearaway quick bowler, unleashed by Sourav Ganguly.
The second was of a man who knew exactly what he could do with red cherry. He shortened his run-up, lessened that pronounced jump while loading up and became an expert with the old ball in sub-continental conditions.
This was the phase when Trent Bridge happened as India won a Test series in England, Test series against Australia at home, where he was lethal with the old ball, and the biggest of them all – the World Cup, where he led the charge with 21 wickets.
The third phase was a disappointing one, which started by pulling out with a hamstring injury in the first session on the first day of a Test against England at Lord's.
Zaheer underwent surgery, but was never the same bowler again despite still managing to trouble his 'bunny' Graeme Smith, whose "number was always" available with the classy left-armer. By the time he played his last Test match in Wellington in February 2014, one could see that he was bowling from memory.
It was his last five-for in Test as well as international cricket, but Zaheer's ardent fans would not like to remember that 5-170 despite his incisive first spell.
Talking about the first phase, Zaheer came just when Javagal Srinath, one of India's genuinely quick bowlers, was entering the business end of his career.
Left-arm seamers are a rarity and here was someone clocking regularly in the region of 140 kmph to 145 kmph. One of the memorable dismissals in that early phase was a lethal yorker bowled by Zaheer to get rid of Steve Waugh in his very second ODI.
It is now well-documented as to how he was a vital cog in Sourav Ganguly's scheme of things during that phase along with Virender Sehwag, Yuvraj Singh, Harbhajan Singh and Ashish Nehra.
The quartet played a massive role in India turning out into a quality unit under Ganguly's leadership as they won the Natwest Trophy, drew the Test series in England and Australia, won in Pakistan and reached the World Cup final.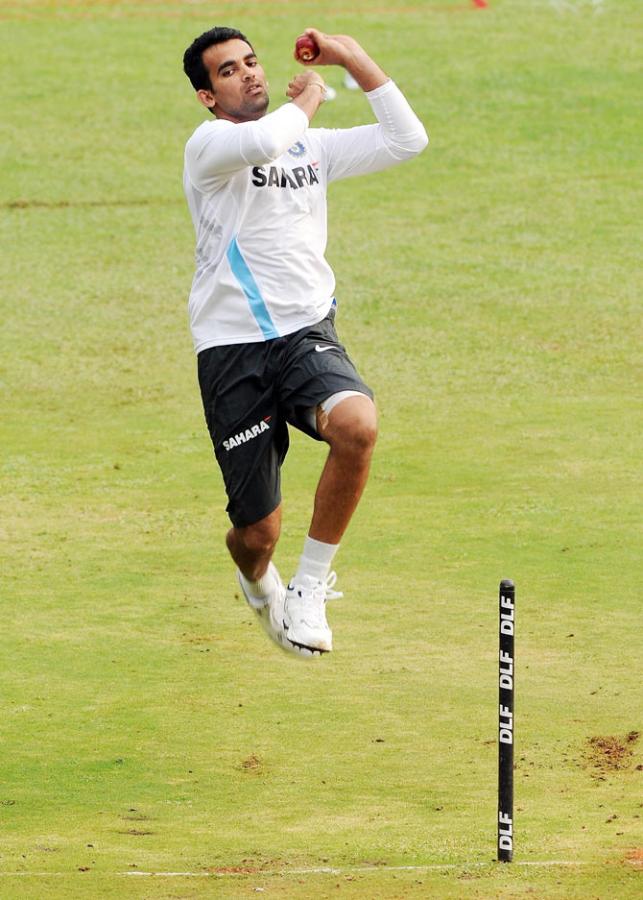 IMAGE: India's Zaheer Khan bowls during a nets session at M Chinnaswamy Stadium in Bangalore, on October 7, 2010. Photograph: Pal Pillai/Getty Images
However, the two-year phase under Greg Chappell was a nightmarish one for Zaheer, just like his then skipper and some of the senior players.
Zaheer, on his own admission, was circumspect during that phase as Chappell had told him that he might be dropped from the side. His fitness dipped, performance waned and was dropped from the Indian side after the tour of Pakistan in 2006.
He went to County cricket and that was the start of the second phase at Worcestershire that led to a transformation from a tearaway quick bowler to a cerebral exponent of left-arm quick bowling.
It includes a lot of variations that don't readily happen for ordinary seam bowlers: getting the ball to shape in into a right hander, to make the ball move away and get it to reverse when the ball gets old. Zaheer had it all and could do it without much effort.
A good season at Worcestershire enabled a comeback for the tour of South Africa at the end of 2006 but his finest hour came in 2007's English Summer.
He made full use of his knowledge of conditions, picking 18 wickets in three Test matches with a haul of 9-134 in India's series-winning victory. The match was also infamously known as the 'Jelly Bean Test' as England players were accused of spitting sweet candies near the pitch when Zaheer was batting. The image of Zaheer angrily pointing his bat at Kevin Pietersen standing at gully is etched in the memory of one and all.
In the second innings of that Test, Zaheer got 5-75, using conventional swing in his first spell, and got the old Duke ball to reverse in his third spell as Rahul Dravid's men won a Test series in England after 21 years.
He never needed to sledge, he could bowl a heavy duty delivery, stare at the batsman and with a wry smile might have quiet word. Ricky Ponting got that that dose when he was run-out and Zaheer said: "Usain Bolt" making a sarcastic jibe at Australian skipper's speed while running between the wickets. That was the combative Zaheer.
This was the phase, he became a sort of a mentor and tutor for the young bowlers of that era: RP Singh, Shantakumaran Sreesanth, Praveen Kumar, Munaf Patel -- who had all learnt a thing or two and effectively implemented them for a short period of time. But they were no Zaheer Khan and that's why didn't last that long.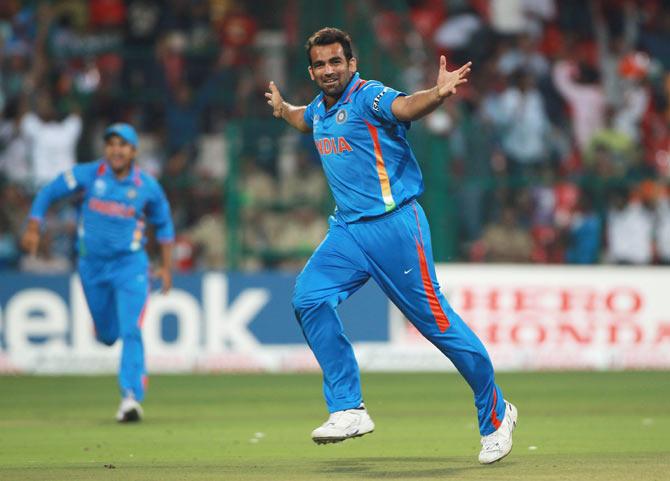 IMAGE: India's Zaheer Khan celebrates taking the wicket of England's Andrew Strauss during the 2011 ICC World Cup Group B match at M. Chinnaswamy Stadium in Bangalore on February 27, 2011. Photograph: Tom Shaw/Getty Images
The manner in which Mahendra Singh Dhoni handled him during the 2011 World Cup was admirable. He was never as consistent in his entire career as he was during that tournament taking 21 wickets. If India managed a tie against England, it was because how Zaheer used the old white 'kookaburra' under lights at the Chinnaswamy stadium.
The triumph of 2011 could have been an ideal swansong for the 33-year-old, who had nothing more to prove.
Probably, Zaheer's only mistake was to carry on after the 2011 World Cup as he played only 14 Tests, nine ODIs and five T20 Internationals after April 2, 2011.
If Zaheer, at the Wankhede with ICC World Cup was the most endearing of sights, the most tragic was him hobbling at the Lord's later that year during that 0-4 Whitewash.
His career was over that very day at Lord's, as he never was the same bowler in his last 13 Test matches. He deserved to get his 300 wickets and he got that, but looked like someone who was pushing his body to the limits.
He might play another year in the IPL, but his die-hard fans would like to remember the Zaheer in whites trying all sorts of weird artistry with the red cherry.
Also read:
- 'You want to push that few extra miles but the body decides not to respond'
- Zaheer was a bowler who could out-think the batsmen: Tendulkar