Santner predicts high-scoring India-New Zealand series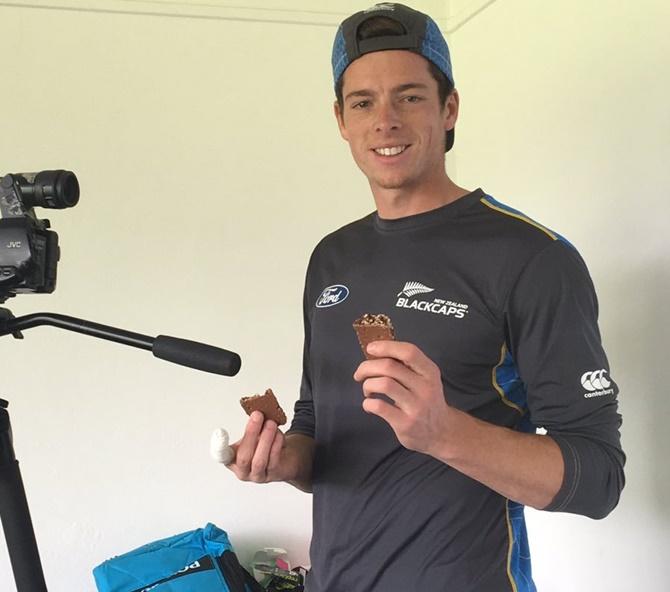 New Zealand's left-arm spinner Mitchell Santner believes the upcoming limited overs series in his home country against India could be a high-scoring affair due to the nature of grounds and wickets and hopes to be a part of it.
India, who last toured New Zealand in 2014-15, will return to Kiwiland for a five-match ODI rubber starting January 23 in Napier, to be followed by best-of-three T20 Internationals (T20Is).
"Both teams have changed a lot since then (the 2014 tour). India have performed in England and against (Australia) in conditions similar to New Zealand. It's (depends on) how quickly they (India) can adapt to those conditions."
"If they can hit the ground running on those home conditions for us, it's going to make for a very interesting series. It can be a high-scoring series with the nature of grounds and wickets (on offer)," Santner said on Monday.
Santner, along with compatriot Corey Anderson, spoke to reporters during a special interaction organised by Star Sports, the official broadcasters of the limited over series.
"Virat (Kohli - the skipper) and other Indian batsmen are scoring a lot of runs at the moment and they haven't been to New Zealand for four years. But they have played all round the country and scored runs everywhere."
"So they will probably like our conditions, where its quite flat, with not a lot of turn. And obviously if there's not a lot of swing, it (series) can be high-scoring. So the batsmen will like it and hopefully the ball swings for us," added the 26-year-old spinner.
Santner also feels the two teams could take momentum from the series before heading into the 2019 World Cup, which starts in England at the end of May.
"The series will be a good test for both the sides leading into the World Cup and I guess in similar conditions. Both the teams will be looking forward to the competition and to take some momentum into the World Cup," he added.
On a personal note, Santner, who is recovering from a knee injury, hopes to return to action during the India series.
"Been out for a while, its been nine months. So have been back training and cricket is not too far away. Hopefully will join the home summer and get back for this Indian series and try and get some wickets," he noted.
According to Santner, India have a 'strong batting line up' and the key for the visitors, with wrist spinners Kuldeep Yadav and Yuzvendra Chahar in operation, will be to get wickets in the middle overs.
"With the nature of flat wickets, the wrist spinners can spin the ball both ways. The key in ODI cricket is to get wickets in the middle (overs)."
"The wrist spinners - they might leak a lot more runs but have the option (chance) of getting more wickets (too)," he said.
All-rounder Anderson, on his part, said he would like to be in New Zealand's 2019 World Cup team.
"If I stay fit, I would love to be involved in that team (of the World Cup). I have the experience of being (in the team) for the last World Cup. If I am playing my best cricket, I can do a very good job for New Zealand and help balance out the side," Anderson reckoned.
Conditions in NZ will not be similar to Australia but will help seniors: Dravid
The playing conditions will not be similar to Australia but it would be still be valuable match practice for the Test regulars, who are part of India 'A' squad in New Zealand, insists Rahul Dravid.
India Test vice-captain Ajinkya Rahane, Rohit Sharma, Murali Vijay, Prithvi Shaw, Parthiv Patel and Hanuma Vihari figure in the A squad for the first unofficial Test, scheduled in Mount Maunganui from November 16.
All these six players have also been picked for the four-Test series in Australia, beginning December 6.
"I think it will be a very good opportunity for some of the boys who are requested by the senior team management to be a part of the A tour," Dravid told bcci.tv.
"They will be able to gain some match-time experience even if the conditions are not going to be exactly the same or it is not like being in Australia. The A team format is pretty competitive and it is match-time experience. It is a good opportunity in the lead up to international tours."
India 'A' are scheduled to play three unofficial Tests and as many One-dayers in New Zealand.
Dravid feels the youngsters in the squad will also benefit from the presence of seniors.
"What we see nowadays is that there is not much time for practice or practice games in the lead up to an international series because of the amount of cricket that is being played.
"From Indian cricket's perspective by organising these tours, we can give the boys a better chance to prepare for an international series. It is exciting to have the senior boys with us. The objective for us is to prepare them for Australia and at the same time, the younger boys get an opportunity to share the dressing room with them," said the former India captain.
The tour has gained more significance as India just play only one warm-up game before the first Test begins at Adelaide on December 6.
"It is really nice to be able to hold such tours just before the Indian team visits these countries. We are trying to achieve that with the A team programme. We are trying to have shadow tours. We did it in England and we could obviously not do it in Australia, but it is great to go to New Zealand instead," said Dravid.
The batting great said the focus will be on red-ball cricket during the team's stay in New Zealand.
"The focus on the New Zealand tour is more about four-day cricket and I think we are playing really good white ball cricket. I have seen this on the A tour over the last two and a half years. We have been really competitive and building a very good bench strength. The IPL really helps in that department."
"The push from my perspective and some of the thinking and planning that has gone into is that we try and improve our longer format cricket, especially when travelling overseas."
"Keeping that in mind, we have increased the number of Test matches. We are trying to increase the amount of red ball cricket that our boys can get to experience."
India have not done well overseas of late, losing back-to-back series in South Africa and England.