'They (Chahal and Yadav) haven't made it easy for us to get singles'
'The key is definitely to try and be positive, but unfortunately on a few occasions we haven't picked the wrong 'uns'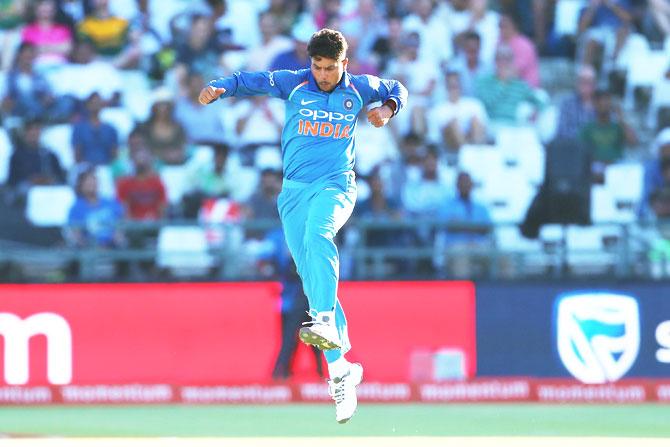 IMAGE: India's Kuldeep Yadav celebrates the the wicket of South Africa captain Aiden Markram during the third ODI on Wednesday. Photograph: BCCI
Bamboozled by Yuzvendra Chahal and Kuldeep Yadav in the ongoing ODI series, South Africa middle-order batsman JP Duminy said the Proteas need to go back to the drawing board and re-work their plan to tackle the Indian wrist-spin duo.
Chasing India's 303 for six, South Africa once again surrendered before Chahal (4/46) and Yadav (4/23) to end way behind at 170 all out in 40 overs.
The hosts lost the third ODI by 124 runs to surrender an unassailable 3-0 lead in the six-match series.
"What they've done really well is assess the conditions in terms of what they need to do, what sort of speed and length they need to bowl. They (Chahal and Yadav) haven't made it easy for us to get singles," Duminy said.
"A lot of us have not picked their googlies. We've not been good enough. They've bowled well enough not to let us play according to our game plan. We've got to come up with different ways of countering them. They've outplayed us in all departments," he added.
Duminy said with three matches remaining the series is not yet over and the hosts would need to do some series thinking before the fourth ODI.
"I think there should be a plan. There's no doubt that we will reconvene after this game and break down where we are going wrong. It's pretty obvious that we haven't played their spinners well enough," he said.
"The series is not lost yet and that should be a big enough motivator for us."
Chahal and Yadav have been at their imperious best, snaring 21 wickets between them in three matches so far.
Duminy and Aiden Markram put on 78 runs for the second wicket, but after the latter's stumping South Africa's chase fell apart.
"At that point we were building quite a nice partnership so it was just about rotating the strike. We know at a venue like this if you have wickets in hand you give yourselves a chance chasing eight or nine an over," Duminy said.
"Unfortunately throughout the series we've lost wickets in clusters so we haven't given ourselves a chance. We've got plans of how to counter their spin, but unfortunately the execution hasn't been good enough," he added.
The left-hander said South Africa batsmen are finding it difficult to pick Chahal and Yadav.
"We've just got to find a way to counter them (Chahal and Yadav). The key is definitely to try and be positive, but unfortunately on a few occasions we haven't picked the wrong 'uns," he said.
"When you are not picking their wrong 'uns, you are not necessarily comfortable. Once you become comfortable with picking their deliveries, that's when you can play with confidence."
India skipper Virat Kohli continued his magical form and scored an immaculate 34th ODI hundred, 160 not out, his second-highest score in this format on Wednesday.
And Duminy said Kohli belongs to the elite league and South African bowlers need to think differently to get the better of the India captain.
"He's (Kohli) up there with the world's best. You have to take the opportunities when it comes, especially in the first 20 balls. We've created chances but unfortunately we haven't got grab those," he said.
"He's in really good form at the moment. He has had an unbelievable year and he has just carried on. He is oozing with confidence. We're going to have to come up with different plans for getting through him," Duminy added.
Citing Kohli's innings, Duminy said South Africa have been undone by lack of partnerships in the ongoing series.
"Look at Virat's innings today, the way he paced it. He didn't strike at 100 today but then picked it up at the end."
"We've spoken a lot about how crucial partnerships are, but unfortunately we haven't had the opportunity to put together partnerships," he said.
South Africa now face a huge task of turning the series around. The hosts now must win all three remaining games to draw the series level.
South Africa would be bolstered by the return of AB de Villiers, who missed the first three ODIs due to a finger injury.
"I think every cricketer has been through this at some point in their career. We're looking forward to the fourth ODI and having AB (de Villiers) back is going to be a massive boost," Duminy said.
"He is one of the world's best players in one-day cricket. He will bring confidence to the team and his leadership within the group will add a lot of value as well."