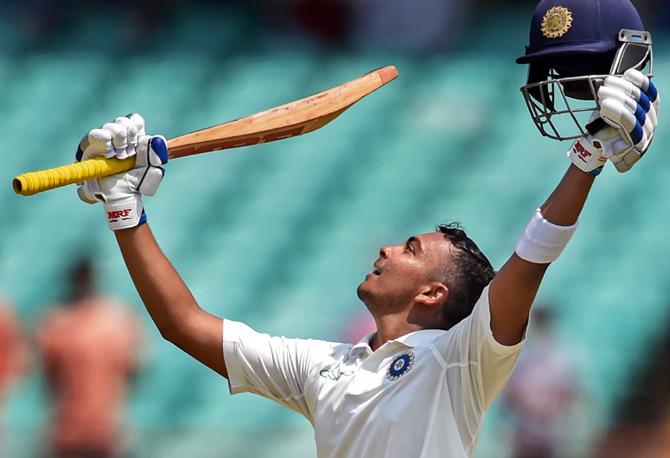 'What stands out is the way he batted, big temperament. He dominated the bowlers on the way to his hundred. Big game, first match, he just played the way he knew.'
'He will go to Australia in a couple of months. I am sure he will do well because he is a good back-foot player. You want to see young players doing well.'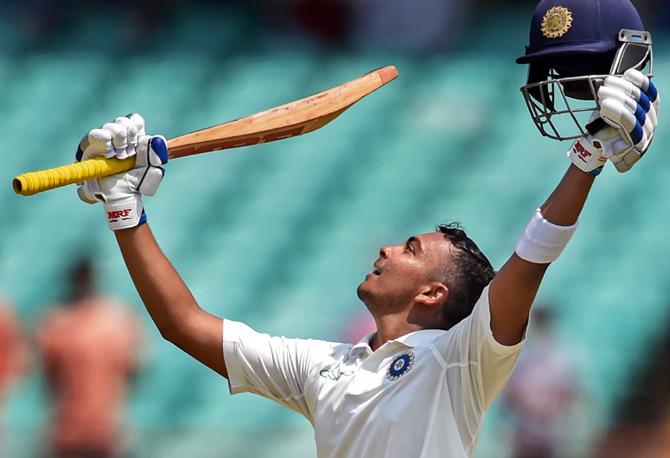 Former India captain Sourav Ganguly heaped praise on Prithvi Shaw for his sensational hundred on Test debut and said the 18-year-old can do well in countries like Australia.
Shaw, on Thursday, became the youngest Indian batsman, fourth overall, to score a hundred on Test debut during the first match against West Indies in Rajkot.
"What stands out is the way he batted, big temperament. He dominated the bowlers on the way to his hundred. Big game, first match, he just played the way he knew," Ganguly said on Thursday, at the announcement of the fifth edition of Tata Steel Kolkata 25K running event to be held on December 16.
"It's positivity, temperament and attitude to batting which is fantastic. Playing the Under-19 World Cup and playing a Test match for India is completely different. What I saw today was extremely pleasing to the eye and hopefully he can play for India for a long, long time."
With the series in Australia coming later this year, Ganguly said Shaw would do well there as the young player is a solid back-foot player.
"He will go to Australia in a couple of months. I am sure he will do well because he is a good back-foot player. You want to see young players doing well," Ganguly said.
"It's still early days, he will have to go the distance going around the world. But congratulations to him and I thought he was absolutely marvellous today."
Comparisons may have been started for Shaw with many drawing parallel with Virender Sehwag but Ganguly said the youngster should be left alone.
"Don't compare him with Sehwag. Sehwag was an absolute genius. Let him go around the world, I am sure he will get runs in Australia, England and South Africa but don't compare him with Sehwag," Ganguly said.
Shaw also became the first man to score hundreds in Ranji Trophy, Duleep Trophy and Test debut.
"It must be a phenomenal day for him. I didn't have a Ranji Trophy debut hundred. But I had a Duleep Trophy debut hundred and then India debut hundred," Ganguly said.
Ganguly, who is the chairman of Cricket Advisory Committee, also spoke on the issue of 'lack of communication' between players and selectors in the wake of the recent Karun Nair and Murali Vijay controversy.
Discarded Indian Opener Murali Vijay has said no one from the selection committee spoke to him about the exact reasons why he was dropped from the Indian Test team.
Vijay was axed from the side after the first two Tests. He scored an aggregate of 26 runs in the first match and bagged a pair in the second. He was also ignored for the two-match Test series against West Indies.
Nair, who was also dropped from the side for the West Indies series, had previously stated that the team management had not communicated to him what he need to do in order to get back into the Test side.
"I don't know the team dynamics as I have not been involved with the team for a long time. But it's important that the selectors communicate with the players as the players are very sensitive when they play. Murali Vijay has done extremely well for India. He has had a couple of failures in England but hopefully they (selectors) communicate," Ganguly said.
Meanwhile, the registrations for the 25K run, which has now got 'Bronze Label' status from the International Association of Athletics Federations, opened at the launch event.
The last date for submitting entries for the fifth edition of the event is November 30 while the entry fees will be Rs 1000 for 25K.
Apart from the main 25K event, entries will be accepted for 10km, Timed 5K, Ananda Run (5km distance without timing), Senior Citizens Run (2.1km) and Champions with Disability Run (2.1km) as the organisers expect a turnout of 20,000.
Terming it a great initiative, Ganguly said: "It's become a part of Kolkata now. Half of my family is participating."
Asian Games gold medallist heptathlete Swapna Barman was also present at the launch.
© Copyright 2021 PTI. All rights reserved. Republication or redistribution of PTI content, including by framing or similar means, is expressly prohibited without the prior written consent.