'It is no brainer who is our No 1 wicketkeeper. In search of second wicketkeeper, we have given opportunities to DK and Rishabh Pant'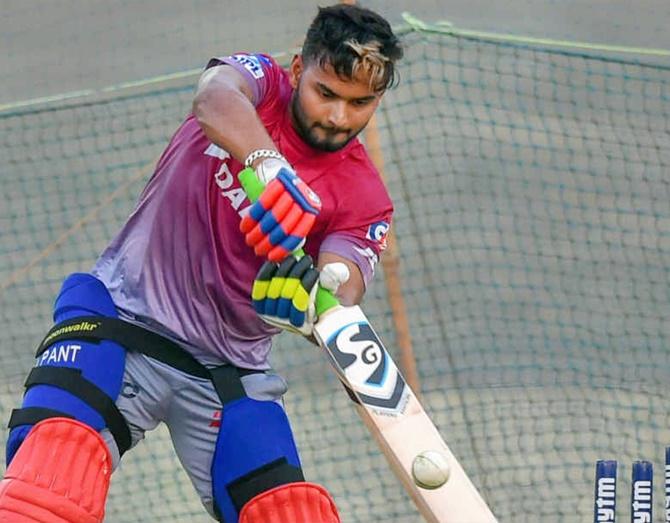 Dashing keeper-batsman Rishabh Pant forced his way into the Indian ODI set-up for the first time as the national selection committee got down to put in place a succession plan for the legendary Mahendra Singh Dhoni.

Pant, who had scored 114 and 92 in his previous two Test appearances, has been a prolific white ball player who replaced the inconsistent Dinesh Karthik as Dhoni's cover.
The southpaw is expected to be one of the missing links in the Indian ODI team's middle order jigsaw puzzle.
Asked if Pant will be playing purely as batsman, chairman of selectors MSK Prasad said, "Yes, definitely but if need arises he will be the back-up keeper."
While Dhoni remains the first-choice keeper till the World Cup, Prasad indicated that young Pant is a long-term investment.
"It is no brainer who is our No 1 wicketkeeper. In search of second wicketkeeper, we have given opportunities to DK and right now we are giving opportunity to Rishabh Pant. At an appropriate time, we will take a call as to who is the best among the two."
Prasad indicated that they have now zeroed in on a couple of names for the two middle-order slots.
Another interesting inclusion was of Mohammed Shami, who last played an ODI in September last year. He will be looked at as a potential third seamer option.
"I have been telling this for a quite some time that we are just 18 ODIs away from now before we play first game of the World Cup and so we need to figure out our fast bowlers and in this process we have picked Shami," said Prasad.
It is learnt that skipper Virat Kohli, who was rested for the Asia Cup, returns to play all five ODIs while Bhuvneshwar Kumar and Jasprit Bumrah are set to comeback during the second phase of the series.
The chairman of selectors also said that Dhoni will take part in the Vijay Hazare Trophy knock-out phase, representing Jharkhand.
"He (Dhoni) will play the knock-outs. About Ambati Rayudu, I need to confirm."
He also gave a couple of injury updates with Hardik Pandya unavailable till the second week of November as he is suffering from acute lower back injury.
About his future in red-ball cricket, Prasad said: "Well, it is a workload management program going on and it all depends on his recovery from the injury he has now. At an appropriate time, we can answer as and when he recovers from injury."
On Kedar Jadhav, it was learnt that he will be available for the last three ODIs as he is still recovering from a hamstring injury.
Prasad also in his own way rubbished multiple captaincy theory which was doing the rounds since India's Asia Cup triumph under Rohit Sharma's leadership.
"Well, I would like to tell in 2015, Virat took over Test captaincy and subsequently in 2017, he took over ODI captaincy. He has excelled in all formats, led from the front and India are No 1 side in all formats (only in Tests). We want all 15 players to think as leaders and we will be an unbeatable team. Rohit and Ajinkya (Rahane) has done well in that aspect but we want others to think like leaders and rise to the occasion," Prasad added.
Squad (for first two ODIs): Virat Kohli (Captain), Rohit Sharma, Shikhar Dhawan, Ambati Rayudu, Manish Pandey, MS Dhoni (wicket-keeper),Rishabh Pant, Ravindra Jadeja, Yuzvendra Chahal, Kuldeep Yadav, Mohammed Shami, Khaleel Ahmed, Shardul Thakur, KL Rahul.