India appeared to have been at the receiving end of poor umpiring decisions in the first ODI against the West Indies, but, in the end, they must have thanked their cricket Board which opposed the use of the Decision Review System in the series.
The West Indies' innings on Monday appeared a tale of vengeance by the Caribbeans for having been browbeaten on giving up on the DRS by the BCCI, with several of their players surviving what appeared to be clear dismissals.
But all these seemed neutralized, as Rohit Sharma, who scored a match-winning 68, could have been out early in his innings had the Decision Review System been used.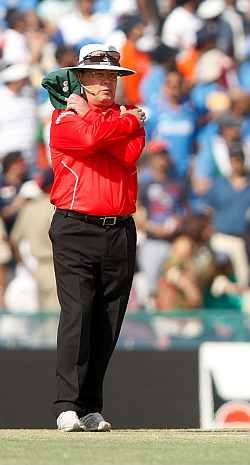 Ramnaresh Sarwan and Marlon Samuels appeared to have a license to survive, as, time and again, an Indian appeal for leg-before wicket against them was turned down.
Leg-spinner Amit Mishra has been resigned to his fate for most part of his career, but even he was given to exasperation when twice he went up in appeal against Sarwan and on both occasions the umpire struck a statuesque pose.
First, in the 22nd over, Mishra ripped one past Sarwan's defence but the umpire was unmoved.
Fourteen overs apart, another one drifted down the leg side and hit Sarwan on the back-pad as he tried to sweep. Again, no luck!
For a non-bowler, Suresh Raina thought he had the bowling Oscar when his fullish delivery beat Sarwan's intended flick and hit him plumb in front of stumps. No mercy, again!
Not that the spinners, the nemesis of the West Indians presently, were the only marked ones. Praveen Kumar bowled a leg-cutter that cut back and headed towards the middle stump of Marlon Samuels. The umpire was unmoved again.
All the replays were to show that if the UDRS was available, the Indians would have been celebrating and cutting short the West Indies innings much before they scored 214 on terribly hot day.
It was not long though that the Indians also appeared to benefit from the absence of the DRS.
Rohit Sharma was on 13 when leg-spinner Devendra Bishoo skidded one on to him, landing it on middle and leg and straightening. Sharma hurriedly brought his bat down but it was clear that the ball had hit the pad first and then the bat.
Replays showed it was a plumb decision.
Sharma went on to play a match-winning hand of 68 runs and the Indians were left thanking a board and gentleman by the name Ian Gould, who really played the role of neutral umpire to the hilt. All that went before in the day was neutralized in this manner.