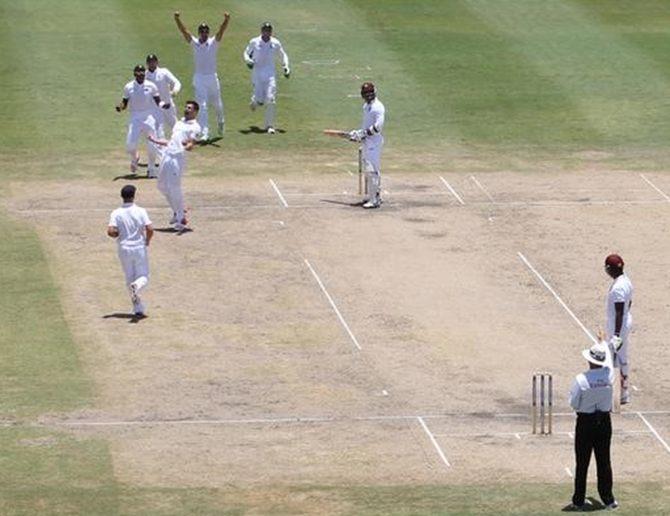 England's James Anderson celebrates the wicket of West indies' Marlon Samuels during Day 2 of the third Test. Photograph: Jason O'Brien/Reuters
Eighteen wickets fell on an extraordinary second day, leaving the third and final Test between West Indies and England intriguingly poised in Barbados on Saturday.
England stumbled to the close of play on 39 for five at the Kensington Oval to open a lead of 107 runs.
After two Tests where the batsmen dominated on flat tracks, England paceman James Anderson and West Indies counterpart Jerome Taylor produced memorable performances.
Taylor made short work of the tail, removing the last three batsmen in the morning session for the addition of 17 runs as England were bowled out for 257.
Anderson then claimed six for 42, including three of the top four, in another superb spell of bowling during which he generated movement through the air and off the seam.
West Indies were bowled out for 189, giving the tourists a first-innings advantage of 68.
Jermaine Blackwood hit a defiant 85 for the home team, turning up the tempo when it was clear he was not going to get the support he needed from the upper and middle order.
Blackwood struck four sixes and 11 fours in an entertaining innings before he was the last man to go, holing out to Moeen Ali off Anderson.
The Lancashire seamer was magnificent earlier in the innings.
He removed Kraigg Brathwaite for a duck when the opener edged to Chris Jordan at slip before having debutant Shai Hope snaffled up by skipper Alastair Cook for five at slip.
Marlon Samuels looked in aggressive mood but he badly misjudged an in-swinger from Anderson, leaving a ball that swung back in and trapped him lbw for nine.
Darren Bravo was caught by Jordan off spinner Moeen for nine before Jordan produced a fine diving catch at slip to dismiss Shivnarine Chanderpaul for 25 off part-time spinner Joe Root.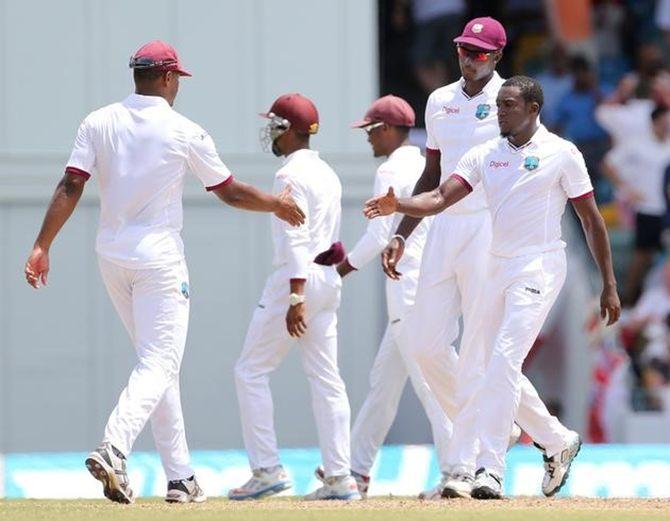 West Indies' Jerome Taylor is congratulated by teammates after taking the wicket of England's James Anderson (not pictured) on Day 2 of the third Test.. Photograph: Jason O'Brien/Reuters
England, however, were unable to make the most of their first-innings lead as Taylor took his turn to shine on a surface offering more and more to the seamers.
Taylor trapped the struggling Jonathan Trott lbw for nine before fellow paceman Shannon Gabriel had Cook caught at slip by Brathwaite for four.
Ian Bell was lbw to Taylor without scoring and the in-form Root fell for one, edging Jason Holder to Bravo at slip.
There was turn for the spinners too as Veerasammy Permaul bowled Moeen for eight just before stumps were drawn.
England lead the series 1-0.
Scorecard
England (1st innings): (Overnight: 240-7)
A. Cook c Ramdin b Samuels 105
J. Trott c Permaul b Gabriel 0
G. Ballance b Holder 18
I. Bell c&b Holder 0
J. Root c Ramdin b Permaul 33
M. Ali run out (Hope, Ramdin) 58
B. Stokes c Hope b Gabriel 22
J. Buttler not out 3
C. Jordan c Ramdin b Taylor 3
S. Broad b Taylor 10
J. Anderson b Taylor 0
Extras: (lb-1 nb-3 w-1) 5
Total: (all out, 96.3 overs) 257
Fall of wickets: 1-0, 2-38, 3-38, 4-91, 5-189, 6-233, 7-240, 8-247, 9-257, 10-257
Bowling: J. Taylor 18.3-8-36-3(nb-3), S. Gabriel 15-3-47-2(w-1), J. Holder 16-4-34-2, M. Samuels 27-5-53-1, V. Permaul 20-1-86-1.
West Indies (1st innings):
K. Brathwaite c Jordan b Anderson 0
S. Hope c Cook b Anderson 5
Da. Bravo c Jordan b Ali 9
M. Samuels lbw b Anderson 9
S. Chanderpaul c Jordan b Root 25
J. Blackwood c Ali b Anderson 85
D. Ramdin c Buttler b Broad 13
J. Holder c Buttler b Stokes 5
V. Permaul c sub b Anderson 18
J. Taylor b Anderson 15
S. Gabriel not out 0
Extras: (b-4 lb-1) 5
Total: (all out, 49.4 overs) 189
Fall of wickets: 1-0, 2-5, 3-21, 4-37, 5-82, 6-107, 7-124, 8-162, 9-178, 10-189.
Bowling: J. Anderson 12.4-5-42-6, S. Broad 10-3-31-1, M. Ali 10-2-56-1, J. Root 9-1-34-1, C. Jordan 6-3-4-0, B. Stokes 2-0-17-1.
England (2nd innings):
A. Cook c K. Brathwaite b Gabriel 4
J. Trott lbw b Taylor 9
G. Ballance not out 12
I. Bell lbw b Taylor 0
J. Root c Da. Bravo b Holder 1
M. Ali b Permaul 8
B. Stokes not out 0
Extras: (b-4 lb-1) 5
Total: (for 5 wickets, 21 overs) 39
Fall of wickets: 1-11, 2-13, 3-18, 4-28, 5-39.
To bat: J. Buttler, C. Jordan, S. Broad, J. Anderson
Bowling: J. Taylor 6-1-16-2, S. Gabriel 6-4-4-1, J. Holder 4-1-7-1, V. Permaul 4-1-7-1, M. Samuels 1-1-0-0.