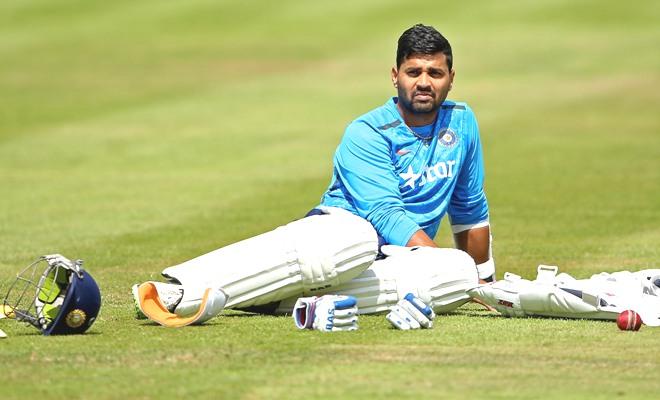 IMAGE: India opener Murali Vijay during a practice session. Photograph: Getty Images.
India opening batsman Murali Vijay is a big fan of newly-appointed head coach Anil Kumble and says the players have got a golden opportunity to learn from the great leg-spinner.
"My first Test match was his last Test match; actually, I did not spend lot of time with him, but I have been a great fan of him as an youngster," he told reporters, on the second day of Team India's preparation camp ahead of the West Indies tour at the KSCA stadium, in Bengaluru, on Thursday.
"It is a great opportunity for youngsters to talk to him about cricket and learn from him and move forward. So it will be a great time for us," he added.
Asked what he makes out of the Kumble-Virat Kohli combination, Vijay replied: "I can't talk anything ahead of time. It will be too early to comment on that, but it is going to be a great 12 months for us as a team; that much I can guarantee you. We are going to be up for it and we just want to be best in coming 12 months."
Replying to a query, he said, "We had a great time with Ravibhai (when he was Team Director), and Anilbhai has picked up for now; hopefully, we can have good time with him and learn lot of things from him. He has been an unbelievable cricketer for India."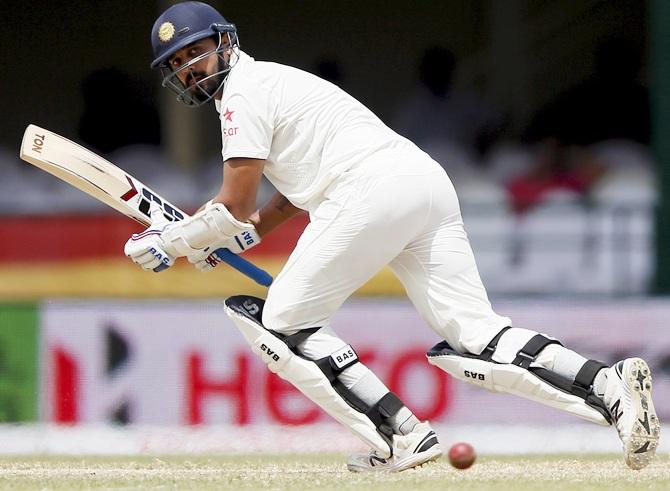 IMAGE: Murali Vijay hits a boundary during the second Test against Sri Lanka in Colombo. Photograph: Dinuka Liyanawatte/Reuters
Asked about playing the West Indies in their backyard, Vijay said. "It is a great place to play cricket because there is more fun and there is competition inside. So we cannot ask for more as a sportsperson. There is entertainment overall and we are looking forward to this series.
"It will be a confidence booster for us to play and perform and execute our plans. Thereafter, come back and play matches in the home series. So there is lot of stake for us."
Asked about the pressures of playing in venues like Kanpur and Indore, he said, "It doesn't matter where we play and which venue we play. It is about how soon and how faster than the opponents you acclimatise to the playing conditions there. It is a great opportunity to see how it works in that side of the country."
Talking about his his experience of playing in the West Indies, he said: "Last time I did not do well in West Indies, but the team did well. Hopefully I can pull it off this time".
Vijay lamented that rain played spoilsport at the ongoing camp on Day 1.
"It has been a couple of good days for us. As a team we have come to Bangalore with a purpose in sight. We are preparing for the West Indies series, the rains had played its bit though on the first day of the camp."
On his individual preparation, he said, "I have been to the West Indies three times before and I have a fair bit of idea of how it is going to be there ... I am looking forward to stick to my basics and be as consistent as possible, hopefully. If I can do that I will be happy at the end of it," adding, the team has to be prepared for any eventuality and playing conditions the West Indies offers them during the tour.
Talking about staying fit for the next 17 matches in one year, Vijay said players are following a fitness regimen and hopeful of remaining fit throughout the season.
"Definitely it (fitness) will play a major part on each and everybody. We are aware of it. We have our fitness regime and we are following and hopefully we can stay fit throughout the season."