'Hopefully, tomorrow Moeen and Stokesy (Ben Stokes) can go on and make a really big score, big partnership and take us into a really good position going into the second innings'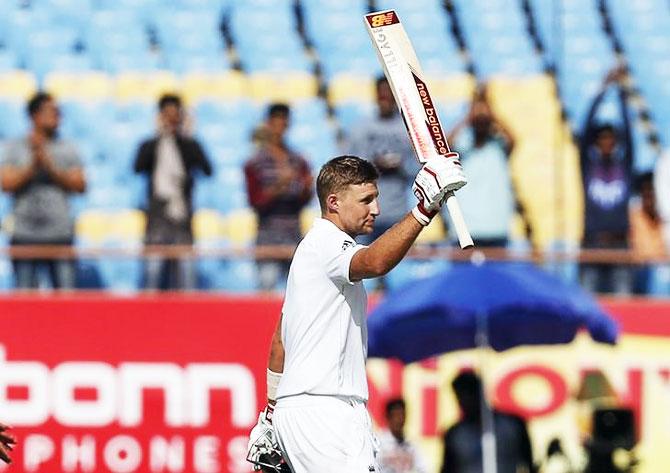 IMAGE: England's Joe Root celebrates after scoring his century against India on the opening day of the first Test in Mumbai on Wednesday. Photograph: Amit Dave/Reuters
England are still smarting from their first ever Test defeat by Bangladesh last month but Joe Root believes the side can draw confidence from their strong start with the bat in the five-match series against India on Wednesday.
- PHOTOS: Root and Moeen put England on top on Day 1
- Root puts England in command as India toil in Rajkot
Root led the way for England with a sparkling century and with Moeen Ali, unbeaten on 99, helped them finish the opening day of the first Test on 311 for four after opting to bat first.
"It was good to take advantage of what was a pretty good pitch today and might change over the course of five days," Root told reporters after compiling his 11th Test hundred.
"It was important to start well.
"It's something that going forward will give us a lot of confidence and hopefully will give the rest of the guys around us confidence as well.
"Yeah, it's a nice start to this series. Something to build on now and it was a great day of cricket for us. Hopefully, tomorrow Moeen and Stokesy (Ben Stokes) can go on and make a really big score, big partnership and take us into a really good position going into the second innings.
"We were pretty comfortable against the spinners and that should be a really good thing for us going forward."
England's two-Test series in Bangladesh was meant to be a dress rehearsal for their batsmen who are likely to be subjected to relentless spin on similarly turning tracks in India.
Instead, Alastair Cook and his men arrived with bruised egos, having suffered defeat in the second Test in Dhaka inside three days after losing 10 wickets in a session against the world's ninth-ranked Test team.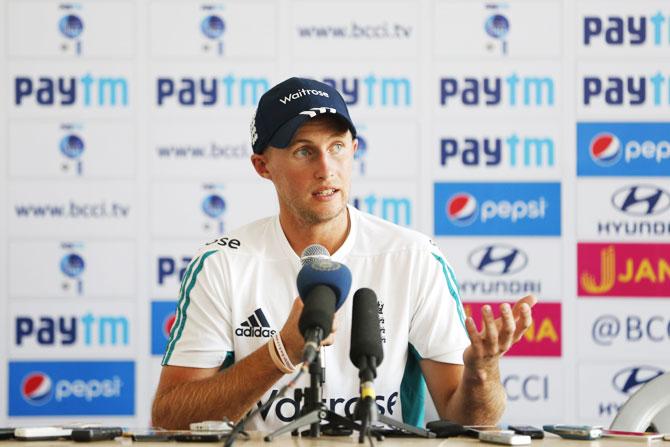 IMAGE: England's Joe Root speaks during a press conference on Wednesday. Photograph: BCCI
"I am just trying to be positive with my footwork. Get right forward, get right back with my feet at times and when it was available, use the sweep shot. Make it hard for them to settle into one line and length," said Root.
"I just tried to work on my defence and make sure that was as solid as it could be," the 25-year-old said of his third Test hundred against India, who are ranked world number one.
"More than anything (I tried to) not change my approach but just being better at it and I practised really hard in Mumbai and on the first couple of days leading up to this game.
"I did the hard yards and was confident to go out and play my natural game. It was really pleasing to see all my hard work coming good today."
He said scoring on both sides of the wicket against the Indian spinners was also another important factor to his batting.
"It wasn't a specific approach. More than anything, as soon as anyone lets go of the ball, you just got to play what's coming at you. We tried to make sure we used the both sides of the wicket. Not just score with the spin, but try and do against it if the opportunities arose. Make it hard for (Ashwin) him to bowl one length.
"If you look at people's records, that can change very quickly. You got to actually respect these guys for being successful for a long period of time and even for the previous series. But when it comes down, you just got to play what is in front of you. And we did that really well today. Challenge is to do it for all five games."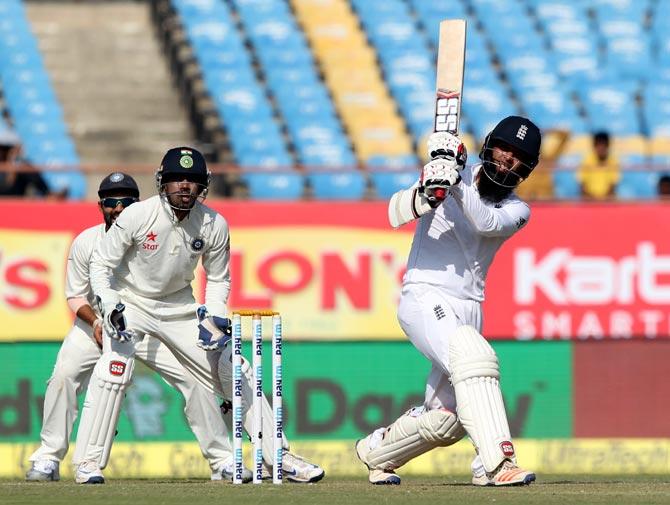 IMAGE: Moeen Ali bats on Day 1 of the first Test in Rajkot. Photograph: BCCI
The right-hander said his 179-run stand with Moeen did not allow the Indian spinners to settle into a rhythm and his side will bat for as long as possible on Thursday.
Root said the right-left combination of himself and Ali did not allow the Indian bowlers to build up pressure.
"And batting with Moeen, who was also batting very freely and kept it ticking over, and as a left-hander, it was just difficult for them to build any sort of pressure. It is going to be really important for us to build on that as a team. And if we manage to do that it is going to be quite difficult for them to build that pressure in the first innings.
"If we can get to 500, that will be fantastic. This wicket will deteriorate quickly," Root added. "Having spent some time (batting) I have seen cracks on the wicket and already some variable bounce.
"It will be really important to make a big score tomorrow and take advantage of a good start today."
Root said the pitch will assist not only the spinners but also the quicker bowlers.
"Yeah, I think it will spin later on in the game. I think variable bounce will come in as well. I think our seamers will take some pleasure in seeing it reverse swing after 35 overs as well. I think those three guys will be looking forward to hopefully having a big score on the board to defend and give an opportunity to be aggressive when they get the ball in their hands," he said.