'It's the communication, both of us have been playing Test cricket for a long time. Especially me and him -- we are playing (only) this format particularly and we have spent a lot time not just on field by talking about this format'
'To be very honest I was hoping to get a double hundred. They had so many runs on board. I thought it will help the team if I could get a double hundred'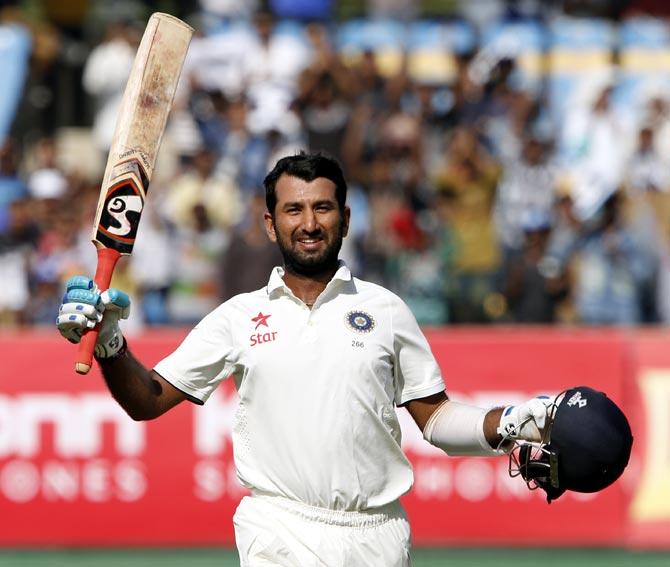 IMAGE: A delighted Cheteshwar Pujara after completing his century in Rajkot on Friday. Photograph: BCCI
Far from being disheartened by the loss of quick wickets just before close of play on Friday, Cheteshwar Pujara reckons India can force a win if they bat well on Saturday.
- PHOTOS: India dominate before late wickets boost England
- Vijay, Pujara lead India's fightback with tons
"The way I started playing shots, I expected that they will be on the defensive mode but when they have 537 runs on board the plan is very simple, first to reach that mark. And obviously we have a bright chance to win the game if we bat well tomorrow," said Pujara who scored an attacking 124.
"The ball will start turning from tomorrow and batting on day five will be difficult. At the moment I don't want to talk too much about it," said Pujara, who himself along with Murali Vijay were dismissed in the final session of play on Day 3.
Pujara based his optimism on his deep knowledge of the SCA Stadium track and at a venue where he had scored a first class triple hundred.
"We are still in a good position once we bat well tomorrow, and get a lead of 60-70 runs, which will help us in the second innings. It's a good wicket to bat on. I saw some spin, saw a couple of balls turn and bounce. We expect it to be more as match progresses, but our first focus will be to bat well tomorrow. And possibly press for win the day after."
India also lost Amit Mishra in the final over to be 319 for four at stumps, still 218 runs behind England.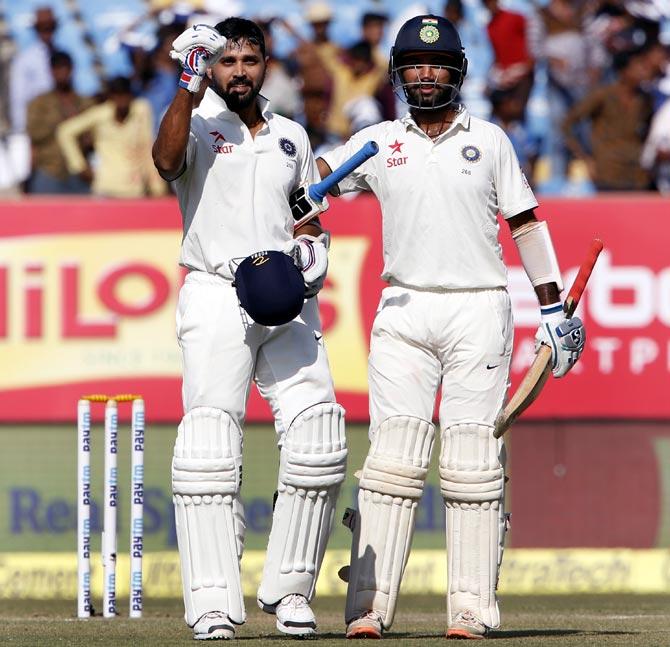 IMAGE: Murali Vijay, left, celebrates after completing his century with Cheteshwar Pujara on Day 3. Photograph: BCCI
Pujara added 209 runs for the second wicket with Vijay who played the ideal foil, scoring 126.
Asked about the chemistry between him and the Tamil Nadu player, with whom he has forged six triple-digit stands including a record 370 against Australia at Hyderabad three
years ago, Pujara said: "It's the communication, both of us have been playing Test cricket for a long time. Especially me and him -- we are playing (only) this format particularly and we have spent a lot time not just on field by talking about this format. Sometimes it's difficult for players playing only this particular format".
"When you don't play other formats you don't get quality practice and you are not in touch with the game. It's just the communication that keeps us going. We know each other's strengths we know what the opposition tries to do. Most important thing is communicating not only with Vijay but also other players as well," the No 3 batsman added.
Pujara admitted he was a nervous wreck before this Test, since it was being played in his hometown.
"It (hundred) means a lot. I have been playing lot of domestic matches at Rajkot here and I have experience of playing in these conditions. I have a triple hundred in one of these first class games. But before the game I had many nervous moments. There were expectations.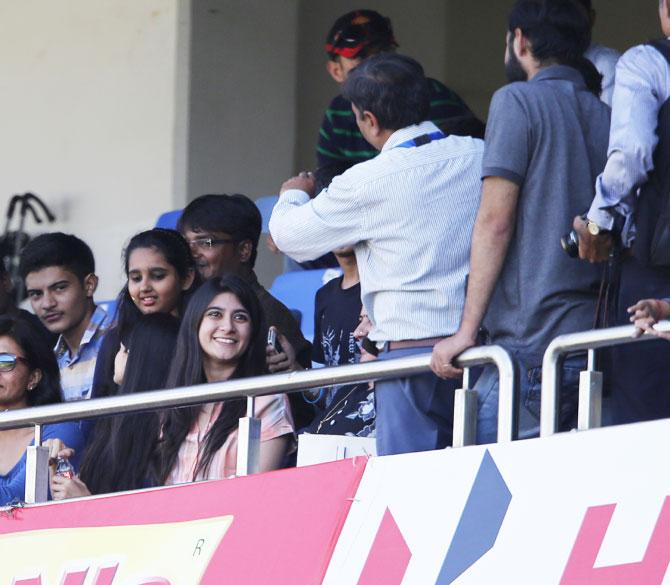 IMAGE: Cheteshwar Pujara's wife, Puja enjoys her share of fame as she watches the proceedings from the stands on Day 3. Photograph: BCCI
"Family members and close friends were watching this game. Even the crowd was expecting (a century) but I told myself I don't have to think about it with the kind of position India was in. We wanted to put up a good total and I wanted to focus on my batting and things turned out well."
Talking about his strike rate which had been in news, Pujara said that coach Anil Kumble had only told him to show the same sort of intent which he showed in domestic matches and not worry about anything else.
"Anilbhai has been mentioning that I was batting well in domestic cricket and it was time I converted 70s and 80s into hundreds. He said don't worry about strike rate, just carry that intent you show in domestic cricket."
Pujara's father, Arvind and wife, Puja were among the crowd cheering him on to his maiden hundred at his home ground. The batsman, however, was disappointed in not scoring a double hundred.
"To be very honest I was hoping to get a double hundred. They had so many runs on board. I thought it will help the team if I could get a double hundred. I was nervous but I was focusing on scoring more runs."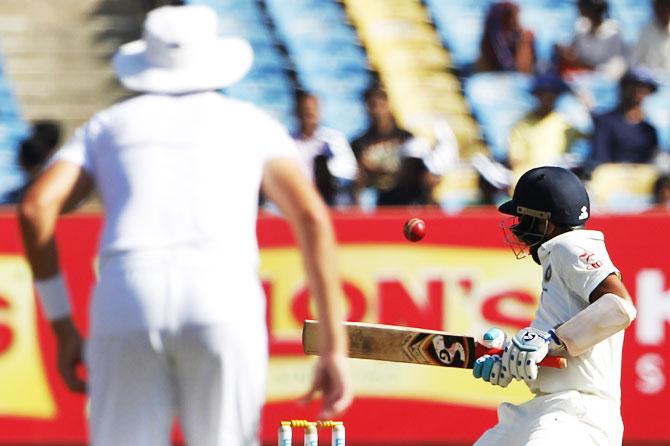 IMAGE: Cheteshwar Pujara avoids a bouncer during play on Day 3. Photograph: BCCI
The Rajkot lad conceded that he misjudged a few short balls but was determined to carry on.
"I got a couple of good bouncers and I thought I did not judge it well. At international level you expect bouncers. Usually I am very good against the short ball. I told myself even if I get hit on the helmet or the body I will stick to the goal and continue batting I know the conditions really well. A couple of short balls won't disturb me and my game plan."
Asked about the Decision Review System that saved him when on 86 after the umpire had given him out LBW, the 28-year-old batsman he challenged the call after consulting partner Vijay.
"Initially when the ball hit me I thought it was a little high as it hit me on my rear pad, not on my front pad and it was quite high. I confirmed with Vijay and even he felt it was high and then I was confident taking the risk (DRS)."