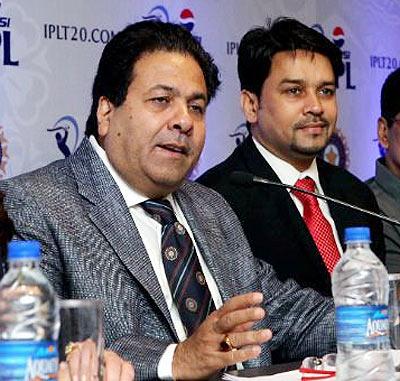 The Board of Control for Cricket in India respects the Supreme Court's verdict on sweeping reforms in the cricket body and it will work towards implementing the recommendations made by the Lodha panel, senior BCCI functionary and IPL chairman Rajeev Shukla said on Monday.
"We respect SC's decision. Will look into how we can implement the Lodha panel recommendations," Shukla told television channels.
The Supreme Court, on Monday, accepted major recommendations of the Lodha Committee on reforms in the BCCI, including a bar on ministers and civil servants and those above the age of 70 from becoming its members, but left it to Parliament to decide whether it should come under RTI.
Former India cricketers Bishan Singh Bedi and Kirti Azad too hailed the the apex court's verdict.
"Let's all accept Supreme Court's verdict gracefully & humbly-after all isn't health o Indn Crkt more imp than any personality pol/otherwise!" tweeted Bedi.
Azad too took to Twitter to express his views.
"My stand vindicated, #SupremeCourt accepts Justice Lodha committee report. Wait for my further action against #DDCA and #BCCI," wrote Azad, who alongside Bedi has led a crusade against corruption in the DDCA.
Justice (Retd) Mukul Mudgal, who headed the probe committee which gave the initial report on the 2013 spot-fixing scandal, said Monday's order is a landmark one.
"It will improve the functioning of the Board even though I must admit that the BCCI is a well-Rrun body. This judgement can be a reference for other sports bodies as well and that is why I think it is a landmark judgement," he said.
A bench of Chief Justice T S Thakur and Justice F M I Kalifulla also rejected the BCCI's objection against recommendations for one-state-one-vote and said that states like Maharashtra and Gujarat having more than one cricket associations will have voting rights on rotational basis.
IMAGE: Rajiv Shukla and BCCI secretary Anurag Thakur at a press conference.
Photograph: PTI