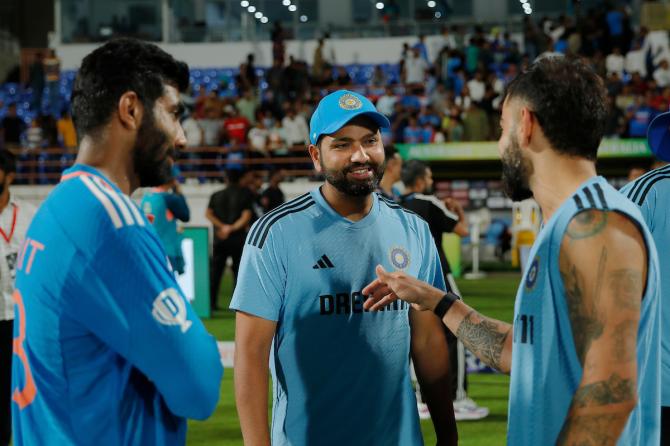 India captain Rohit Sharma is extremely satisfied with his team's World Cup preparation and wouldn't like to read too much into the 66-run defeat at the hands of Australia in the final game of the three-match ODI series in Rajkot on Wednesday.
The skipper said he and the team management (coach Rahul Dravid) are extremely clear about the squad of 15 that will be on World Cup duty. The final squad is expected to be announced on Thursday (September 28).
"The last 7-8 ODIs we've played really well in different conditions. We were challenged at different times and we took that challenge really well. Unfortunately, not the result we wanted today but I'm not going to look too much into this game. We've been playing really well," the skipper said at the post-match presentation.
Rohit has scored a number of half-centuries in recent games and he looked in fluent touch during his 81 on the day.
"I'm pretty happy (with my own form). Of course, I'd like to go all the way but as long as I'm hitting like that I'm happy," he said.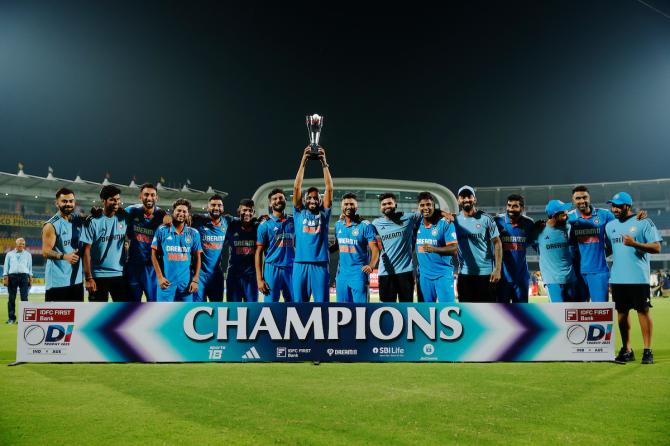 While Axar Patel's quadriceps tear keeps the team worried, Rohit was clear as to which players will be doing the job for India in the upcoming World Cup.
"When we talk about the 15-man squad we are very clear on what we want and the guys who will do the job for us. We're not confused. We know exactly where we are heading," he said.
There will be role for all-rounders in World Cup
Glenn Maxwell ended up with match-winning figures of 4/40 and said that since Mitchell Marsh was not on the field, he ended up bowling more overs than usual.
"Since he (Marsh) was not there, I had to bowl more. That will be the role of the allrounders in this World Cup. We are all trying to be as flexible as possible. We have a super-flexible list and it's good to get some momentum before the World Cup," Maxwell said after the match.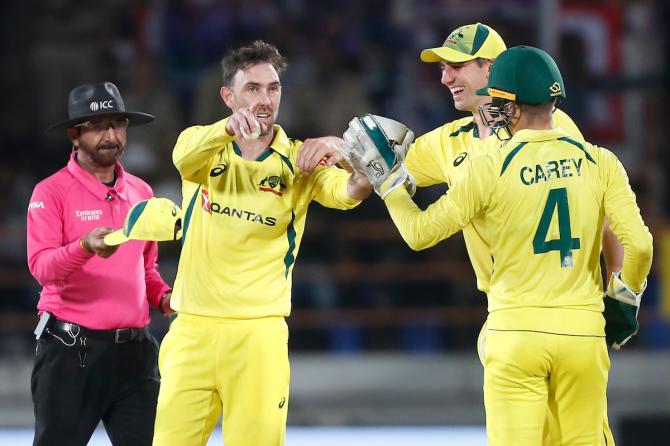 Australia skipper Pat Cummins felt that his team is better off when they bowl under lights compared to searing heat of Mohali and humidity of Indore.
"I must say I'm pretty happy to bowl in the night than in the heat," Cummins said.
The skipper is happy with how things are panning out despite Travid Head's injury.
"It was a great first hit out for Starc and Maxwell. They both haven't played a lot over the last couple of months. Maxy four-for and Starcy looked like he was in great rhythm so I couldn't be happier," Cummins said.
He also indicated that Marsh will open the innings as it would be difficult for regular opener Travis Head to recover in time from his injury.
"(Marsh opening in the World Cup) Potentially. Head won't be ready for the start of the tournament. The way Marsh and Warner started today looks like a pretty dangerous combination. They look pretty good."