England coach Trevor Bayliss conceded that his team's fielding has been below par and last three dropped catches in the ongoing Test against India cost them 500 runs.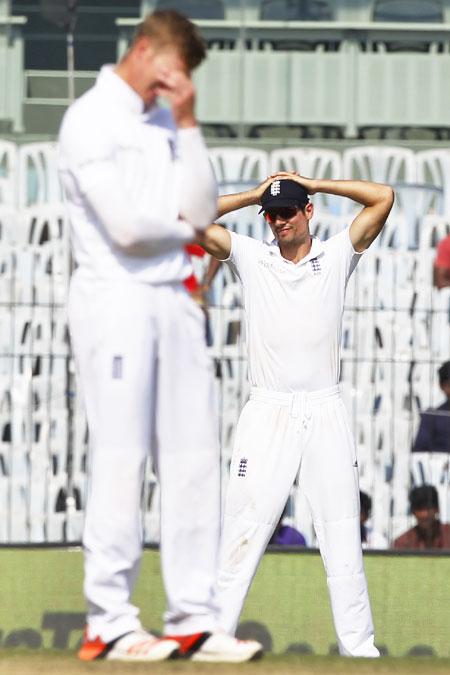 India broke a flurry of records en route their highest ever Test total of 759/7 declared against England on the penultimate day of the fifth and final match in Chennai.
"Our catching is still below par. I think the last three catches we dropped cost us 500 (runs). That's disappointing. It is something that we should keep working on," Bayliss said at the post match press conference.
"We are a team that hasn't got a lot of natural athletes. We have got very good cricketers. We haven't got lot of slippers (slip fielders). Across the board we just got to get better," he added.
Bayliss admitted England were just not in the game today.
"I think most of them have gone through days like that and probably won't be the last time they'll go through it. It's never easy when it happens. You got to give credit to the Indian team and their batters, they played extremely well. We just weren't in the game today," he said.
Stating that this is the best batting pitch in this series, Bayliss said: "It's a good wicket. The best we have had in this series. Look, at times we struggled to bowl to the fields the captain had set. That just makes it very difficult. They have got some good batters who obviously play spin very well. In home conditions they can make it very difficult, which we saw today."
The coach said although England did not get desired results in the last seven Tests they have played in the sub-continent, the players never stopped trying.
"One thing I can say about the seven Tests, including the two in Bangladesh, is that the guys haven't stopped trying. It's not as if they haven't put in and stopped trying. Yes, on this tour we have been outclassed," he stressed.
"They (India) have batted and bowled better than us. Any Test team in the world wants to be the best and certainly that's no different for the English team. But certainly we have a long way to go. In the sub-continent we are not the first team to struggle and won't be the last.
"But actually over the last seven Tests we have debuted five new youngsters and most of the players haven't been here before. So I think they will benefit from this. Experience will help in going forward in all forms of the game. Even at home, being in tough situations and learning from those situations. May be learning a little bit from the Indian players, how they go about things," Bayliss explained.
Bayliss said while India were in a better position, England would look to play out the day tomorrow for a draw.
"The players don't want to get on the plane with a loss. They want to play out the day."
On Alastair Cook's captaincy, the coach said: "To be honest, I haven't spoken to him about it. It's a decision only he will know the answer to. He is done it for so long, whether I say yes or no won't change his mind.
"Whether he keeps going, whether he stops. If he keeps going fantastic, if he stops it is up to him and I have no problems with it either.
Image: England captain Alastair Cook and Joe Root's make a picture of frustration during Day 4 of the 5th Test in Chennai on Monday
Photograph: BCCI