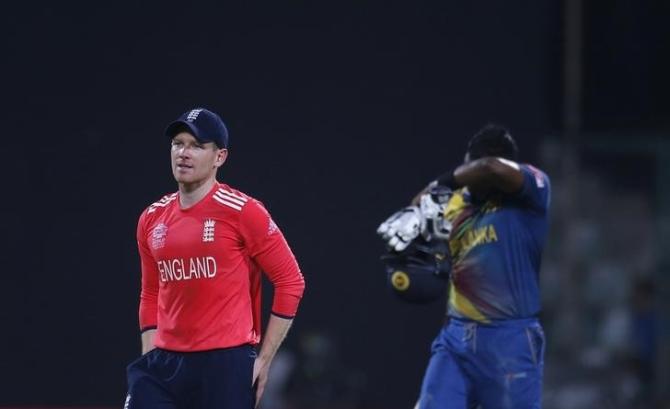 IMAGE: England's captain Eoin Morgan (L) walks past his Sri Lankan counterpart AngeloMathews after England won their match. Photograph: Adnan Abidi/Reuters.
Sri Lankan captain Angelo Mathews has made no bones about the fact that the team has let the country down with their recent performances which resulted in their ouster from the ICC World T20.
For the record, Sri Lanka has won only against UAE and Afghanistan in their last 10 T20 Internationals failing to beat any Test playing nation.
"I think it has been a disappointing few months for Sri Lankan cricket. We have let down the fans, let down the whole country. We haven't played good cricket at all," Mathews said at the post-match media conference late last night after England beat Sri Lanka by 10 runs to progress to the semi-finals and knock the Islanders out of the tournament.
"All we can do is stick to a combination, not try and change the team too much. We should try and pick about 20 players and re-evaluate them, say after 6 months. Give them opportunity to settle down and then try and see what they have come up with, in terms of performances. Then we can take a call as quick decisions won't solve this matter. We need to be patient," said Mathews.
He said that missing regular T20 captain Lasith Malinga was a big blow but there is no excuse for such shoddy performance.
"It was big blow losing Lasith Malinga. He has won us so many games and it was a big blow for the whole team. We have got slightly better with each game but it's not an excuse. This is big stage and we haven't performed well," said Mathews, dejection palpable in his body language.
Mathews was happy that they could come this close after being four down for 15 within the first three overs.
"It was a close game to be honest. After losing 4 wickets upfront, it was a good comeback by the batting unit. But at the end of the day, we lost and credit to England team for holding their nerves."
About his counter-attacking innings, Mathews said that he had nothing to lose at that stage when he started taking on the English bowlers.
"We had nothing to lose at 15 for four. We were running out of overs. Myself and Kapu (Chamara Kapugedara) thought, that we would target a few bowlers and it worked. Unfortunately, it didn't happen with me at the end. It was a good wicket but I did not have a batter with me at the other end.
"In that case, I could have given him strike. Credit should be given to Ben Stokes, as he bowled a brilliant last over. The England batsmen also did a splendid job after we had restricted them in the first six overs. They just kept on attacking," he said.