'This is the beginning of good times for women's cricket.'
Rediff.com's Norma Godinho listens in as the new queens of Indian sport take centre stage.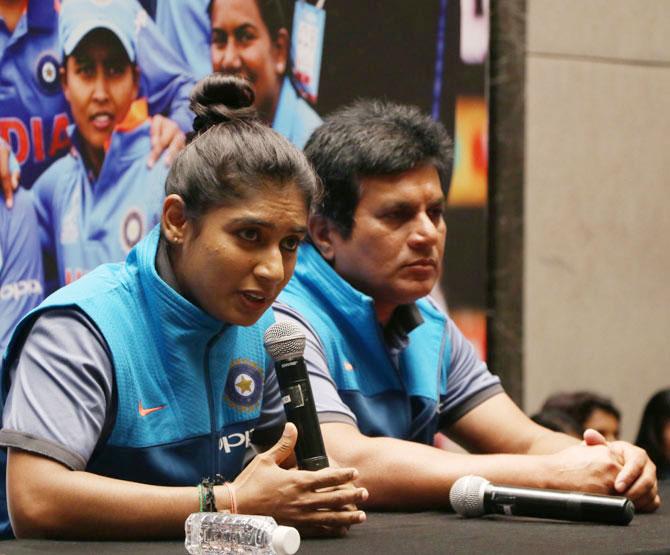 IMAGE: Captain Mithali Raj and Coach Tushar Arothe at a media conference in Mumbai on Wednesday, July 26, 2017. Photograph: Hitesh Harisinghani/Rediff.com
No one would have expected Mithali Raj and her band of women to achieve what they did at the ICC women's cricket World Cup.
Runners-up in the tournament, the Indian cricketers were greeted by a warm reception when they arrived in Mumbai early on Wednesday, July 26.
Later in the day, with no sign of fatigue, Mithali and her team addressed the media and spoke about having a women's IPL, the challenges of being captain and women's cricket finally getting its due.
The match between India and England at Lord's in 2014 was washed out and England won the series 2-0.
The young players were disappointed to not have played a game at the home of cricket, but a few words of comfort and motivation from bowling spearhead Jhulan Goswami created a spark inside her teammates and likely stayed in their subconscious.
"When that game was abandoned due to rain, we were all disappointed. But Jhuludi reminded us that the women's World Cup final will be played at Lord's," opener Punam Raut recalled.
"That fired us to come this far."
Mithali Raj described the Mumbai reception as "overwhelming."
"The reception is the first of its kind for all of us. In 2005 when we finished runners-up we had got a good welcome, but not of this level, because we were not under BCCI then," the skipper said.
"This time it is such a huge thing. I'm sure the girls will enjoy this. This is the beginning of good times for women's cricket," Mithali added.
"Televising the games and, of course, coming under BCCI has made a difference to women's cricket," Mithali pointed out.
"The more matches are televised, the more we can attract increased viewership and get more people to follow women's cricket."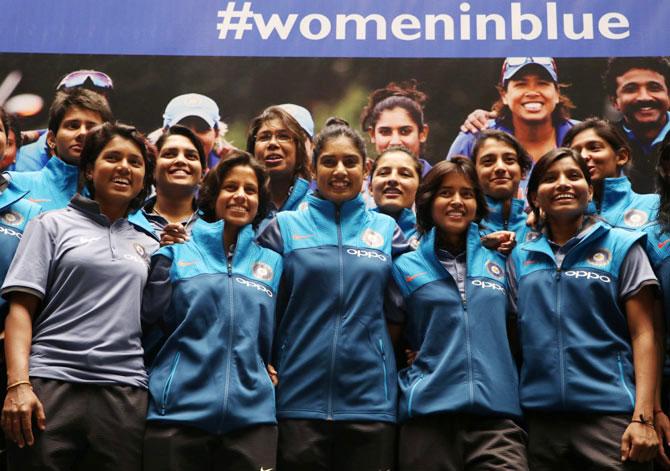 IMAGE: Mithali Raj lauded her team for fighting back from two defeats to make the World Cup final. Photograph: Hitesh Harisinghani/Rediff.com
"The most important moment for us as a team was the England game, beating the hosts in the opening game of the campaign was a big boost for the girls because that is when they realised that they were capable of beating the hosts, who are the second ranked side in women's cricket," Mithali noted about the first game in the 2017 World Cup.
"It was difficult when we lost against South Africa and Australia, but it is bound to happen in a long tournament. It is important that if we were aiming to be in the top 4, we had to make a comeback."
"The girls turned things around against New Zealand and Australia to make it to the final."
Reaching the World Cup final may not be in the same bracket as winning an Olympic medal, but Mithali feels she and her band of girls have "defined women's team sport in India."
"This is the first time that a team sport has garnered so much attention other than men's cricket. Individual sport always gets that mileage because there is always one or two players to focus on," the highest scorer in women's ODI cricket said.
"But when it comes to team sport we don't get that attention. It feels nice, maybe because we play cricket. I'm happy we have defined women's team sport in India. I'd love to see many women's team sports to come into the limelight."
"This is probably the beginning."
Leading a side in a tournament like the World Cup is not easy, Mithali pointed out.
"There are bound to be critics, constructive criticism is always welcome. We always introspect after the game, where the team can do better, where I can do better as a captain."
"If I start listening to everybody's opinion my mind wouldn't work. It's always better to listen to yourself and to the team, what best the support staff, coach, feels. I need to be in sync with the coach."
"I'm happy because of the way the team has done. It's all credit to the team because of the way the girls responded to the challenges... the way I asked them to perform and motivated them."
"The captain is what the team does. When there is no team there is no captain," she declared.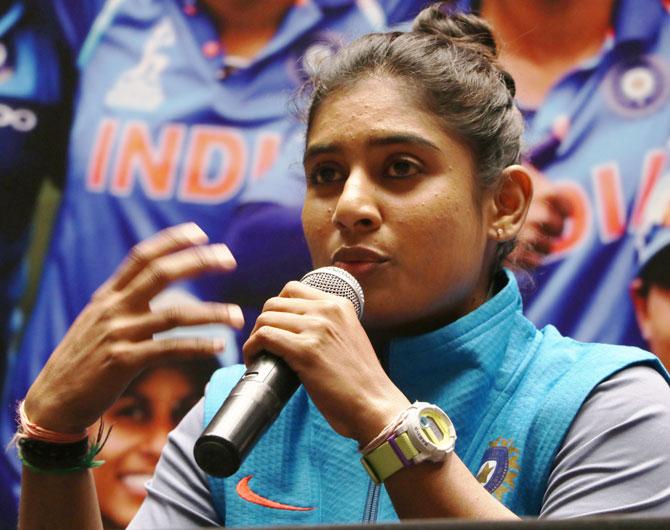 IMAGE: Mithali Raj backs the idea of a women's IPL to give domestic women cricketers a platform to show off their skill. Photograph: Hitesh Harisinghani/Rediff.com
The skipper lauded BCCI for bringing a structure in women's cricket.
"Since two, three years, we have got day's game in the domestic structure, the BCCI has made an effort to get the under-16 level, that is the basic level where the girls can get into to play the higher level. I have myself played U-16s, U-19s a lot, they are coming with U-23 as well."
"There are changes in the domestic structure to develop quality players, but still there is a huge gap between domestic and international standards. It is matter of playing more games and giving them more opportunities," she observed.
Reiterating her case for a women's IPL, she said: "Now, going through the World Cup and seeing how players have responded, the improved standard of women's cricket, taking it to a different level and scoring more than 300 plus..."
"Every team has a centurion in the side, a five-wicket haul bowler. It is probably because of their leagues in Australia and England and maybe a couple of our players have improved their standard and performed very well for us."
"I'm sure in that format (T20) if something is started in India, because the base is done. It will help domestic players in terms of exposure. Again, it's up to the Board for organising the league."
"As a player, I feel if domestic players are exposed to a good cricket environment and interact with international players, they will benefit."
Mithali said her team needs to pull up their socks as far as their T20 game is concerned, especially after their disastrous World T20 campaign last year where India failed to make it to the knockout stage.
"T20 is a different format and requires different preparation," the captain said. "It will start very soon and it will be challenging as India have a long way to go in the T20 format."
"But we have brilliant players in that format and we are hoping to put up a better performance than we did in the last T20 World Cup."