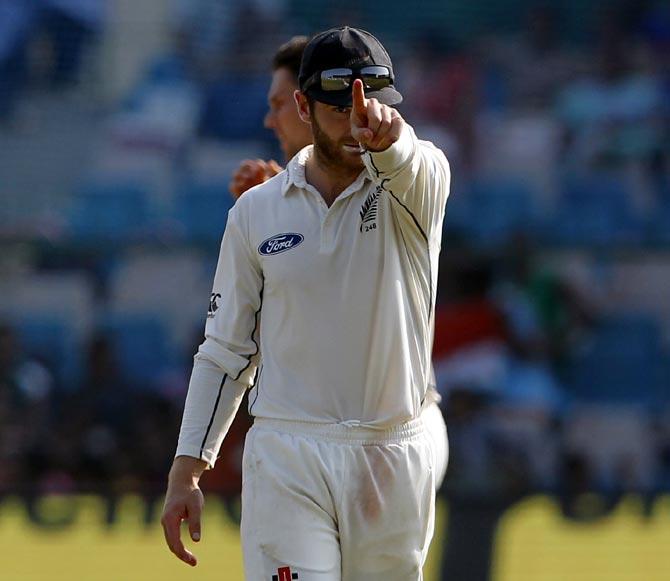 IMAGE: New Zealand captain Kane Williamson. Photograph: BCCI

Their chances of a making a comeback may look bleak after having conceding a 215-run lead, but New Zealand wicketkeeper BJ Watling believes his team can still fight it out and challenge India, on Day 4, of the first Test in Kanpur.
New Zealand collapsed to 262 all out after resuming the day at a comfortable 152 for one before India extended their lead to 215, as they finished the third day on a commanding 159 for one.
New Zealand face a tough task on DAy 4 as they not only have to restrict India as early as possible but also bat in the fourth innings on a pitch getting increasingly difficult for batting.
"I know we have a great bunch of fighters in this team and we love playing the game. We know we are under a bit of pressure now and we have just got to find a way to try put the pressure back on them. That is all we can do at the moment. I know our attitude is right and we'll come out and fight tomorrow (Sunday)," Watling said on Saturday, after the third day's play in Kanpur.
"It was a tough day. We have to look forward to tomorrow and make sure we make the adjustments that are required. We need to improve, but I know the boys are determined. We are trying to learn these conditions and figure out ways to score runs and take wickets. We would definitely like to do things better tomorrow and know the boys are determined to do that."
Talking about Ravindra Jadeja, who took five wickets to peg New Zealand back, Watling said the left-arm spinner was very consistent with his line.
"For me it's about lining it up, making sure my pads are out of the way and trying to defend it like that. You can see the seam but sometimes it's the shiny side and sometimes it's the seam.
"They are very consistent, they put it in good areas and get a bit of natural variation every now and then. You just have to make sure your lines are good," he said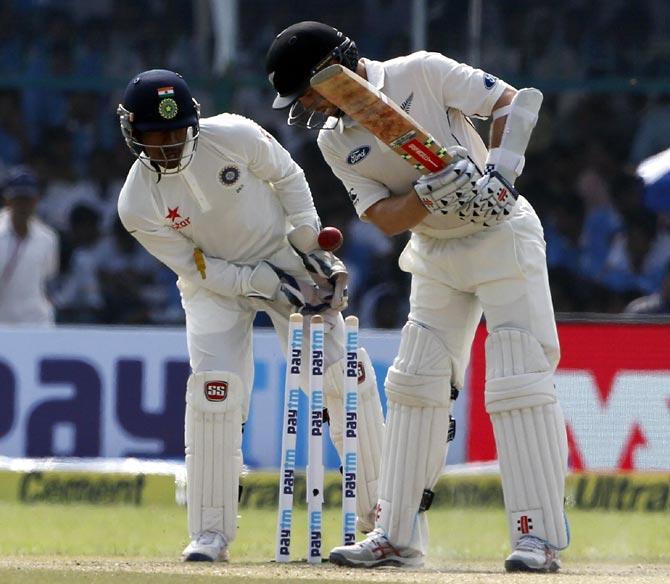 IMAGE: Kane Williamson is bowled by Ravichandran Ashwin. Photograph: BCCI.
"There was definitely a bit more turn, but they have two quality spin bowlers and we lost wickets in clumps.
"We talked about that, we know it's tough to start in these conditions and we've definitely got to do that better in our second innings," he said.
"As you'd expect with a day three wicket there is a lot more rough, a lot more footmarks out there and it's getting a bit slower in the middle of the track. But that is what you expect when you start the game. We know it is going to get tougher and tougher into day four and day five. No surprises there," Watling added.
Asked about the sharp spinning ball from Ravichandran Ashwin that flummoxed captain Kane Willamson, Watling said: "Yeah, you could probably say that (it was the best ball of the day). It was a very good ball that spun very wide, just a tough ball to play and he obviously asked questions like that throughout the day. We have to find a way to deal with those good balls."
The Kiwi wicketkeeper said how they perform in the opening session of the fourth day will determine which way the match would go.
"We have got to look at that first session tomorrow, try and restrict them and take as many poles as we can tomorrow morning. That's our main focus at the moment, and then trying to deal with our second innings with the bat," he said.
Asked specifically about six of their batsmen getting dismissed leg before wicket, Watling said it was a result of consistent good balls from the Indians.
"It's good bowling. Sometimes the ball spins here, and sometimes it doesn't. It's about the lines we play and we're working on that every day, trying to figure it out. They have two quality spinners that know how to bowl spin in their conditions," he said.
© Copyright 2021 PTI. All rights reserved. Republication or redistribution of PTI content, including by framing or similar means, is expressly prohibited without the prior written consent.