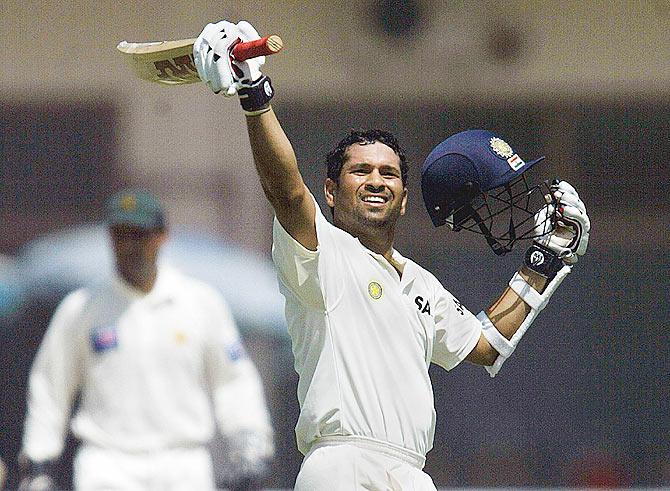 India's Sachin Tendulkar raises his bat and helmet after hitting a century during the second day's play in the first test match between India and Pakistan in Multan on March 29, 2004. Photograph: Arko Datta/Reuters
The Multan declaration that snuffed out Sachin Tendulkar's double century in the 2004 Test match had triggered stories of serious differences between skipper Rahul Dravid and the batting maestro, but the two laughed it off as an honest difference in the dressing room.
At the launch of Tendulkar's autobiography Playing It My Way, on Wednesday, the two batsmen shared the stage with Sourav Ganguly and VVS Laxman, and this great quartet relived their cricket days.
During the panel discussion, cricket commentator Harsha Bhogle pointed out that like a Rajshri produced film, everything was well in the dressing room but asked how the team handled differences when they arose.
Sachin decided to answer that and brought out the Multan incident as an example since he was always asked about the issue.
Then Dravid butted in saying, "On being asked on Multan declaration I once mentioned that if I get a rupee on this question, I would become a millionaire.
"When you have sixteen years together, which me and Sachin have had as players, there are going to be times when you will have disagreements. As a player there are moments when you agree to disagree."
He said the greatest thing on that particular day was that he had a conversation with Sachin when the day started.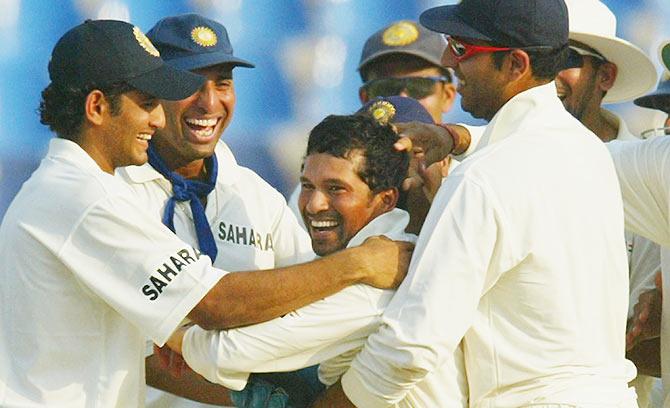 Sachin Tendulkar is congratulated by his teammates after dismissing Pakistani batsman Moin Khan on Day 3 of the 1st Test Match between Pakistan and India at Multan Stadium on March 30, 2004. Photograph: Scott Barbour/Getty Images
"The abiding memory of that Test match would be me giving Sachin Tendulkar the ball on the last day of the game and he getting Moin Khan back in the pavilion.
"And we walked off the field celebrating as a team and to me that's what it was all about. Historic Test win against Pakistan on their soil -- to see that joyful glee on Sachin's face and the team celebration."
Sachin reciprocated Dravid's feelings when he said, "This one happened on the field. We closed that chapter immediately. And we had a lot many memorable match-winning partnerships after that. Above all, Dravid and me continue to be friends and that's what matters. Disagreements are bound to happen between two cricketers at some stage."
The talk soon veered to Greg Chappell's time as coach and Tendulkar said that there was lot of negativity in the dressing room during that time.
"It wasn't a healthy atmosphere. The atmosphere should be such that it brings the best out of you. The environment was negative. So it was downfall from then on. If we travel without that then the atmosphere will improve. And I said that we senior players will manage."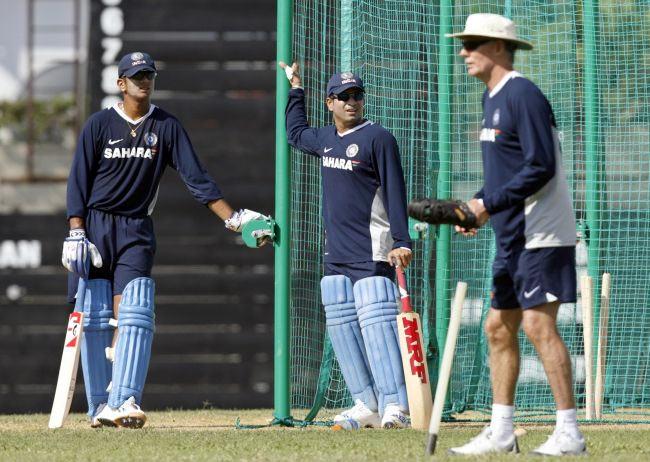 Sachin Tendulkar and Rahul Dravid look on during a practice session. Photograph: Adnan Abidi/Reuters
Laxman backed Sachin's views and termed the Chappell phase as the "toughest" of his career. "The atmosphere in the dressing room does make a difference. Cricket is not a sport, it's a religion in our country. So already there is pressure. One has to go with a relaxed frame of mind and play. And that was not the case when Chappell was the coach. The 2006-07 phase was the toughest for me."
Dravid focused his remarks on cricket adding, "2007 was a difficult time for me as captain and we could not qualify for the World Cup was worse. But in a long cricket career there are bound to be ups and downs. There were phases which were really good. So you have to take the rough with the smooth."
Even the Prince of Kolkata agreed with the esteemed panel on the Chappell era.
"I think we had the strongest side in the 2007 World Cup but we did not win. So we had a tough time, but we had good times as well. It was the toughest for me but that's the way it was."