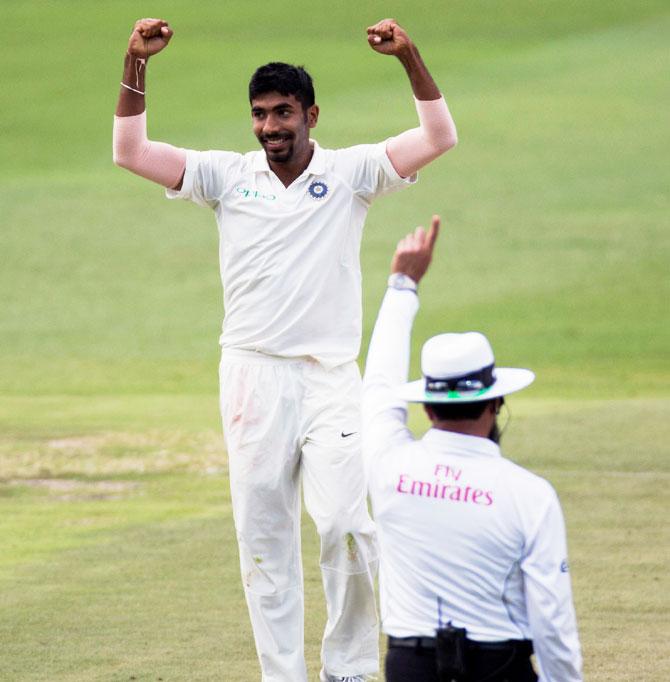 IMAGE: India's Jasprit Bumrah celebrates after scalping the wicket of Lungi Ngidi. Photograph: James Oatway/Reuters
Satisfied after getting his maiden five-wicket haul in Test cricket, Jasprit Bumrah said that the current Indian attack has pace and are not afraid of dishing out short-pitched stuff like their South African counterparts.
"Indian pacers have also got pace (nowadays). We are just trying to get the wickets (whilst bowling short to the tail-enders). If we get it from them, we can give it back as well. That was our basic plan as they were trying to play some shots," Bumrah replied when asked about the short-pitched strategy deployed against the South African tail.
The visitors reached 49 for 1 at stumps after Bumrah's 5/54 that helped them bowl out South Africa for 194 in their first innings.
Bumrah spoke about how the Indian bowling attack has hunted in a pack.
"We always want to contribute as a pack. On another day, may be another bowler will get more wickets but we wanted to create pressure as a pack. It was always a dream to play Test cricket and get a first five-wicket haul over here. It's always a great feeling (when you are able to do so)," said Bumrah.
Nightwatchman Kagiso Rabada batted nearly two hours in the morning while Hashim Amla played a grinding knock of 61 runs off 121 balls.
"It was not frustrating (to see Rabada bat) because he was playing well. So you some times acknowledge that the batsman is playing well. You don't try too much and just don't go away from your plans. This is what we were discussing. On these type of pitches, wickets can fall in bunches. We were focussing on that," Bumrah said.
IMAGE: India's players celebrate the wicket of Kagiso Rabada. Photograph: BCCI
Bumrah got Amla, who tried to flick him over deep square leg but was holed out.
"Amla was trying to shuffle a lot. The ball was doing so much that he was trying to do something else. So that was working for him. We thought that we would probably use one fuller ball straight up. That could also give the message that we are trying to hit the stumps.
"All these battles are very interesting on such wickets as it's always challenging and you keep on learning when such challenges come. You are very happy whenever you get his (Amla) wicket, so I am very happy.
"He was beaten a lot of times but we were happy that he got out (the easy way he did)," he added.
Bumrah said that this was a very helpful wicket for the bowlers, perhaps even a touch towards the extreme. But he added that it was a pleasant new experience since he hadn't bowled on such a wicket in India.
"We haven't played on many such wickets where there is so much help for the bowlers, certainly not in India. It's a little different. On such wickets, there is always a temptation that you try harder or get more wickets."
This has been a steep upward curve for Bumrah who has been a stand-out limited-overs' bowler for India in the past year, but now has made a mark in Test cricket as well.
He put this progress down to several conversations he has had with various senior bowlers, both home and away.
"I don't think about whether I am good here or over there. I just focus wherever I am going what preparation I am doing and don't focus on what the opinions are. It's very good that people have opinions but my basic aim was that wherever I go I focus in the present moment.
"This is red ball cricket right now, so I try to focus on what works in red ball cricket and try to ask questions to all successful bowlers," he said.