'Best defence? Rahul Dravid. He wasn't called The Wall for nothing.'
'Lara has the best cover drive of all time, Ponting pull shot.'
'Tendulkar's appetite for runs, Viv Richards' swagger, his body language.'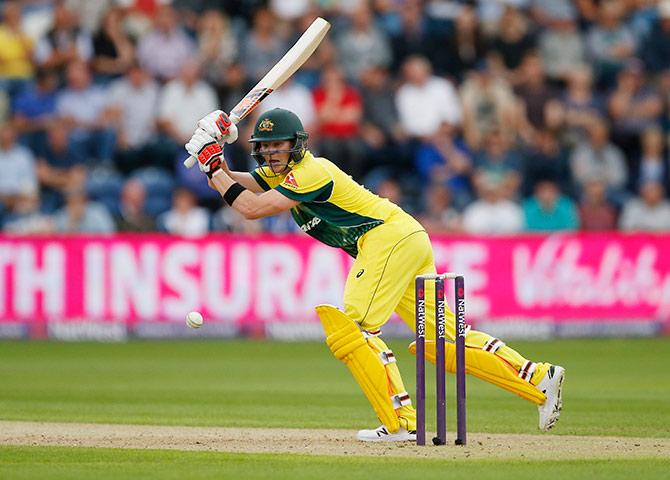 IMAGE: Australia's Steve Smith plays a shot. Photograph: Andrew Boyers/Reuters
Former skipper Steve Waugh has heaped praise on the current Australia captain Steven Smith, labeling him 'the gap hitter I've ever seen'.
A guest speaker at the India Today Conclave 2016 in New Delhi, Waugh was asked to describe the prototype for his perfect batsmen, which involved him cherry-picking the greatest strengths from the best players he's seen.
Waugh praised Smith's ability to pierce the field with his 'strong and subtle wrist'.
"I think Steve Smith would be in there purely because he's the best gap hitter I've ever seen of any cricketer," he said.
"If you watch him bat, he rarely hits the ball to the fieldsmen. That's why he scores so many runs.
"Even though his technique is not great, he finds the gaps incredibly well."
Smith had recently accepted that it's timing and form that he relies on when looking to go big.
"For me, hitting sixes is about trying to keep my shape as much as possible," Smith said last week.
"When I try to hit the ball too hard I probably lose a lot of that (shape) and probably bring myself down.
"So for me it's about making sure my shapes are good in my stroke play and if I hit the ball out of the middle then it's generally going to go."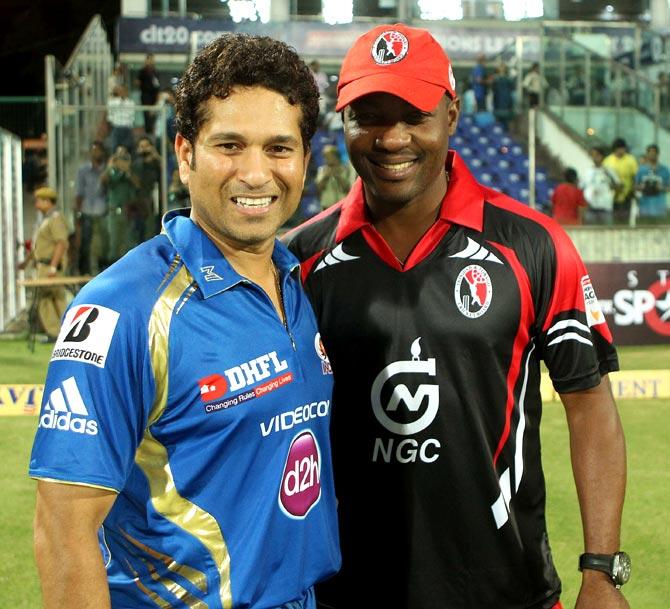 IMAGE: Brian Lara (right) with Sachin Tendulkar. Photographs: BCCI
Waugh, a veteran of 168 Tests for Australia described the best batsmen of the modern era.
"(Brian Lara), I think he has the best cover drive of all time," Waugh said.
"(Sachin) Tendulkar's appetite for runs, Viv Richards' swagger, his body language, (Ricky) Ponting's pull shot.
"Best defence? Rahul Dravid. He wasn't called The Wall for nothing. He had the best defence I'd seen.
"Jacques Kallis is a beautiful player as well.
"It's really hard to put it all together.
"I think the one thing a great player needs is tremendous concentration to stay in the moment and assess the situation of the match. To have match awareness," he added.