Injury-plagued all-rounder Shane Watson is set to put his bowling duties on hold and concentrate on his batting when he makes his return to the Australia team, coach Mickey Arthur said on Monday.
The burly 31-year-old has struggled with injuries and missed the third test against Sri Lanka in Sydney after sustaining a calf strain during the second test in Melbourne.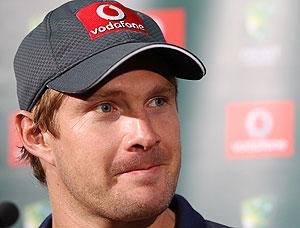 Watson also missed test matches last season due to injuries and it might have convinced him to give up bowling for the time being, Arthur said.
"Watto wants to come back as a batsman. He wants to come back into the team with a primary focus of batting," Arthur said Sydney.
"He feels every time he bats and then he gets injured bowling, he just loses a bit of momentum with his batting."
The retirement of Ricky Ponting and Mike Hussey from the middle order means Australia will have quite an inexperienced batting order for upcoming test series.
The decision on when to resume bowling will be left up to Watson, who has played 38 tests for Australia at a batting average of 37.
"Once he feels his body is going well and that he feels he's cemented his batting position, we will then take another look at how we want to go with Shane in terms of bowling," Arthur said.
"And that's a decision that only Watto can make. We'll be working very closely with him on that, because obviously Shane bowling a couple of overs is really good for us.
"Shane Watson absolutely loves bowling. He still wants to bowl, but his primary focus right now is to make the team as an out-and-out batsman."
A floater in Australia's top and middle order since his 2005 test debut, Watson boasts a better average as an opener but had to come down to manage his bowling workload.
Now set to drop his bowling for the foreseeable future, Arthur did not rule out the option of Watson opening the batting for Australia again.
"I guess if he's not bowling it's worth the consideration," Arthur said. "I still maintain that number four was a really good fit for Shane Watson but that was (with) Shane Watson bowling some overs as well.
"We're lucky in that I think Watto can bat anywhere from number one to six in our order and has had some success there.
"Who knows? Maybe he does, maybe he doesn't (open) but it's probably too early to discuss it."