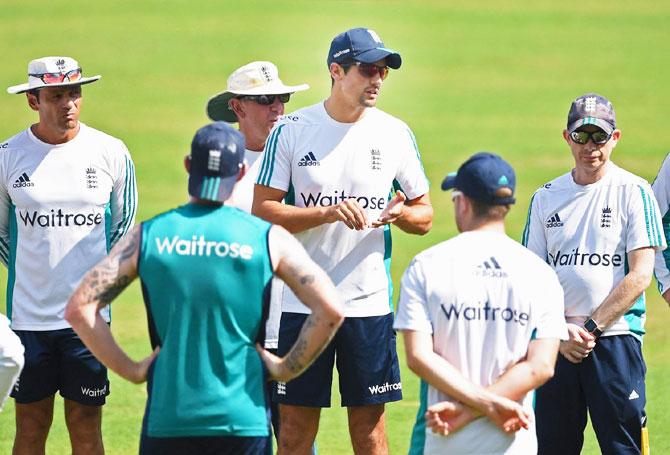 IMAGE: England captain Alastair Cook speaks to his teammates during a practice session at the Wankhede Stadium in Mumbai on Wednesday. Photograph: Shahsank Parade/PTI
Down 0-2 in the five-Test series against India, England captain Alastair Cook feels his team needs to go back to the first match at Rajkot and pick a few pointers from that match.
That Rajkot Test ended in a draw and having lost the second and third Tests at Visakhapatnam and Mohali respectively, England need to win the fourth match to keep their chances alive in the series.
England's coach Trevor Bayliss has been quoted by the English media that the players are required to play with positive intent, a fact Cook insisted upon during his pre-match press conference in Mumbai on Wednesday.
"It's a clear message I knew what was coming out (from Bayliss). We sat down at the end of the Mohali game and discussed how we wanted to play. We chatted at the end of that game and it's a very fair thing as part of the leadership group alongside Trevor and a couple of coaches," said the England skipper on the eve of the fourth Test.
"Rajkot was our blueprint, we played really well there and we might have just slipped off a little bit in terms of that intent. Hopefully we can go back to that," Cook added.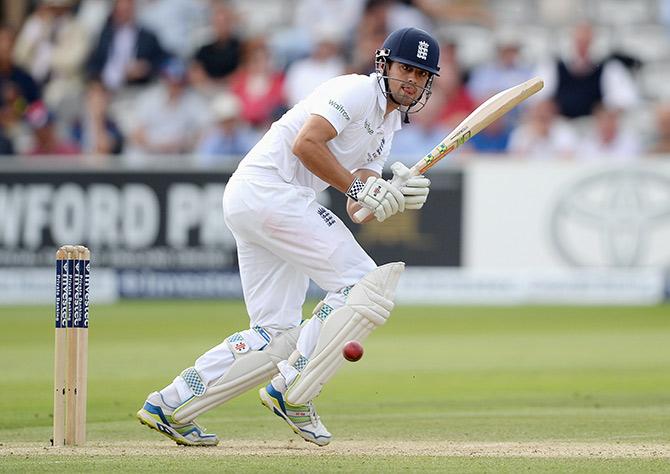 IMAGE: Alastair Cook's slow-paced batting out England on the back foot in the 2nd Test in Vizag. Photograph: Gareth Copley/Getty Images
Cook wanted the team to forget about the slow batting indulged by himself and teenage opener Haseeb Hameed in the second innings of the second Test at Visakhapatnam.
"We do have to take that second innings in Vizag out of it where we played that way. But I wonder whether that did kind of tie into the third game and there was a bit of hangover and we did go back into our shells a bit. After chatting around a bit I think it was quite clear message that we wanted to play a little bit more aggressively and a bit more intent. Trevor likes that," he said.
Although Stuart Broad bowled in practice on Tuesday, Cook said he was still not 100 per cent certain to play.
"Broad is probably 50-50."
Cook sounded pleased to have returned to a venue where England had tasted success in the past -- in 2006 and 2012.
"It's quite nice coming to a ground where we have good memories. Clearly doesn't count for much now. Mumbai has historically been a good ground for us. So hopefully we can play well," said Cook.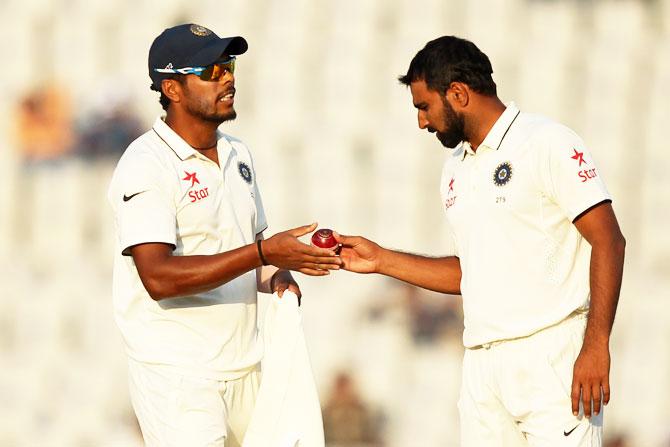 IMAGE: Cook left impressed by Umesh Yadav and Mohammed Shami's performance. Photograph: BCCI
Cook said he wasn't been surprised by the performances of India's pace duo -- Mohammed Shami and Umesh Yadav.
"Certainly I am not surprised, we've faced them before. Certainly with their pace, their control has improved since the last time I have faced them. Kind of happens as people get better and better.
"Zaheer Khan was one of the best bowlers I have ever faced with the swinging ball in England in 2007. He bowled beautifully and the skills he had with the swinging ball. For me to compare them is quite hard but they are certainly quicker than Zaheer," explained Cook.
Asked about Bhuvneshwar Kumar, who is likely to step in if Shami is not found fit because of a dodgy knee, Cook said: "Majority of the time I have faced him is in white ball cricket. He hits the length extremely well. He will be a different bowler to Yadav, obviously he's not as quick. He will make it tricky with the control he has.
"I will be surprised if India change, the balance of their attack is pretty good," Cook said, unaware of the knee problem to Shami.