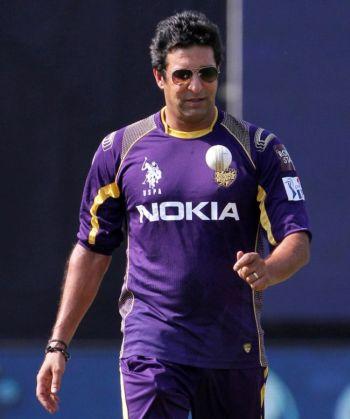 Former Pakistan captain Wasim Akram escaped unhurt after his car was attacked by two unknown gunmen in Karachi's Karsaz area, according to media reports.
The 49-year-old fast-bowler was on his way to the National Stadium to attend a bowling camp when a vehicle rammed into his car from behind.
According to initial reports, the unidentified men hit Akram's car and opened fire at him when he walked out of his car. He was not hurt in the attack.
"A car hit mine, I stopped him and then this guy stepped out and fired at my car. He was definitely an official, I have noted the number of the car and given it to the police," Akram told Express New Channel.
"I am still in shock. There was no threat. I was going to to stadium for the camp. Your (media) job is to find out who that person was. If he can do it with me, then you can imagine what he would do with the common man," Akram said.
The shot did not appear to be aimed at Akram, according to media reports.
Akram's manager Arsalan Hyder said, "Wasim was driving himself, and the car next to him tried to jam his car to one side and opened fire. He did not get hit, he is now at the National Stadium, dealing with police formalities."
Akram called the police helpline and registered the complaint. Police has reached the spot and investigations are under way.
Akram, one of Pakistan's greatest cricketers, played 104 Tests and took 414 wickets and scored 2898 runs. In ODIs, he took 502 wickets and scored 3717 runs in 356 matches. After quitting cricket, Akram became a sports commentator and started coaching Pakistani bowlers. He is also the bowling coach of the Kolkata Knight Riders (KKR) in the Indian Premier League.