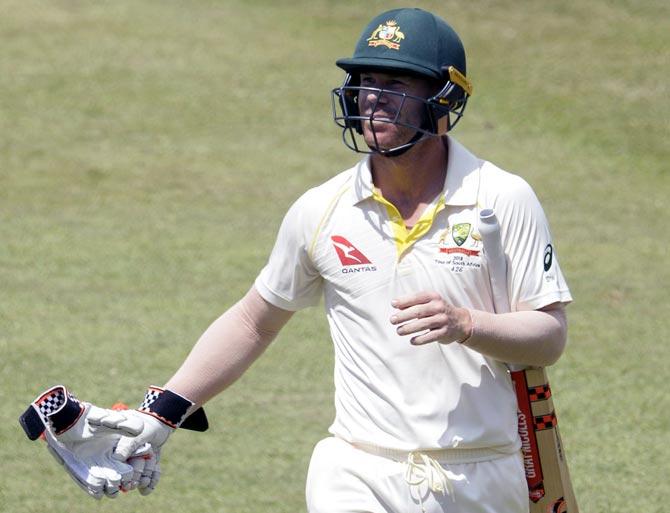 IMAGE: Australia's opening batsman David Warner. Photograph: Lee Warren/Gallo Images/Getty Image
Australia's David Warner is likely to be banned for the fourth Test.
According to Daily Telegraph Warner is set be banned by Cricket Australia for his role in the ball-tampering scandal that has marred Australian cricket.
Steve Smith stood down from his post as captain and was banned for one Test match by the International Cricket Council (ICC) on Sunday after admitting conspiring to tamper with the ball during the third Test against South Africa in Cape Town.
Smith was fined 100 per cent of his match fee, while opening batsman Cameron Bancroft, who was caught on camera attempting to alter the condition of the ball, was handed three demerit points and a 75 per cent fine of his match fee.
Australia could field a team with a lot of new faces for the fourth and final Test against South Africa if Cricket Australia comes down hard on all involved in the ball-tampering scandal. Australia's team could undergo serious change ahead of Friday's match at the Wanderers.
Cricket Australia has expressed its deep concern about behaviour that amounted to outright cheating and launched an investigation into the ball-tampering scandal. The players directly involved could literally pay a high price.
Along with Smith, Warner also relinquished the vice-captaincy.
Cricket Australia said the pair had agreed to give up their leadership roles following 'discussions' with the governing body.