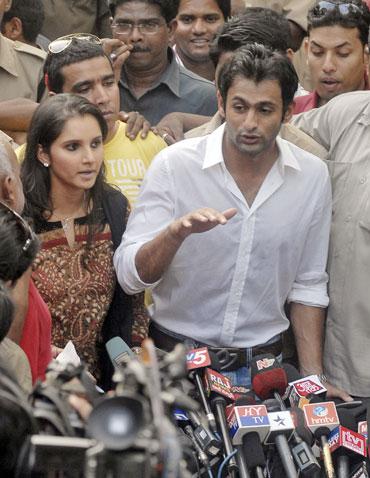 Pakistan coach Waqar Younis described the whole drama surrounding Shoaib Malik's alleged marriage to Ayesha Siddiqui as "sad" and "depressing" amid an outpouring of support for the former captain.
Waqar said although it was a personal issue for Shoaib he felt for him as a former team-mate.
"I don't think anyone should have to endure what Malik and Sania have gone through in last few days. I just hope things end well soon," Waqar said.
"It is their personal matter and I really don't know the inside story but what I have seen in the media and the way the Indian media has portrayed the issue it is sad and disappointing," he said.
Many former and present Pakistani cricketers have expressed sympathy for Shoaib for his plight before his marriage to Sania owing to a controversy generated over his alleged first marriage to another Indian girl Ayesha Siddiqui.
Ever since Ayesha and her family got a police case registered against Malik and the Hyderabad police seized his passport and mobile, there has been an outpouring of sympathy for the all-rounder.
Workers of the Muslim League Nawaz group held a rally in Multan in favour of Shoaib and Sania getting married and denounced the claims by Ayesha as an Indian government conspiracy against Pakistan.
"We are with Shoaib and Sania and we want them to get married soon. Why has Ayesha kept quiet all this long," shouted the protesters holding placards saying 'Welcome to Pakistan Sania'.
The federal minister for population and welfare planning, Firdous Awan also said at a meet that Shoaib and Sania's marriage would be welcomed and celebrated throughout Pakistan.
"We will not allow our national hero to be humiliated any further in India. We are behind him and the government will ensure no injustice is done with him," Awan said.
"Once again, the Indian media has shown its biased mentality towards Pakistan and a Pakistani," she claimed.
The Punjab Bar Council also issued a statement in favour of Shoaib saying he would be supported all the way and the Indian government must ensure there were no hurdles in his marriage with Sania.