'We had to try and be brave, which I think we were not.'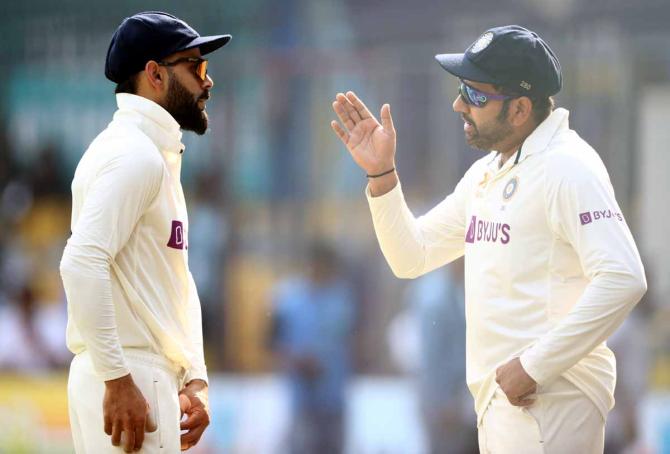 India captain Rohit Sharma on Friday said his team was not brave and lacked application in the third Test against Australia in Indore but described the nine-wicket hammering as "one odd game".
Trailing 0-2 in the series and having conceded the Border-Gavaskar trophy, Australia fought back strongly to record a memorable win and secure their place in the World Test Championship (WTC) final on a rank turner at the Holkar Stadium.

"When you are playing on challenging pitches you have to bowl. We allowed their bowlers to bowl in one spot. Not to take any credit away from their bowlers, Nathan Lyon especially. We had to try and be brave, which I think we were not," Rohit said at the presentation ceremony.

Lyon returned excellent figures of 8/64 in India's second innings to pave the way for Australia's victory.

"One odd game can happen like that where things don't come together, but even then you need players to come together and chip in.

"We wanted a few guys to stand up but it didn't happen. We were slightly behind and we did not apply ourselves the way we would have liked to," he added.

Rohit and Co. have not started thinking about the fourth Test in Ahmedabad but he said the team will need to quickly regroup after the heavy defeat.

"When you lose a Test match, there's a lot of things that didn't go our way. To start with, we didn't bat well in the first innings. We understand how important it is to put runs on the board in the first innings.

"And obviously when they got a 80-90 run lead, we needed to put in a big performance with the bat but we couldn't do that.

"Honestly, we haven't thought about it (Ahmedabad Test) yet. We just finished this Test now so we need to regroup and try. We need to understand that we need to improve as a team."

The hosts were bowled out for 163 in their second innings, leaving Australia with a target of just 76 runs.

One of the biggest architects of the Australian win is seasoned off-spinner Nathan Lyon, who grabbed eight wickets in the Indian second innings on day two of the match.

"Our bowlers did really well, especially (Matthew) Kuhnemann. All our bowlers contributed. With the bat, Usman (Khwaja) was really good in the first innings. We had some good partnerships," Australia's stand-in skipper Steve Smith said when asked on what he would attribute the win to.

"India bowled really well in the back end, we had a bit of a collapse. We had to toil hard yesterday, Pujji (Cheteshwar Pujara) played a good knock, but all our bowlers did really well. It was a complete performance in the end."

Smith is standing in for regular captain Pat Cummins, who had to fly back home after the second Test to be with his ailing mother.

"We are thinking of Patty back home, our thoughts are with him. But I really enjoyed this week. I like captaining in this part of the world. I think I understand a lot of the intricacies.

"It's a place where I really enjoy and I think I did a reasonable job this week. The approach will be much the same. We have to see how the conditions are like. It's good to be in the WTC final but it's just about playing good cricket."

Man of the Match Lyon was at his best as he spun a web around the Indian batters on the second day, which tilted the match in Australia's favour.

The seasoned off-spinner said his belief in his stock ball helped him a lot.

"It's been a pretty remarkable series. But to come out here and put out a good team performance it was pretty special. I don't have all the skills and all the tricks in the trade but the one thing I have is the belief in my stock ball. And I think if you have that, you can get success.

"I don't think I've mastered it. I've been lucky enough to challenge against some of the best players to play the game, the likes of Virat and Pujji and the rest of the guys. I just like challenging myself," Lyon said.