Australia wicketkeeper Brad Haddin's Test career appeared to be drawing to a close on Monday when he was left out of the squad for the first match of next month's series against South Africa.
The combative 35-year-old, who played his 43rd Test in the last match of Australia's 4-0 sweep of India in January, has been replaced by Matt Wade in the 12-man party for the November 9-13 match against the number one ranked Proteas in Brisbane.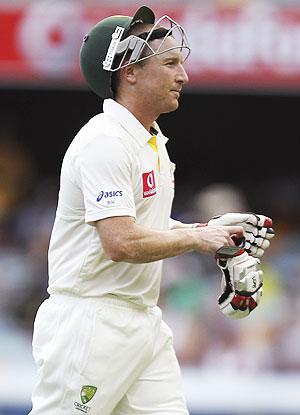 Haddin, whose batting average has slipped to 35.82 over the last couple of years, gave way to 24-year-old Wade for the tour of West Indies earlier this year when he was forced to return home to be with his seriously ill daughter.
Wade, who was left out of a domestic match at the weekend because of an injured thumb, grabbed his chance with both hands in the Caribbean and boasts a batting average of 39.60 from his three Tests.
"It was a tough decision, there was a lot of talk about that," skipper Michael Clarke, who sits on the selection panel, said at the Sydney Cricket Ground.
"They're two very good wicketkeepers and whichever way we went, the team was going to be fine.
"Our decision was Matthew Wade, I know he'll do a great job. He's been a wonderful player for Australia in his brief career, he scored a 100 in his last Test match and he deserves this opportunity."
Clarke said Haddin would remain in contention for the Australia team.
The squad was announced just hours after Haddin's inspired captaincy had helped the Sydney Sixers crush the Highveld Lions by 10 wickets to win the Champions League Twenty20 final in South Africa.
The other notable omission was 19-year-old fast bowler Pat Cummins, who took seven wickets in his only Test against South Africa in Johannesburg last year and also featured in the Sydney Sixers' triumph.
"We didn't feel as though Pat Cummins was ready to play in a Test match," chief selector John Inverarity said.
"We're very keen for him to play a Sheffield Shield match soon and he's likely to come onto the radar for perhaps the third Test in Perth."
In his absence, quicks Peter Siddle, Ben Hilfenhaus, James Pattinson and Mitchell Starc will compete for three spots in the team -- unless Clarke decides to go with a four-pronged pace attack.
Clarke, whose instinct is always to include a spinner, said it would be "silly" to make a decision on the composition of the bowling unit before assessing the conditions at the Gabba.
"We are lucky to have four very good fast bowlers but we also have a good spinner who's had a lot of success for Australia," he said.
Nathan Lyon, the latest in a string of players Australia have tried out to replace Shane Warne since the spin-bowling great retired, made an impressive start to his Test career last year but has recently hit a run of poor form.
"We have been concerned about Nathan's form but he has performed very well for Australia and we're hoping that in the 10 or 11 days until the Test, he recaptures his old form," said Inverarity.
The series begins at the Gabba on Friday week before Tests at the Adelaide Oval (November 22-26) and the WACA in Perth (November 30-December 4).
Squad: Michael Clarke (captain), David Warner, Ed Cowan, Shane Watson, Ricky Ponting, Mike Hussey, Matthew Wade, Peter Siddle, Ben Hilfenhaus, Mitchell Starc, James Pattinson, Nathan Lyon.
Photograph: Reuters