- Coach A N Sharma recalls his first meeting with Virender Sehwag way back in 1993 when he turned up at his academy in Vikaspur, West Delhi, wanting to be a cricketer. More than anything, he remembers how he had come across a young boy, who amongst other things, just wanted to hit every ball he faced, he tells Harish Kotian/Rediff.com.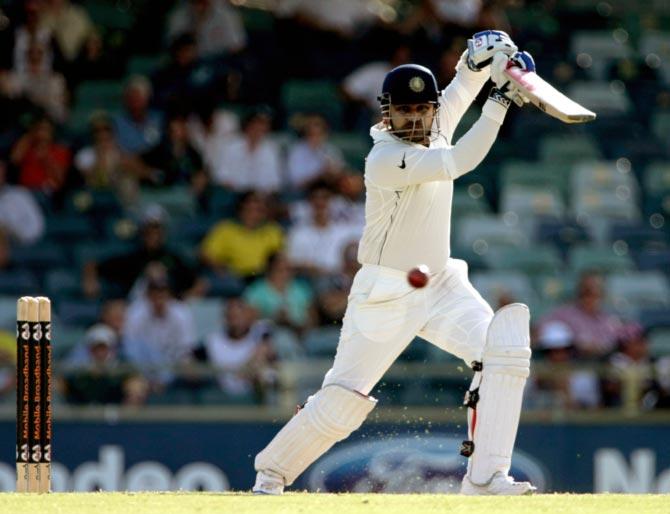 IMAGE: Virender Sehwag hits a boundary during the third Test against Australia in Perth on January 17, 2008. Photograph: Robert Cianflone/Getty Images
Coach A N Sharma is a proud man as his most famous ward Virender Sehwag retired from international cricket after a stellar career at the highest level.
Sehwag, who retired on his 37th birthday on Tuesday, is regarded as one of the best openers to have graced Test cricket. The only Indian to hit a triple century in Test cricket, he twice crossed the 300-run mark making him the one of only four batsmen to have achieved the feat.
- Exclusive! When Sehwag hit century on Test debut using Agarkar's pads
Sharma recalls his first meeting with Sehwag way back in 1993 when he turned up at his academy in Vikaspur, West Delhi, wanting to be a cricketer. More than anything, he remembers how he had come across a young boy, who amongst other things, just wanted to hit every ball he faced.
The coach recalls how it took him a few days to analyse Sehwag's no-frills game but in the end he was sure that he had stumbled upon a special talent.
"He first came to me in 1993, nearly 22 years ago. The first time I saw him bat, I liked him instantly. The most important part was that our tuning was very good, whatever I taught him he used to take it seriously and work accordingly.
When I saw him bat for the first time a small boy, I checked for two things -- whether he has got the patience and if he had the temperament and technique. It took me three-four days to test Sehwag to see if he had it in him, even though he was a small kid then," Sharma told Rediff.com.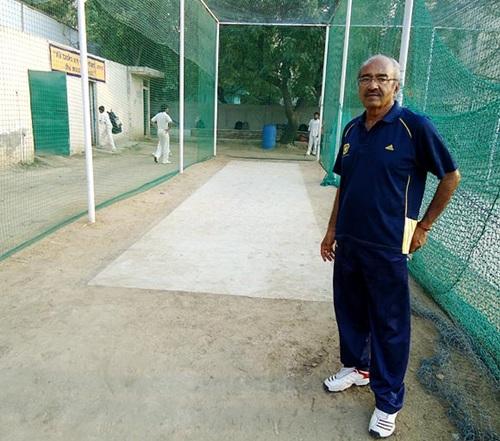 IMAGE: A N Sharma at his academy at the Government School in Vikaspuri, East Delhi. Photograph: Harish Kotian/Rediff.com

Infact, Sharma, since that small age has been encouraging Sehwag to follow his natural instincts, which is to attack right from the word go.
"He was very small when he came to me and even then he was a very attacking player. I never told him to bat defensively instead I told him if you feel the ball is good enough for a boundary, go for it. Infact, I would encourage him to play the big shots, I used to tell him 'why be satisfied with a boundary? Why don't you try for the maximum and hit it for a six? That is how I encouraged him to play with a positive frame of mind," he recalls.
He says that Sehwag was encouraged to play with a heavy bat right from his early days and practicing hitting out of the ground was part of his daily routine.
"During his young days we used to play on grounds which were around 60 metres so I used to tell him to clear the ground because if he can clear the ground here, then later on when he plays in the stadium he will also be able to clear the boundary.
Infact, Sehwag used to target the A/Cs on the second and third floors of the building adjacent to the grounds to practice his hitting prowess," he said.
Sharma pointed out that he never felt the need to tamper with Sehwag's technique even though at the start of his career many believed that the right-hander was not cut out for the longer version of the game.
"I had mentioned this long back in an interview that my philosophy on coaching is that you should never try and change someone's technique. You should work on his natural ability and look to improve it but I have seen coaches trying to force their players to play in a certain way.
Some years back Sanjay Manjrekar had written in his article that if A N Sharma had tried to change Sehwag's technique we would have never seen Sehwag bat the way he did and the success he achieved," he adds.
Despite his lack of footwork, Sehwag rarely struggled with the bat, even in difficult conditions away from home.
That according to his coach is because "he had a special gift from God - the hand-eye co-ordination. He had the ability to read the ball from the bowlers' hand before it was delivered which gave him ample time to play his shots."
When asked to pick Sehwag's favourite innings, Sharma's reply was rather surprising.
"You won't believe it if I say my most favourite Sehwag innings was during his school days. When he was playing for Delhi Schools against UP in Indore, I think it was in 1994, the way he batted again I just can't forget it. We were losing the match when he came out to bat and he changed the complexion of that match and took us to an unlikely victory. He scored around 60-odd runs in that innings but the strokes he played left everyone amazed. The UP bowlers were left stunned by Sehwag's dominating strokeplay and that knock has stayed me with forever," he claimed.
Looking back at Sehwag's glorious career, Sharma says he could not have asked for anything more.
"I am more than satisfied. I feel so proud when I look back at his career. My relation with him was like father and son and he made me really proud with his achievements."
But before he signs off, Sharma points out that maybe Sehwag could have played a bit more. "I feel if he had worked a bit harder after he was dropped [in 2013] then maybe he would made a comeback to the Indian team once more."
Also read:
- Bowlers used to be scared when bowling to Sehwag: Harbhajan
- Exclusive! Sehwag is a great player; it's a joy to play with him: Tendulkar