'It is a great honour and today we have a gate named after a cricketer but later we can have dressing room, stands, restaurants and dressing rooms and other things named after cricketers.'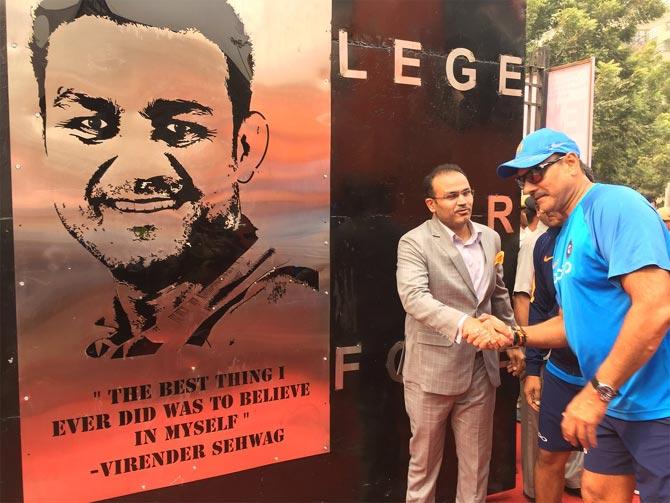 IMAGE: Virender Sehwag with India coach Ravi Shastri at the function to unveil the 'Virender Sehwag Gate' at the Feroz Shah Kotla stadium in New Delhi. Photograph: BCCI
Delhi has a penchant for producing mentally hardened players and former India opener Virender Sehwag on Tuesday attributed this to a tough club level one-day cricket, played day in and out, through a long summer.

The Delhi District Cricket Association (DDCA) named Gate 2 of the Feroz Shah Kotla Stadium in New Delhi as the 'Virender Sehwag Gate'.

Asked what sets apart Delhi cricket, Sehwag said, "In Delhi a lot of one-day cricket is played in clubs. And by the time these players come to Ranji Trophy they become very tough mentally and they don't find it difficult to get used to the grind."
The 39-year-old Sehwag said he is honoured to have the stadium gate named after him.

"It is a great honour and today we have a gate named after a cricketer but later we can have dressing room, stands, restaurants and dressing rooms and other things named after cricketers. It's a good thing and positive move from DDCA.

"I had a wish that whenever such a function happens, we should call all the cricketers who have represented Delhi and India," Sehwag said.

Sehwag thanked the DDCA and said this will motivate younger players.

"Any young cricketer will get motivated reading the name. (He will think) Virender Sehwag played here as a kid and when he left there is a gate named after him so if I can also play for Under-19, Under-16, Under-23 or Ranji for Delhi and then represent India, then a gate, stand or something will be after my name," he said.

Asked to single out that one moment he wished he was part of in Delhi cricket, Sehwag said it was the Ranji Trophy triumph in 2007-08 when they beat Uttar Pradesh in the final.

"One moment I missed was that I was not part of that Ranji Trophy triumphant team. I was playing for the Indian team then. Full credit to Gautam Gambhir, who was leading the team, and Pradeep Sangwan also played really well I remember."

Sehwag recalled a must-win match against Gujarat at the Kotla during his Under-19 days.

"We played one Under-19 match here -- Delhi versus Gujarat -- and we had to win and qualify. Ashish Nehra and Amit Bhandari played really well in that game, picking up five and four wickets, and though I scored ony 50 or 60 runs I still fondly remember that game as we managed to qualify for the knockouts."

Sehwag said he got lots of tips and motivation from former players like Bishan Singh Bedi and Mohinder Amarnath.