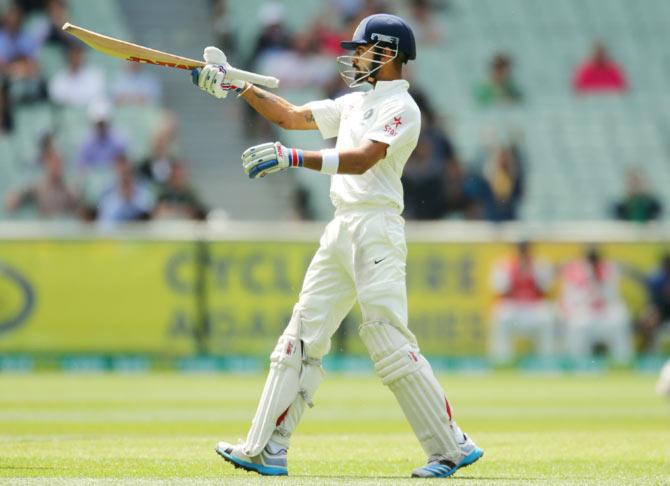 Virat Kohli celebrates after completing his half-century. Photograph: Scott Barbour/Getty Images
India captain Mahendra Singh Dhoni and Ravichandran Ashwin frustrated Australia's push for victory on day five of the third Test in Melbourne on Tuesday, but the draw was enough for the hosts to complete an emphatic 2-0 series win with a game in hand.
- What are your favourite memories of Dhoni in Tests? Tell us!

With Australia needing seven wickets from the final session at the Melbourne Cricket Ground, their bowlers could only manage three as Dhoni and Ashwin survived a nervous final hour to push India to safety.

India were 174-6 when Australia captain Steven Smith conceded the draw with four overs remaining, with Dhoni unbeaten on 24 and Ashwin on eight. The tourists were 210 short of their victory target. Australia declared on 318-9 at lunch, setting India 384 to win in 70 overs.
Statistical highlights from the fifth and final day of third Test match between India and Australia in Mebourne, on Tuesday:

- Australia's score of 848 for 19 wickets (530 + 318 for nine wickets declared) is the second highest against India behind the 864 for 17 (463 + 401 for seven wickets declared) at Sydney in 2007-08.

- Virat Kohli's 54 off 99 balls is his 10th half-century in Tests -- his third against Australia.

- Kohli's aggregate of 499 runs (ave.83.16) is the second highest by an Indian player in a Test series against Australia in Australia. Rahul Dravid had managed 619 (ave.123.80) in four Tests in the 2003-04 Test rubber.

- Kohli's tally is the highest by a visiting No. 4 player in a Test series in Australia, surpassing the 480 (average: 80.00) in seven innings by Sachin Tendulkar in 2007-08.

- Kohli's performance in the fourth innings is excellent - his tally being 620 at an average of 68.68, including two hundreds and four fifties. His average is the highest by an Indian batsman in the fourth innings (minimum 500 runs).

- Ryan Harris - 95 (74 off 88 balls + 21) runs and six for 100 (4/70 + 2/30) apart from one catch - got the Man of the Match award for the third time in Tests - his first against India.

- Mahendra Singh Dhoni (eight catches + one stumping) became the first Indian wicketkeeper to effect nine dismissals in a Test match.

- Dhoni is the third wicketkeeper to accomplish the feat against Australia in a Test match. David Murray (WI) at Melbourne in 1981-82 and Ridley Jacobs (WI) at Melbourne in 2000-01 were the first two wicketkeepers to effect nine dismissals in a Test match.

- Ajinkya Rahane, during the course of his 48 off 117 balls, has completed his 1000 runs in Tests - his aggregate being 1026 (ave.44.60) in 13 Tests.

- Rahane has totalled 348 at an average of 58.00, including a hundred and two fifties - his best ever in a Test series.

- Rahane's 48 is his highest against Australia in the second innings.

- In drawn Tests, Rahane's average is excellent - 431 in seven innings at an average of 61.57, including two hundreds.

- After playing 13 Tests in succession, a Test involving Australia and India has not produced a result.

- Australia won three consecutive Test series against India in Australia for the second time.

- Mitchell Johnson (50 at 36.68 apiece in 14 Tests) is the fourth Australian bowler to complete 50 wickets or more against India in Tests, joining Brett Lee (53 in 12 Tests), Richie Benaud (52 in 8) and Glenn McGrath (51 in 11).

- This was the first time in 17 years that a Test match at the Melbourne Cricket Ground (MCG) had failed to produce a result. The last drawn Test at Melbourne was contested between Australia (309 & 257) and South Africa (186 & 273 for seven wickets) in 1997-98.

- Dhoni, as captain, figures in a drawn Test match against Australia for the first time. He has won eight, lost four and drawn one out of 13 contested - winning % 61.53.

- Kohli's runs' tally of 223 (169 + 54) is an Indian record in a Test match at Melbourne, eclipsing Virender Sehwag's 206 (195 + 11) in the 2003-04 Test.

- Kohli has become the first Indian batsman to amass 200 runs in a Test match twice in the same series against Australia in Australia. On his captaincy debut in the Adelaide Test, he had managed 256 (115 + 141).

- Kohli became the second batsman to score 150 and a fifty in the same Test match at Melbourne. England's Herbert Sutcliffe was the first to record the feat - 176 and 127 in January 1925.

- Shaun Marsh became the third Australian player to be run-out on 99 - the first two batsmen were Bill Brown vs India in February 1948 and Arthur Morris vs South Africa in February 1953 - both at MCG.

- Melbourne has registered five instances of 99 run out out of 16 witnessed - the most at a single venue.

- Dhoni (10,018) has become the first Indian batsman to complete 10,000 runs or more as skipper in international cricket. He has joined Ricky Ponting (15440), Graeme Smith (14878), Stephen Fleming (11561) and Allan Border (11062).

- Dhoni, in 60 Tests as skipper, took his tally to 3454 (ave.40.63), including five hundreds and 24 fifties - an Indian record, surpassing Sunil Gavaskar's tally of 3449 (ave.50.72) in 47 Tests.