'I love coming to this ground, the city in general'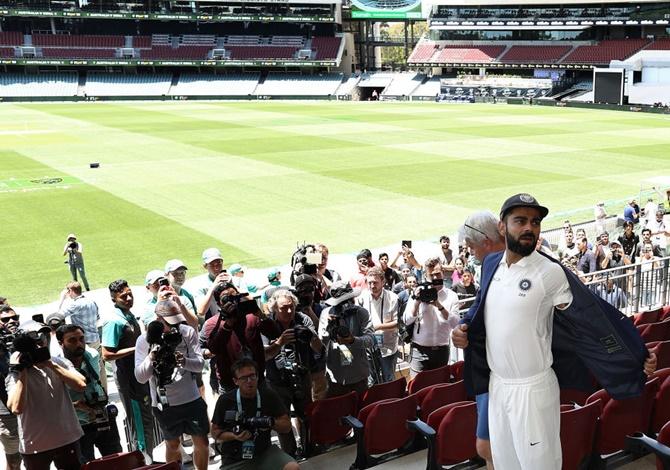 Like any megastar, Virat Kohli is well aware of the obsessive focus on him in Australia right now but he prefers to not believe the hype since he has 'no control' on what's being spoken or written about him.
The Australian media has had a constant question to anyone and everyone ever since the build-up to the series started -- how can Kohli, the man who amassed 692 runs the last time he was here, be stopped this time?.
On the eve of the first Test, the Indian captain was asked about this 'obsession' with him and Kohli's answer was a giveaway that he couldn't care less.
"This (obsession) is something that I don't believe in, at all. Whatever batsmen we have, all of them have so much ability that every one of them can single-handedly turn any game," Kohli said.
"This is something I believe in 120 per cent, and even they have faith in themselves. On the outside what people think, we cannot control. I cannot tell people to not to talk about it or write about it," he added.
When the topic of obsession turned into a discussion about his love affair with Adelaide, where he has three hundreds from two Tests, he spoke about his 'connect' with the iconic home ground of Sir Don Bradman.
"I love coming to this ground, the city in general. I really enjoy the city, I don't know what the connection is, but I just feel really good here. Not to say that the performances are always guaranteed in a certain place but yes, coming to Adelaide I feel different from places that I have gone in the world and that's been the case," said the world's no 1 batsman.
He didn't hide that Adelaide is his favourite ground outside India.
"It happens to every cricketer, they have a favourite ground away from home. For me, Adelaide has always been special, because I scored my first Test ton here. So, from then on the connection started.
"It's a great place to play cricket in general; the stadium has been redone, the pitch has always been good. So it's about which team plays better, it's been that kind of pitch."
Familiarity with the Adelaide Oval, the good memories are of help, agreed Kohli.
"It's all about remembering those good things that we did and applying it here. I know England and South Africa were tougher. Australia can be a great place to bat if the batsmen apply themselves well. But it takes character. It takes grinding out tough situations," he sounded cautiously optimistic.