'It's too early yet to be taking about him being one of the greats. I think the great players we always talk about -- the Tendulkars, the Laras, the Kallises -- those guys played 120, 130-200 Test matches. Virat's not even halfway along that path.'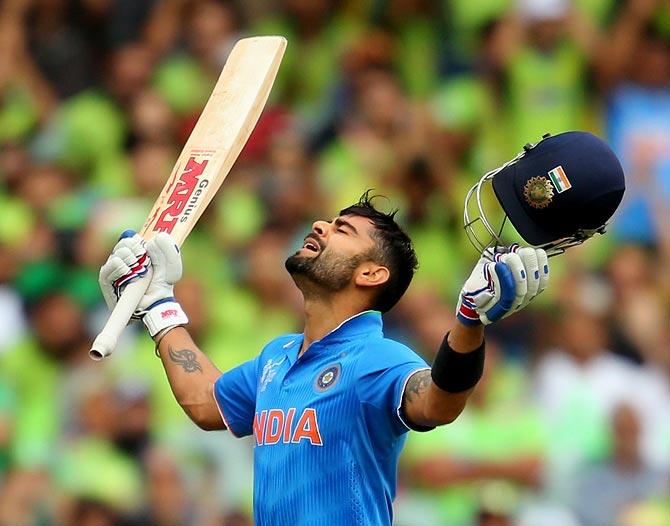 IMAGE: Virat Kohli celebrates his century against Pakistan during the ICC World Cup 2015 in Adelaide. Photograph: Scott Barbour/Getty Images
Australia's batting legend Ricky Ponting feels India skipper Virat Kohli is the best batsman in the world in One-Day Internationals but it is not yet time to call him a great in Test cricket.

"Is he the best batsman in the world? Yeah, he probably is. I thought he was six or seven months ago and he's probably taken it to another level since then," Ponting was quoted as saying by the Sydney Morning Herald.

Kohli had an outstanding 2016 across formats as the Test captain guided India to comprehensives series wins against the West Indies, New Zealand and England before taking over the captaincy of limited overs as well.
The India captain ended the year with 1,215 runs in 12 Tests at an average of 75.93, including three double centuries. In the last series against England, he aggregated 655 runs at an average of 109.16 -- the most for India in a series against England.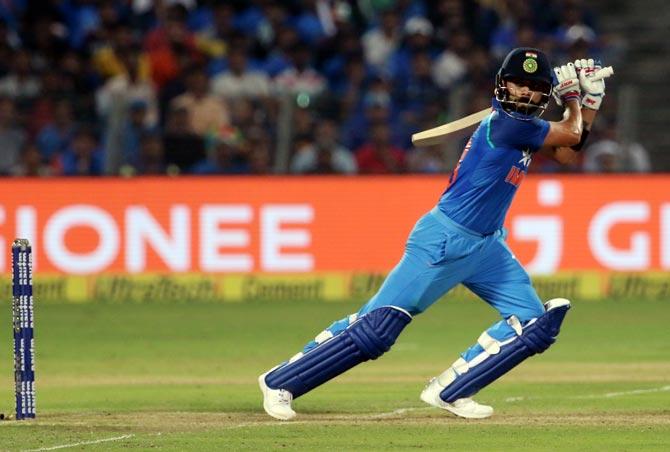 IMAGE: Virat Kohli in action. Photograph: BCCI
Ponting said captaincy in all formats would help Kohli even further.

"Is it too premature to call him the best ever? You can probably say that right now as far as his one-day cricket is concerned. His one-day record is outstanding and probably better than anybody that's ever played the game given how many hundreds (27) he's made but let's give him a few years yet in the Test series side of things.

"It's too early yet to be taking about him being one of the greats. I think the great players we always talk about -- the Tendulkars, the Laras, the Kallises -- those guys played 120, 130-200 Test matches. Virat's not even halfway along that path," he said.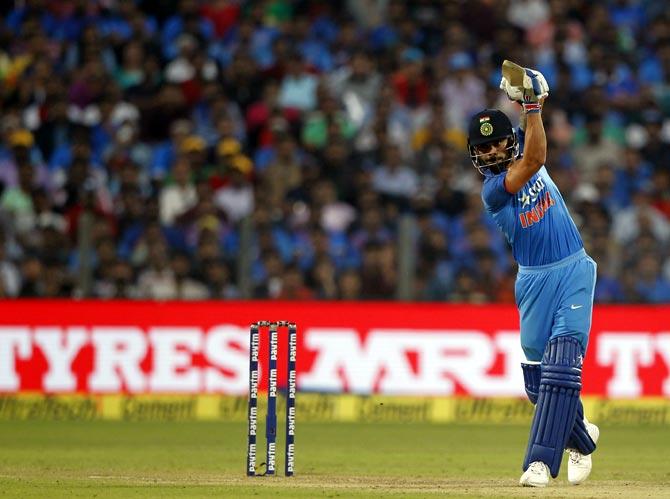 IMAGE: Virat Kohli in action. Photograph: BCCI
Talking about the upcoming Australia tour of India, Ponting said the visitors will need to get Kohli out of his comfort zone to have any chances of doing well in the four-Test series.

"The one thing about Virat Kohli is whenever there's any confrontation, he does get a little bit outside of his comfort zone. You can see that he gets ultra-aggressive, which may be a good thing for him or maybe good for the opposition," he said.

"We will wait and see what happens. I think he's a similar sort of character to me as well. He wears his heart on his sleeve. He's pretty animated. He's a very aggressive player.

"One thing I learnt about playing in India is the momentum that the home team can create, you have to try and stop that.

"Someone like Virat, you have to take his boundary-scoring areas away and make him score his runs in different areas or make him bat for a longer time to make his runs," he added.