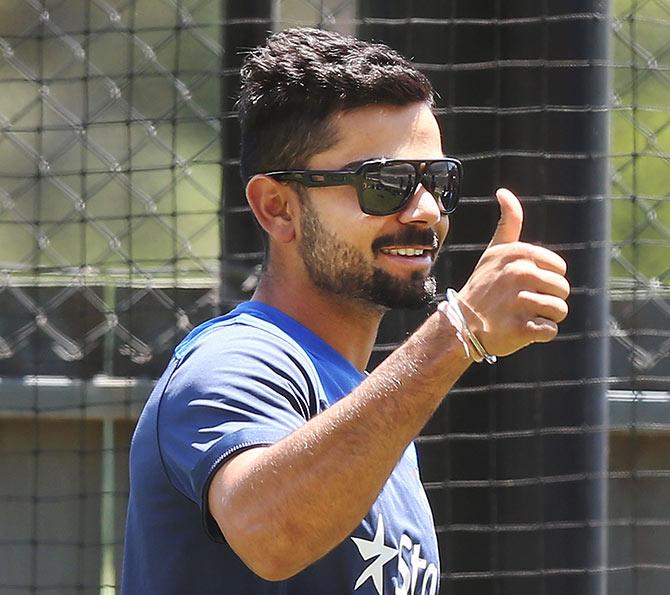 IMAGE: Virat Kohli gestures during an India training session. Photograph: Michael Dodge/Getty Images.
For Rajkumar Sharma, a coach is no different from a parent and that's why he has been "protective" about Virat Kohli, keeping a close watch on the progress of his "son" during his formative years.
Sharma, who will be conferred with the prestigious Dronacharya Award, has been the Indian Test captain's coach since he was 10 years old.
"It's a huge honour which increases your responsibility to produce not one but many more Virats. I still remember the day when a 10-year-old Virat came to my coaching camp. Today as an Indian captain when he comes for a net session, I don't find any difference. He is still the same old little Virat for me. Nothing has changed for him," the 51-year-old former first-class cricketer told PTI on Tuesday.
The 51-year-old's name has been sent to the Dronacharya awards committee on a number of occasions but he only got lucky this time. In fact, the Indian skipper called him from Port of Spain to congratulate him.
"When Virat got the Arjuna Award in 2013, I was there at the Rashtrapati Bhavan and he told me then next time I would be receiving Droancharya and he would be applauding from the audience. Wish Virat did not have international commitments (he will be on his flight back from the US) and he would be have been there at Rashtrapati Bhavan on August 29," said Sharma.
There was a point in time after Kohli's U-19 World Cup exploits and a subsequent IPL contract with the RCB, when questions were raised about his focus.
"Every coach has a duty just like a parent to keep a check on the progress of his ward. There was phase and he was only 19 years old. Instant stardom after U-19 World Cup victory and a contract with RCB, it can happen with kids.
"It's at that point when the coach's role comes into play. You have to give the boy right guidance. It was my duty as he is like my son," said Sharma, who has played 9 Ranji Games as an off-spinner for Delhi.
But for Sharma, Virat has had a remarkable transformation where youngsters are now looking up to him not only as a cricketer but as a role model also.
"Maturity comes with age. There are a lot of things that a coach can't do. There is a process of self realization and the person knows what is right for him. Virat went through that process on his own and let me tell you I had no role in that process. The transformation from a teenager to responsible young man has happened because he knew what he needed to do," said Sharma.
"Even today when he is considered among the best batsmen in world cricket, he will intently listen when I speak to him about his feet movement or backlift. When you find that he is still ready to listen then you know that the head and the heart is in right place."