'If you are showing passion and aggression on the field, you should have the game quality to match that'
'I would be quite happy to help out the young Indian batsmen if their cricket board wants me to help them'
'Test cricket is the ultimate examination for any cricketer'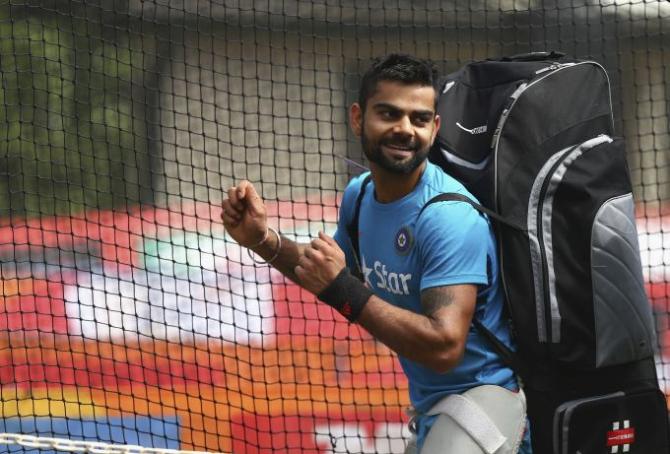 Virat Kohli. Photograph: Ryan Pierse/Getty Images
He has always admired Virat Kohli's batting qualities and Sir Vivian Richards feels that one should not be too critical of the Indian Test captain's on-field aggression as he possesses the "quality" to match his attitude.
"I see nothing wrong in Virat's attitude. He is very different from (MS) Dhoni. I believe if you are showing passion and aggression on the field, you should have the game quality to match that. Virat has the quality. He can give back as good as he gets. I like people who have stomach for a good fight and Virat is one of them," Richards said.
"Virat brings in a lot of vibrancy and the future of Indian cricket looks bright," he added.
Asked about Kohli's failure in England against the moving delivery and the recent slump in ODIs, the legend dismissed the notion of any kind of technical glitch in his batting.
"He is still a very young man. He is only 26. There is so much more to come from him. Whatever I have seen of Virat, he looks like a young man, who wants to improve his game. When you play international cricket, there will be a few problems here and there. But there are two things you need – positive attitude and tenacity," the 63-year-old veteran of 121 Tests and 187 ODIs said.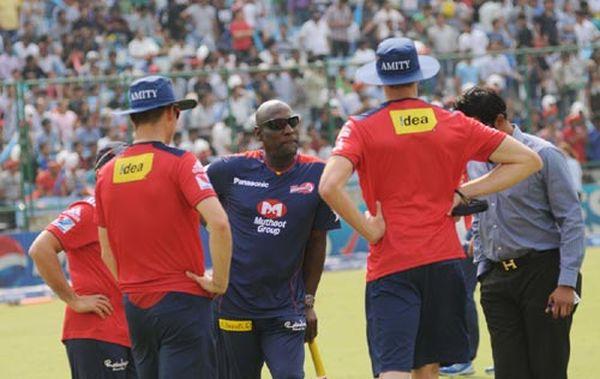 Viv Richards during an IPL season. Photograph: BCCI
Richards also gave a positive reply to a query whether he was willing to help out the Indian batsmen provided BCCI approaches him.
"Why not? I would be quite happy to help out the young Indian batsmen if their cricket board wants me to help them. I believe I have enormous amount of information and knowledge which could prove beneficial for youngsters. If BCCI wants, I can put my hand up and would like to help talented cricketers," said the Antiguan who had tormented bowlers across the globe during his playing days.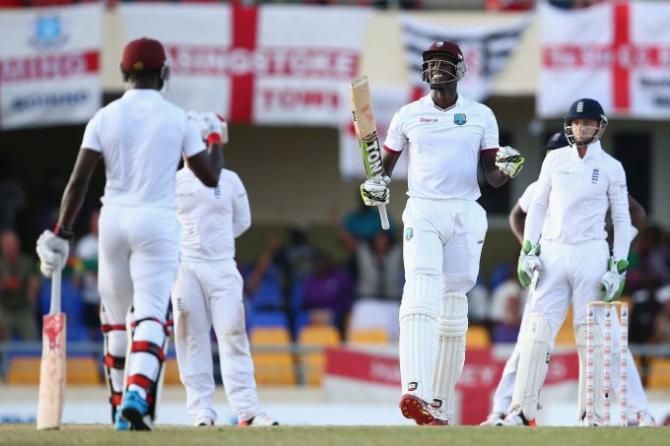 Jason Holder (R) of West Indies celebrates reaching his century alongside Kemar Roach. Photograph: Michael Steele/Getty Images
Richards who is also the brand ambassador of the Caribbean Premier League maintains that the traditional form of the game is paramount for any cricketer who wants to seriously pursue the sport.
In fact, Richards feels the WICB should ensure that top players are available to play Test cricket and allowing them in the IPL should depend on their willingness to play the longer format.
"Test cricket is the ultimate examination for any cricketer. I believe ICC in collaboration with various cricket boards should ensure that Test cricket's position should not be in trouble.
"As far as West Indies cricketers are concerned, I would ideally want the WICB to ensure that all top cricketers are available to play Test cricket subject to which they would be allowed to play in lucrative T20 leagues like Indian Premier League. Playing in IPL is important but it can be used as a platform or an incentive for showing interest in playing Test cricket," said Richards.
The 'King' is happy that the upcoming Caribbean players have got a launchpad like the CPL, in which they can rub shoulders with the cream of international cricketers from across the globe.
"I think for development of any young player, he needs proper exposure and a chance to play alongside and against the best in the world. CPL gives them that opportunity which should only help them improve their game. Interacting with the greats from other countries, mixing with individuals from all walks of life will prepare them for bigger battles," Richards concluded.