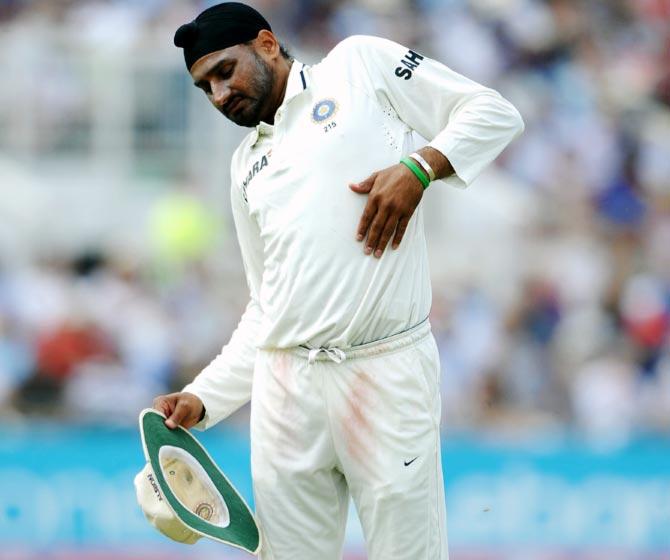 Harbhajan Singh. Photograph: Laurence Griffiths/Getty Images
In a big setback for North Zone ahead of the Duleep Trophy semi-final against Central Zone, captain Harbhajan Singh has been forced to sit out due to viral fever as Gautam Gambhir will step in to lead the team, in Mohali, on Wednesday.
- Name your 30 World Cup probables!

Out-of-favour India off-spinner, Harbhajan, expressed his disappointment at missing the match, which was a good opportunity to impress the selectors.

"I am disappointed at not being able to participate in the all-important match. I have not been keeping well for the last three days, but hopefully will be fit for the final if we win," Harbhajan said.

Harbhajan, who last played a Test for India in March 2013 against Australia, led a successful campaign last year when North shared the trophy with South Zone after the final in Kochi was virtually washed out.

All eyes will now be on Gambhir and Virender Sehwag, as the duo will look to impress the selectors ahead of the Australia tour later this year and the all-important 50-overs World Cup in February.

Gambhir, who was recently appointed captain of the Delhi team for the upcoming Vijay Hazare one-day tournament, is keen to make a comeback after a not-so-good showing in the Test series in England this year.

Sehwag, 36, who also made his last India appearance in March 2013 along with Harbhajan against Australia, will also be hoping to make each performance count.

Apart from the Delhi duo, Yuvraj Singh will also be looking to make impression in the all-important game.

The team also boasts of two Jammu and Kashmir players in medium-pacer Samiullah Beigh and off-spinner Parvez Rasool, who has represented the national side in one ODI against Bangladesh in June this year.

The Central Zone team will also be no pushovers with young Piyush Chawla leading the pack.

The 25-year-old leg-spinner is also looking to make his return to the big stage after the Uttar Pradesh player last represented India in 2012.

With Piyush, upcoming chinaman Kuldeep Yadav and leg-spinner Karn Sharma forming the spin trio, the Central bowling attack also comprises of medium-pacer Pankaj Singh and Railways pacer Anureet Singh.

On the batting front, Faiz Fazal, Naman Ojha, Arindam Ghosh and Ashok Menaria will form the crux.