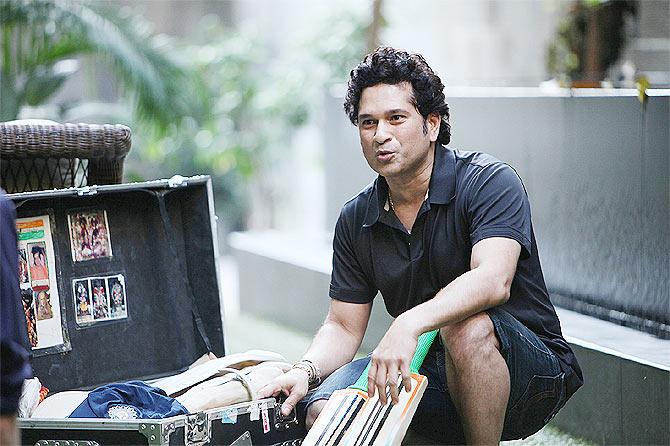 Former India captain and cricket icon Sachin Tendulkar showed his modest side on Monday.
While passing through Bandra, a western suburb of Bombay, he saw a few locals play a game of cricket on the road. Watching them he promptly pulled up his car, got out and asked them to hand him the bat.
The excited bunch, who were reportedly metro construction workers were only all too happy to throw down a few balls at him.
Tendulkar, in the style very much his own, played three defensive shots before the locals crowded the man for selfies and autographs.
Tendulkar's gesture won a few hearts on Twitter and the video has now gone viral.
Retweeting the video, industrialist Harsh Goenka wrote on his handle: "When God himself alights to play street cricket...... this is the true spirit of a Mumbaikar."
One Mangalam Maloo tweeted the video and wrote: GOD. He was passing by late at night at Bandra, saw the Metro construction workers playing cricket...pulled the car aside and joined them to bat! @sachin_rt."
One Sayami Kher tweeted: "The best what's app forward Iv received since Nov 16th 2013. @@sachin_rt #SachinTendulkar."
VIDEO: Kind courtesy, Sachinist.com/Twitter