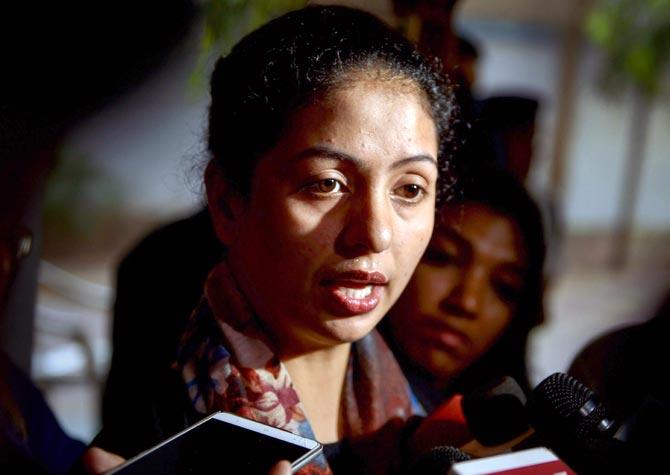 IMAGE: Mohammed Shami's wife Hasin Jahan speaks to the media. Photograph: PTI
After meeting West Bengal chief minister Mamata Banerjee, India pacer Mohammed Shami's estranged wife Hasin Jahan sought Board of Control for Cricket in India's help to solver her legal matter with her husband, but BCCI's acting president C K Khanna refused to be drawn into their personal matter.
"Hasin Jahan met me with a request that BCCI should look into the matter. I told her that it was their personal affair which should be settled within the family. It would be interest of all, including Shami, because he is in the Indian team and we would like him to perform well in the IPL and forthcoming England series," Khanna told ANI post his meeting with Jahan.
He further informed, "She requested me that I should try to put some personal pressure on him. I told her that it would not be possible for me as BCCI cannot intervene in such affairs and she has to seek the help of her family."
Earlier in the day, Jahan said, "Shami is just trying to gain sympathy from media. He does not care about me and our daughter. I am living in a small guest house here (in New Delhi) but he had not contacted me even once to meet his daughter."

Jahan has accused Shami of physical and mental abuse, and of having extra-marital affairs. A case has also been registered against the fast bowler on the basis of a written complaint filed by her.
The BCCI had leared India speedster Shami's central contract after its Anti-Corruption Unit (ACU) exonerated him of corruption charges levelled by his wife Hasin Jahan. He will also be free to play in the Indian Premier League for his franchise the Delhi Daredevils, starting April 7.

Earlier this week, Shami had snubbed Hasin Jahan when she went to see him in a Delhi hospital after he sustained a minor injury in an accident.

"I had come to see Mohammed Shami as he was injured, but he refused to meet me. He threatened me and said 'I will see you in court now'.

"He (Shami) met and played with our daughter, but he did not acknowledge me, his mother was acting like a bodyguard," Hasan Jahan had said.