'Virat wouldn't have got 700 runs and smashed four centuries in Tests in Australia'
'It's not the size of the dog in fight that matters. It's the fight in dog that counts'
'I call Shami nawab of Kolkata; Umesh the one of Vidarbha and Mohit Sharma as Haryana Express'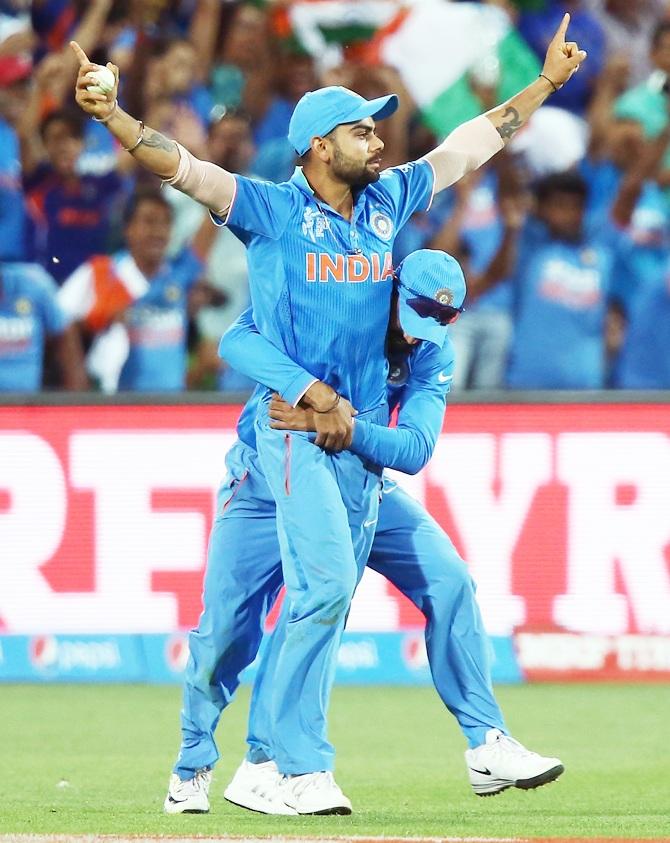 Virat Kohli celebrates after taking a catch. Photograph: Morne de Klerk/Getty Images
Defending an under-fire Virat Kohli, Indian cricket Team Director Ravi Shastri on Tuesday said the swashbuckling batsman's ordinary run in the World Cup had nothing to do with his actress-girlfriend Anushka Sharma's presence and to call it that is 'utter nonsense'.
"If it was so, Virat wouldn't have got 700 runs and smashed four centuries in Tests in Australia. His work ethics is as good as any I have seen. His heart beats for India. It's a pedigree you don't see often. And to tell you the truth, he isn't a finished article yet," Shastri said.
Shastri found much to praise in Kohli's revival after a disastrous England tour last year when he constantly fell to Jimmy Anderson and company.
Kohli showed that, "it's not the size of the dog in fight that matters. It's the fight in dog that counts," Shastri said.
'Dhoni has a lot of time to torture bowlers around the world'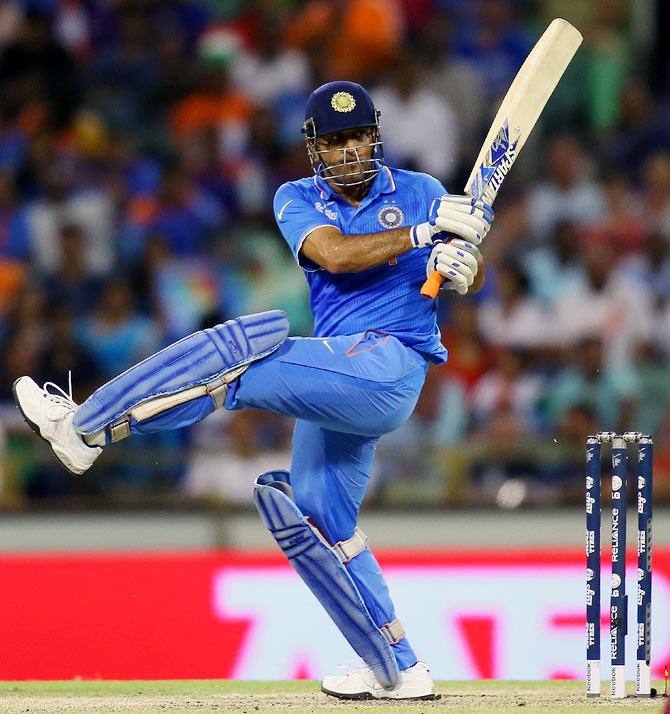 India captain Mahendra Singh Dhoni. Photograph: Paul Kane/Getty Images
Shastri also lavished praise on skipper Mahendra Singh Dhoni saying that the wicket-keeper batsman will only get better from here on.
"He would only get better now that he has retired from Test cricket. He would be fitter and would have time to work on his batting. He would still have a lot of time to torture bowlers around the world," he said.
Shastri, a former India captain, said losing the toss in the semi-final against Australia hurt the Indian team.
While praising the eventual champions and terming them as "the best side in the tournament", Shastri still believed that the only team which Australia feared could beat them was India.
'Let me know his weakness in case you find it'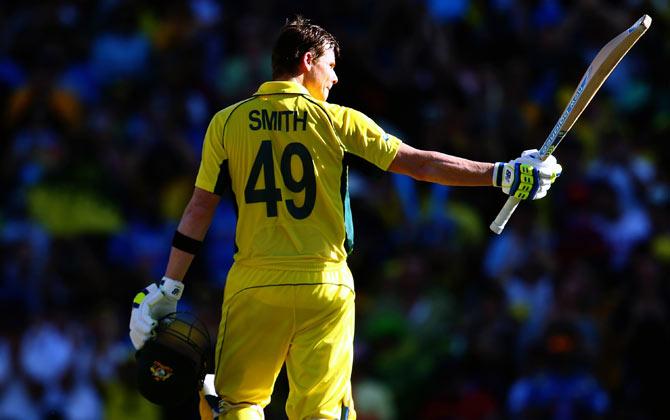 Steven Smith celebrates after reaching his century. Photograph: Mark Kolbe/Getty Images
Steven Smith was a constant thorn in India's flesh and Shastri had high words of praise for the young Australian batsman.
"A lot of teams asked me for weakness in his game. They asked we (Indians) ought to know since we have been here for four months. My answer always was: 'let me know his weakness in case you find it'.
He has tremendous hand-eye co-ordination, a very sharp cricketing brain and he invariably finds gaps in the field," Shastri explained.
'They are young, fit and hungry'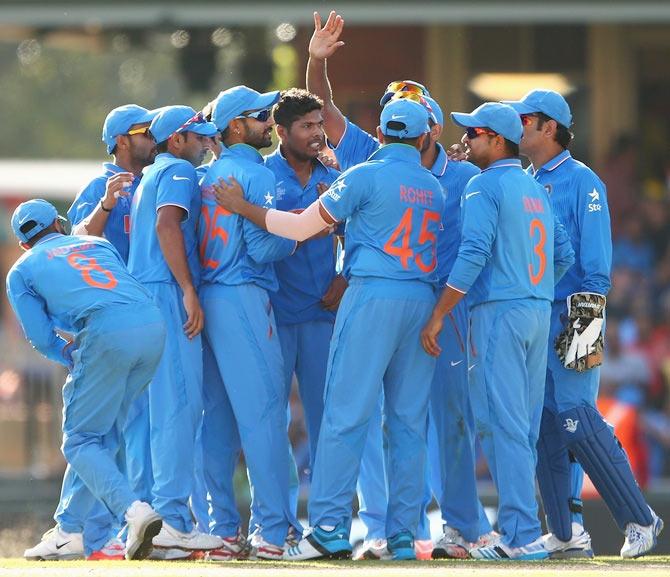 Team-mates congratulate Umesh Yadav. Photograph: Cameron Spencer/Getty Images
One highlight of India's performance was the performance of its medium-pace trio of Umesh Yadav, Mohammad Shami and Mohit Sharma.
"I call Shami nawab of Kolkata; Umesh the one of Vidarbha and Mohit Sharma as Haryana Express faster than the Rajdhani. They bowled like fast bowlers," he said.
"The Indian medium-pace trio was as good as any in this competition. How many times you see a Hashim Amla and a Younis Khan ducking into a short ball and fending a catch to fielders inside a circle? They bowled with the mindset of a fast bowler," he added.
Shastri was also all praise for Ravichandran Ashwin who was prepared to give air to the ball even when the rules restricted the protection for him in the deep fields.
"His variation of pace was the key to his show," Shastri said.
Shastri said there is immense potential in this young Indian team and predicted that 80 per cent of this nucleus would still be around in four years' time, in 2019 World Cup.
"They are young, fit and hungry. They are ambitious. People don't realise this tour of Australia has done their confidence a world of good. It would keep them, and India, in good stead."
© Copyright 2021 PTI. All rights reserved. Republication or redistribution of PTI content, including by framing or similar means, is expressly prohibited without the prior written consent.