'I have the ability to play in any place the team wants me to play. Right now, my focus is to use the opportunity'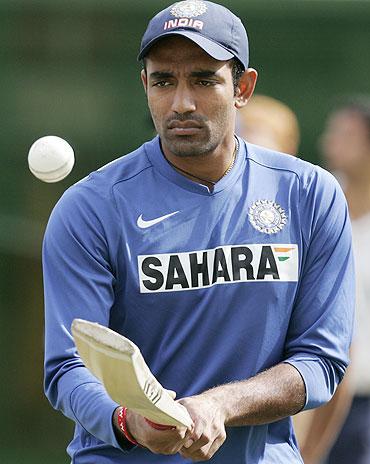 IMAGE: India batsman Robin Uthappa. Photograph: Reuters
Karnataka opening batsman Robin Uthappa has expressed hope of getting a 'proper run' in international cricket to justify his talent.
"Next time when I get to play for the country, hopefully, I will get a proper run at international level, score runs and justify my talent," Uthappa said, after the launch of 'My Country Run 2016' in Bangalore on Tuesday.
Despite some superlative performances in domestic matches, Uthappa hasn't found favour with the national selectors.
In two ODI matches he played against Sri Lanka, he batted in the middle instead of opening the innings.
"I am not looking for any position. I have the ability to play in any place the team wants me to play. Right now, my focus is to use the opportunity, if it comes, and win many matches for India," he said.
He said he is happy with his performances and believes the national selectors will consider his case.
"I am happy the way I am performing. So I am in a very good place, and I believe the selectors will pick me."
Uthappa is in good nick, having scored heavily in the Ranji Trophy this season (759 runs in eight matches) and last IPL (364 runs in 13 matches).
He set a new world record of scoring 40-plus runs for Kolkata Knight Riders in 11 consecutive T20 matches, which helped the team win the title in 2014 after a poor start.