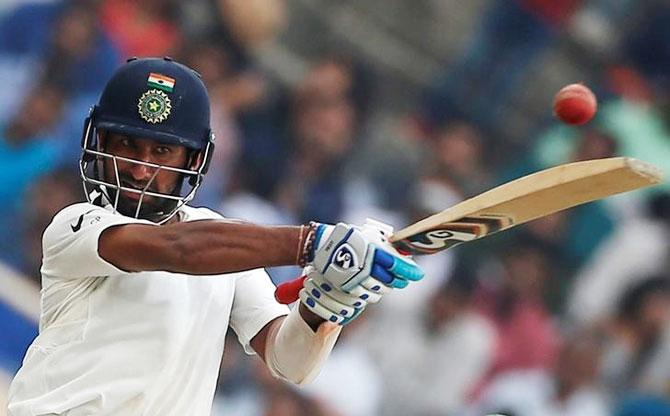 IMAGE: Cheteshwar Pujara is a 'priceless' player in captain Virat Kohli's words. Photograph: Adnan Abidi/Reuters
Cheteshwar Pujara has one more Test to play in the ongoing Australia series before the top-order stalwart slips out of India's sporting consciousness as the nation shifts its focus to the bedlam of white-ball cricket.
Considered a 'Test specialist', a euphemism for a limited-overs misfit, Pujara failed to land an Indian Premier League contract and will be twiddling his thumbs when the star-studded Twenty20 tournament kicks off next month.
The 29-year-old is not in the 50-over mix either, having played the last of his five one-day internationals nearly three years ago, so will only be an interested observer in India's Champions Trophy campaign in England and Wales in June.
But as India's marathon 13-Test home season draws to a close after the fourth and deciding match against Australia in Dharamsala later this week, captain Virat Kohli gave a ringing endorsement of Pujara's worth in the longest format.
"Sometimes I feel really bad for him that people don't understand his importance in this team so much," Kohli said after the drawn third Test at the Jharkhand State Cricket Association Stadium on Monday.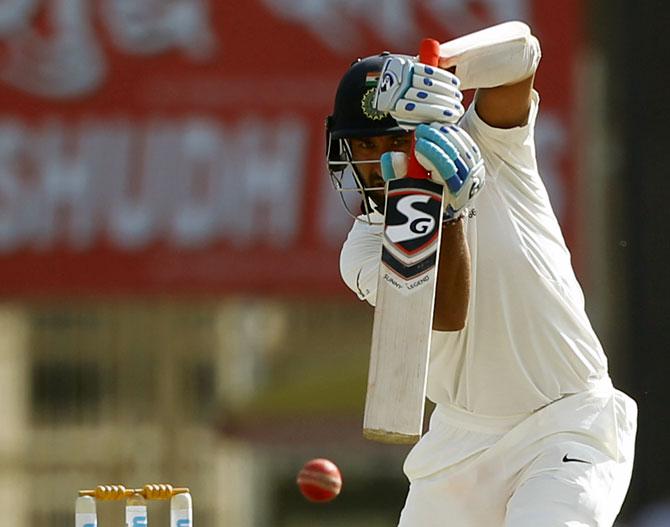 IMAGE: Cheteshwar Pujara batted 11 hours during his 202-run innings in Ranchi on Sunday. Photograph: BCCI
"You know what a valuable player he is for us. He is the most composed player we have in the team... Someone like that is priceless to have in the team."
At number three, Pujara lends much-needed stability to an Indian line-up replete with stroke-makers and he played his role to perfection to anchor India's batting in Ranchi.
Pujara batted more than 11 hours, forging a 199-run partnership with Wriddhiman Saha in the process, to put India into a position where they could target a win that was only denied them by an equally obstinate Australian unit.
With his watertight defence and an extraordinary ability to play long innings, Pujara wore down the visiting bowlers to register his third double century in Test cricket.
"This season he has been outstanding. He has contributed throughout. He's not being spoken about or being in the focus too much but I think he deserves much more than that," Kohli added.
"He's been outstanding with the bat and I hope he can continue until the last Test match."
IMAGE: Wriddhiman Saha compiled a composed century -- his third in Tests -- on Sunday, proving his value to the team. Photograph: BCCI
The home season also saw the coming of age of Saha, who has firmly established himself as India's first choice wicketkeeper.
The 32-year-old Bengal player lacks the muscle and charisma of Mahendra Singh Dhoni, who he replaced behind stumps in Tests, but he more than makes up for those deficiencies with his stomach for a fight.
Saha brought up his third Test century in Ranchi, an innings of tremendous grit and character, to go with a sound performance behind the stumps in a keenly conTested series that heads to the foot of the Himalayas tied at 1-1.
"He bats wherever we ask him. He has no problems in batting after or before (Ravichandran) Ashwin," Kohli said.
"He never says 'no'. You really feel glad for a guy like him. He's willing to do anything for the team and put his best foot forward."