'India is known for its guru shishya parampara and the Guru always gets more.'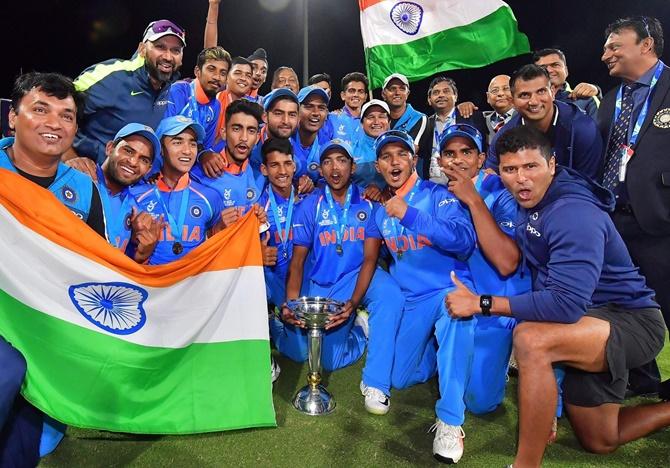 IMAGE: The victorious India U-19 team with Coach Rahul Dravid and the support staff. Photograph: Cricket World Cup/ICC/Twitter
The Board of Control for Cricket in India, on Saturday, announced a cash reward of ₹50 lakh for U-19 Chief Coach Rahul Dravid.
The victorious team members will receive ₹30 lakh each.
Other members of the support staff including Fielding Coach Abhay Sharma and Bowling Coach Paras Mhambrey, will receive ₹20 lakh.
In a marked departure from the usual norm where the players who have done it on the field get a greater share of the prize money, the BCCI decided that the chief coach should get the biggest share.
"India is known for its guru shishya parampara and the Guru always gets more. Obviously, the stature of the coach matters a lot," a senior office-bearer, who was a part of the policy decision, said.
Neither Dav Whatmore -- who coached the 2008 Under-19 winning India team -- nor Bharath Arun -- who coached the 2012 winning Under-19 team -- received more money than the Virat Kohli or Unmukt Chand-led teams.
Congratulating the team for beating Australia in the final, BCCI Committee of Administrators chief Vinod Rai said: 'I congratulate the U-19 team who have made the country proud. Head Coach Rahul Dravid played his cricket with sincerity and it was pleasing to see the boys uphold the value.'
'The boys have shown tremendous maturity in the manner they dominated the proceedings from the first match,' BCCI Acting President C K Khanna said.
'They always looked like champions. My heartiest congratulations to the boys and Rahul, who has been like a pillar for this team.'
Khanna said he will recommend that the U-19 selection committee chaired by Venkatesh Prasad also gets a financial reward just like the senior men's and women's panels which went home richer despite their respective teams losing the World Cup finals.
₹ 25 lakh from MCA for skipper Prithvi Shaw
The Mumbai Cricket Association announced a prize of Rs 25 lakh for Under 19 World Cup winning skipper Prithvi Shaw.
"Many congrats to the U 19 team. On behalf of @MumbaiCricAssoc MCA prize of ₹25 lakh to the captain & Mumbaikar Prithvi Shaw! Hope it encourages teenage talents!!," MCA president and BJP MLA Ashish Shelar tweeted.
"World Champions - once again ! Congratulations 2 our U19 cricket team for a masterly performance, #PrithviShaw made Mumbai proud 2day !," Shelar said in another tweet.