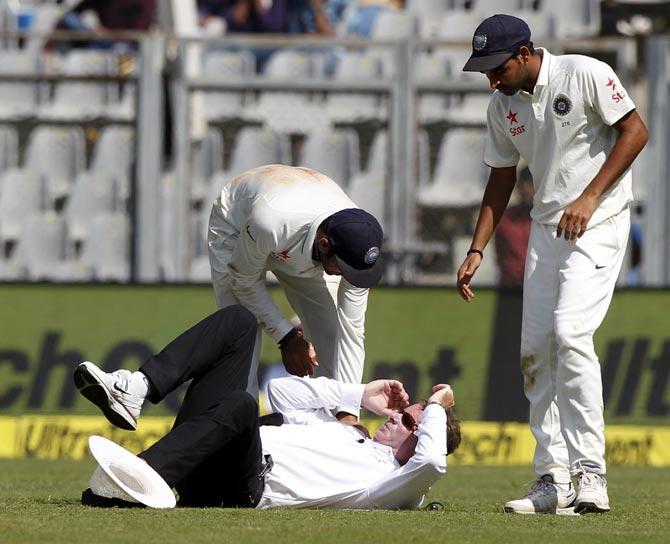 On-field umpire Paul Reiffel was forced to leave the field on Thursday for medical attention after being hit on the back of the head by a throw from fielder Bhuvneshwar Kumar in the post lunch session on Day 1 of the fourth Test between India and England at the Wankhede Stadium in Mumbai.

The former Australia fast bowler was standing at square leg when the ball thrown by Kumar from deep square leg hit him flush on the back of the head and he fell down on the turf.

Play was halted for a while as on-field medical attention was administered before the dazed official left the ground to go into the pavilion for further rest and recuperation.

Reiffel was replaced by Marias Erasmus, who was doing the third umpire's duty indoors and his duties were transferred to reserve official C Shamsuddin sitting inside.

The incident happened close to the first hour of play in the second session and drinks were taken ahead of schedule to make up for the stoppage.
Image: Umpire Paul Reiffel is attended by India's Cheteshwar Pujara and Bhuvneshwar Kumar, right, after being hit by a ball on Day 1.
Photograph: BCCI