'Why does one need the Champions Trophy? What are we trying to prove? Who remembers the Champions Trophy?'
Former India captain and team director Ravi Shastri on why Test batting star Cheteshwar Pujara should be adequately compensated for not being picked in the IPL. Harish Kotian/Rediff.com listens in.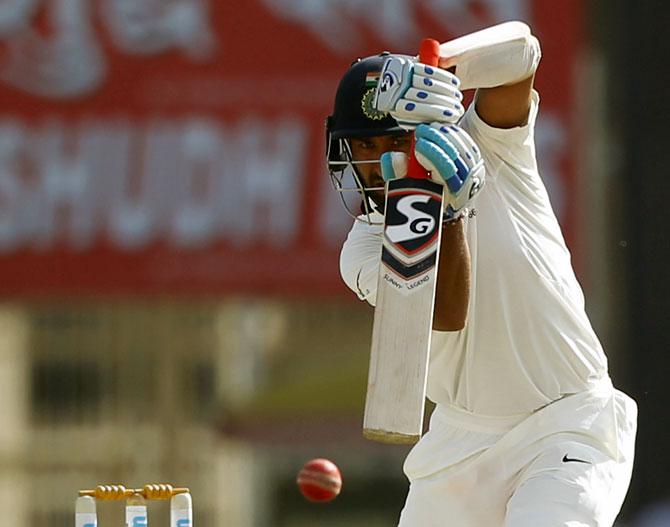 IMAGE: Cheteshwar Pujara. Photograph: BCCI
Former India captain and team director Ravi Shastri said Test specialists like Cheteshwar Pujara, who miss out on a cash-rich tournament like the Indian Premier League, deserve to be compensated handsomely as a reward for their consistent contributions to the Indian Test team.

The Saurashtra right-hander was the backbone of India's batting during the home season comprising of 13 Tests against New Zealand, England, Bangladesh and Australia -- scoring 1,316 runs with four hundreds and eight fifties. However, he failed to find favour with any of the franchises during this year IPL Player's Auction.
Pujara, who was promoted to Grade A of the BCCI's central contracts this year, would be entitled to Rs. 2 crore retainer fees for the season 2016-17.
"2 crore is nothing, 2 crore is peanuts. See how much an Australian is getting," Shastri said in Mumbai on Monday, where he was signed up by Greycells Education Limited as their mentor and adviser.
"The grade contracts of a Test player should be the highest, Pujara should be the highest, on par with the top players. Your 'A' grade contracts should be massive. I know it has been increased by double (from Rs. 1 crore to Rs. 2 crore) but there is room for (more). "An 'A' grade cricketer like Pujara should get a massive amount where he is not bothered whether he plays IPL or not. Infact, he will be happy, he can say 'I will play two months of county cricket'," he added.

He also compared Pujara's contract to players from Australia, where the top players are guaranteed an annual retainer contract of around Rs. 4 crore.

Shastri, who played 80 Tests and 150 ODIs for India, believes that a tournament like the ICC Champions Trophy, which will be held in June in the United Kingdom, holds no significance and should be scrapped.

"If you want Test cricket to survive you need one cash cow, I have always maintained that. If you ask me five years down the line there will be very little 50-overs cricket. I think there are too many ICC tournaments.

"Which event has so many World champions? I go and meet anyone on the street and they tell me 'how many World Cups take place? Who is the World Champion?' which is a fact. You have the Champions Trophy, then you have the World Cup, both 50 overs, so you are diluting the World Cup.

"For what you need the Champions Trophy? What are you trying to prove? Who remembers? You ask me the last 10-12 World Cups I will tell you, if you ask me last three Champions Trophy, I don't know. Last one I will tell India because India won it. I don't have a clue and I have broadcasted of all them.

"What is Champions Trophy? Who remembers after two weeks? World Cup yes, like in 2011, that (Dhoni) six and all...," said the 54-year-old.
Shastri believes the IPL which will complete ten seasons this year continues to grow bigger with every passing every year.
"I thought it was the biggest last year, and I will be surprised if No. 10 isn't the biggest. The way India has played the last season that will be a big boost. Being the No. 1 team in the world and the No. 2 team across all formats, that makes a big difference," he said.
Shastri pointed out that the IPL has been a good platform for the domestic players to stake their claim for a place in the Indian limited overs' team.

"You need India to be a very strong team and don't forget that a lot of players have come through the IPL, honed their skills through the IPL, got an opportunity, an platform to showcase their talents and as much as people want to criticise it around the globe, what they forget is that the quality of cricket in the IPL is outstanding... the fielding, running between the wickets, power hitting. The emphasis is on the bucks, yes the bucks will be there, and who is paying the bucks...the market forces. You cannot blame the cricketer for that, it is the franchise which is paying."
The former Mumbai all-rounder says it would make sense to scrap the national domestic T20 tournament to make more room for the IPL.

"It is your first class domestic tournament, India should have two corridors for that, why one, if its six weeks, it can extend to even eight weeks. It is your first class structure, like the Ranji Trophy, Duleep Trophy, for the T20 format it is the IPL, you don't need any other domestic T20 tournament," he said.
"It's a big stage and you don't what these guys are practising. The new talent that would come on the block will take all of us by storm. Suddenly he might be India material in a year's time. (Ravindra) Jadeja did well in the IPL to again come back into the focus when they were not doing well. The IPL is a massive stage," he added.